Captain Chris Barnett is an Outer Banks native and a waterman like his dad and grandfather. After working as a mate on some of the top boats in the Hatteras fleet he is now the captain of Predator Sport Fishing. At the center of his decision to be a fishing charter captain is his absolute passion for fishing. The joy he gets from seeing his clients fish is obvious as he shouts encouragement from the bridge. He will keep you going when your arms ache from battling a large, seemingly tireless fish. Captain Chris is happiest when his clients are happy. That means that the Predator often flies billfish flags on the way home and piles fish on the dock after a successful day on the water!

Or Call at 888-919-5497
A typical day of fishing consists of trolling skirted ballyhoo or pulling lures. A typical spread of lures will be 8-10 lines rigged for everything from tuna to dolphin, wahoo, marlin and sailfish. When they find a school of dolphin they quickly switch to light tackle and let the anglers enjoy the fast and furious action! To fill out the days catch with some variety, the captain will fish his "secret" reef and wreck spots for some high speed vertical jigging or deep dropping for grouper and tile fish.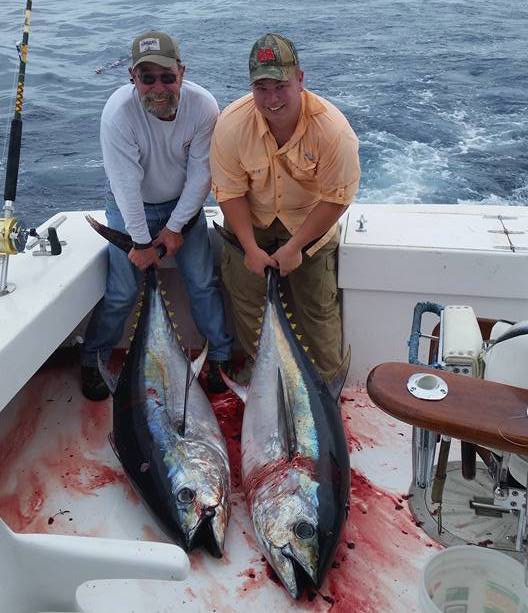 Anglers on the Predator have the pleasure of fishing on one of the largest boats in the Hatteras charter fleet. At 57′ this custom Carolina boat is powered by twin Cummins Diamond diesel motors. This boat/engine package makes for a fast AND comfortable ride out to the fishing grounds. While heading out, coming home, and motoring between spot, anglers can retire to the spacious and air conditioned salon. For longer runs there is a TV, satellite radio, and galley to make sure the passengers needs are all met and then exceeded.
When it's time to fish, the large cockpit is outfitted with a teak Release Marine fighting chair and two smaller companion chairs. The gear is all high end Shimano reels mated to custom rods and production rods that are designed specifically for fishing the Outer Banks. Of course the boat also has all the necessary modern electronics. The Furuno radar, navigation, and fish finding electronics help the Captain to position the boat precisely where the fish are. Lastly, the boat and crew are fully compliant with USCG regulations for carrying up to six passengers in the open ocean.
Fishing in the Outer Banks is excellent nearly year-round, the most popular seasons are Spring, Summer, and early Fall. Summer and Fall are peak seasons for blue marlin, white marlin and sailfish. Blackfin and yellowfin tuna are caught throughout the year and bluefin tuna are mostly caught in the Winter. Wahoo and mahi are also caught from Spring through the Fall. There are so many possibilities for offshore pelagic and reef fish that whenever you are in the Outer Banks will also happen to be a good time to go fishing!
Predator Sport Fishing charters are easy, no stress ways to spend the day fishing. All the bait, ice, and tackle is provided along with fishing licenses. The boat and crew are set up to provide a fun, exciting, productive, and SAFE day of fishing. You should plan to bring appropriate clothes for the season, your food and drinks for the day, boat shoes, sunglasses, sunscreen, and of course your camera! Basically the same things you need to bring for an afternoon at the beach. Due to USCG regulations the trips are limited to 6 passengers. Once back at the marina you can take advantage of the fish processing services and have your fish filleted and even vacuum packed and put on dry ice for your trip home! Predator Sport Fishing is the perfect choice for an Outer Banks adventure. Vacationing with the kids? No problem, all skill levels are welcome and you are guaranteed to end the day knowing more about fishing then when you boarded. Let Captain Chris Barnett and his crew help you make memories that will last a lifetime!

---
About Fin & Field
Fin & Field is changing the way sportsmen find, compare, book and share their fishing and hunting adventures. We've consolidated the hunting and fishing industry into a powerful marketplace that connects sportsmen and operators (charter boats, fishing guides, hunting guides, lodges, marinas, outfitters, outdoor brands, and more). We're using technology to drive more meaningful, fun, and efficient communication that's making it easier for sportsmen to get the information they need to do what they love.
Book your next adventure at www.finandfield.com.