There are many choices when it comes to high end coolers, today we are taking a look at one in particular: Bison Coolers' 50 Quart. If you are looking for a solid all around cooler, look at multiple products in the space. There are a lot of options these days and each one is a little different and may suit your needs differently. It's easy to get caught up in hype and branding of products, however, when you are buying a high end cooler it should be built to last, function as advertised, and do its job flawlessly. That all being said, you owe it to yourself to put the Bison 50 quart on your list. Bison Coolers is a Texas based family-owned business that builds their products in the USA. Bison shines in three areas: quality, size, and affordability.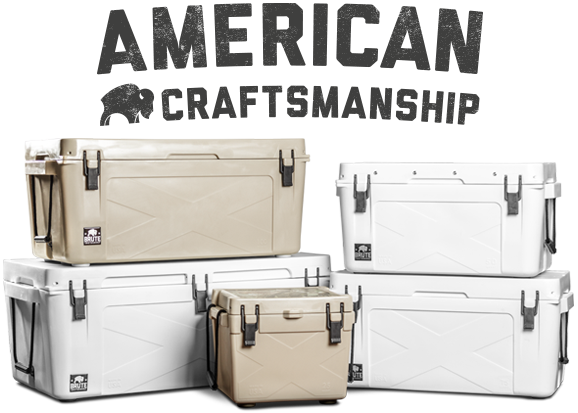 Quality: Made in the USA, simply put these cooler are built strong and do what they say. The roto-mold process used to build the Bison lives up to its' name and ability to hold ice for up to 5 days. If you wont have access to new ice for days or live somewhere really hot, this is a huge plus.
Size: The size of the 50-quart is perfect for a few reasons. Whether you are on a camping trip with the family, keeping freshly harvested wild game fresh, or out on the lake fishing, this cooler has plenty of space and doesn't take up a ton of room. One person can carry this cooler.
Affordability: $329.00 is a lot of money for a cooler, but compared to other high end coolers it actually has a lot of bang for your buck! Not to mention that Bison Coolers come with a 5-year warranty backed by Bison.
Specifications:
Made in USA
Thick pressure-injected insulated walls for maximum ice retention
Two heavy duty rubber latches with cantilever hinge system
Rubber gasket for sure tight seal
Locking lid with integrated ruler
Dual drain plugs provide added convenience
Full-length durable self-stopping hinges
Open grab rails provide easy carrying, tie down or for securing cooler
Custom accessories include lid graphics and more
Oversized anti-skid rubber feet
Capacity is true to size
*spec sheet from www.bisoncoolers.com
Accessories: Once you have picked out the right cooler, now its time accessorize it with a cool lid graphic, hydro turf top, dividers or even a cool hauler!
Depending on what your needs are Bison can help with multiple sizes of coolers, soft pack coolers, and insulated tumblers to keep your drinks cool or warm!
Product Line:
Hard sided coolers: 25, 50, 75, 100, 150 quart options
Soft packs: 12, 24-can capacity
Drink ware: 20, 30-ounce tumblers and multiple bottle options
For more information and $15 off click the following link: Bison Coolers
By Gary Pierce

---
About Fin & Field
Fin & Field is all about finding your next great adventure. We're working hard to provide the most comprehensive listing of services, reviews, and far reaching community available to help you take the guesswork out of planning your next adventure.
We believe in the ethical pursuit of hunting and fishing adventures and support taking from the land only what you can use and leaving it in better shape than you found it.
Tight Lines & Happy Hunting!
Visit us at www.finandfield.com