We're kicking off the summer with a BIG announcement! Today we're excited to announce our partnership with Bonnier Corporation and their storied stable of industry leading outdoor publications. Through the partnership readers of Field & Stream, Outdoor Life, Saltwater Sportsman and Sport Fishing magazines will be introduced to Fin & Field's extensive listing of 25,000+ operators. Exposure to Bonnier's 20 million readers represents the next step forward in our mission to make it easier for sportsmen to find, compare, and book hunting and fishing trips with the hardworking guides, charter boats and outfitters who make a living delivering outdoor adventure. In the coming months we'll be working with each publication to feature Fin & Field operators and other adventure related content online and in print.
You can read more about the partnership in the press release.
---
Hunting and Fishing in the US is big business. 
Hunting and fishing in the US is not just a casual pastime enjoyed by a few. Over $90 Billion is contributed to the US economy each year by the more than 37 million fishermen and hunters who spend time pursuing their passion in the field and on the water.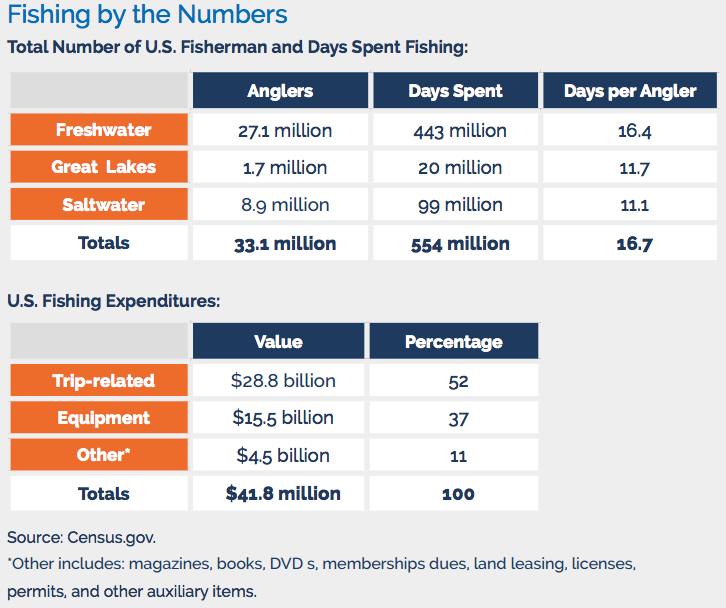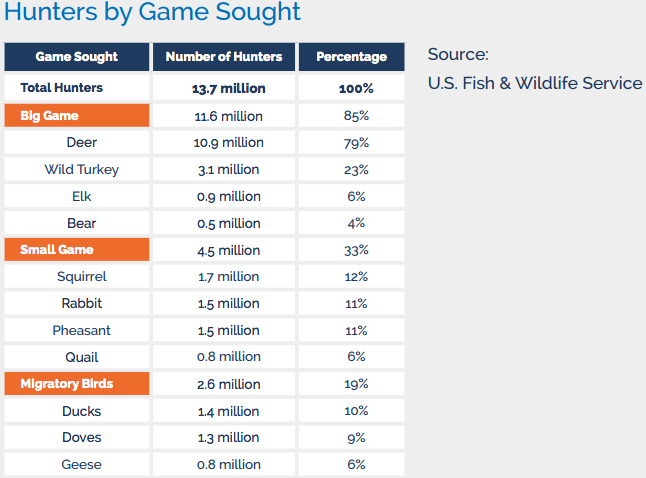 How Fin & Field makes it easier to hunt and fish.
Fin & Field exists because we're sportsmen who believe in the power of technology. In fact, we've built our careers on using technology to solve problems in industries ranging from IT and healthcare to commercial construction and enterprise software. Technology plays an increasingly important role in how sportsmen go about their daily lives. Just look at activities like reading the news, making a dinner reservation, booking a flight or finding a ride. Companies like OpenTable, Uber and Kayak have made it easier to get comprehensive and relevant information quickly and they've made the process of booking, paying for and soliciting customer reviews easy.
We see many of the same dynamics evolving in the outdoor industry and believe sportsmen are ready to change the status quo. We built Fin & Field to fulfill their desire for an easier way to find, compare, book and share their next adventure.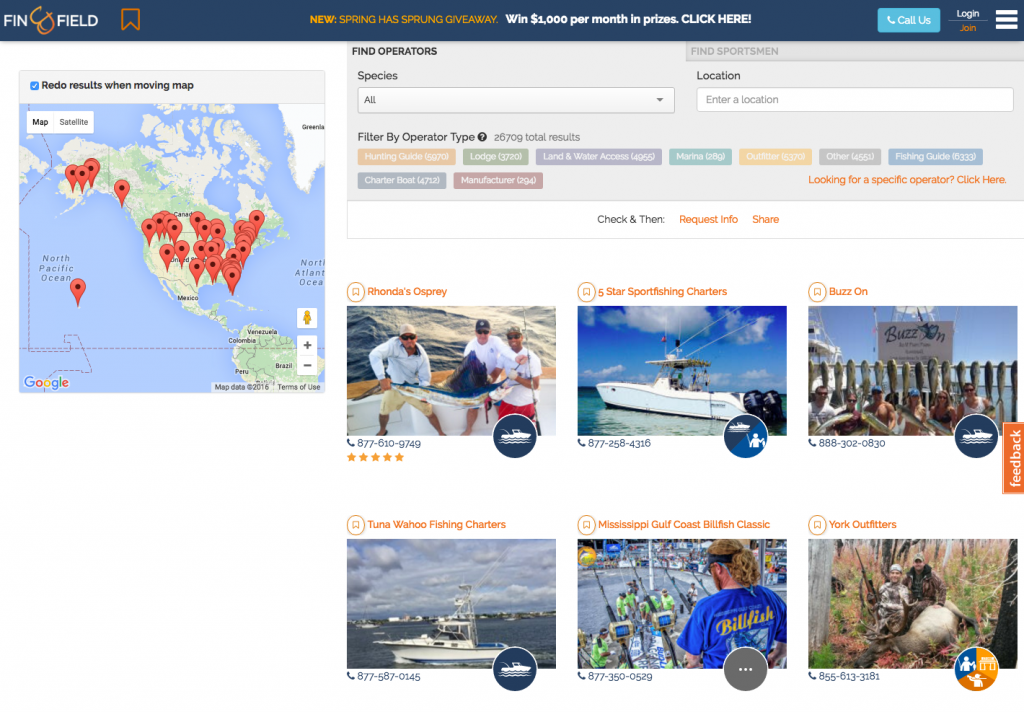 Fin & Field for Sportsmen
With Fin & Field, Sportsmen can now search over 25,000 Operators by type, species, region, or name, all in one location. Once a sportsman is ready to book, they can either submit an online booking request or call the operator directly. Sportsmen can also see reviews, contact other sportsmen for information about a trip or destination, and customize their personal Fin & Field profile to follow the activity of other sportsmen and the operators they are most interested in.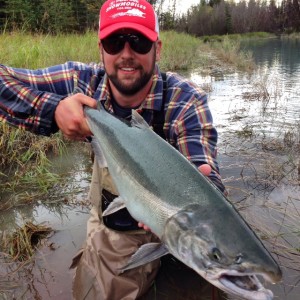 "Fin&Field is what I have been looking for to connect the dots for my next fishing adventure. Now I have one source to research, find reputable guides and connect with sportsmen for local knowledge. Having up-to-date information at my fingertips is extremely helpful." – Matt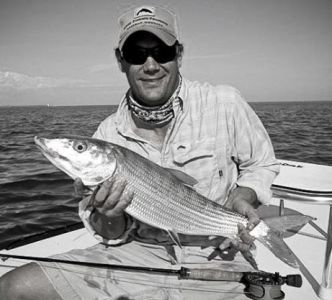 "I'm an avid fisherman, but also a huge fan of emerging tech. It's great to see Fin and Field come forward with a great technology that makes my time on the water more successful and memorable. Their platform makes it easy for me to find a great gateway to world class fishing – it's awesome!" – JT

Fin & Field for Operators
At Fin & Field we've created a community of sportsmen that are passionate about hunting and fishing. Operators can sign up on Fin & Field and create a customized business profile to reach these sportsmen. Each profile is tailored to the type of business the operator is running and is designed to help them best market their products and services to the rapidly growing Fin & Field audience. Operators who are looking to generate more bookings are promoted throughout the Fin & Field marketplace and by partners like Bonnier (Field & Stream, Outdoor Life, Saltwater Sportsmen and Sport Fishing magazines). Operators have complete control over their business profiles and manage their bookings and interactions directly with sportsmen.
The Fin & Field audience is active and engaged:
In addition, we believe smart businesses will adopt technology that helps them more efficiently run and grow their business. We know there are better ways to run a business than paper calendars, answering machines and static websites. And, when it comes to advertising, gone are the days of pay and pray. Your advertising dollars need to show a clear ROI.
That's why we created a business platform for Operators. We purpose built a toolkit of integrated solutions to make it easier to run the day to day activities for hunting and fishing businesses. The Fin & Field business platform brings together marketing, reporting, social sharing, calendaring, booking, payment processing, and email solutions.
According to Joe Drosey, charter boat captain on Rhonda's Osprey, "Fin & Field is a great resource for captains and charters. It is very easy to use, customer service is great, and customers can find all the info they need to book a trip. It helps me run my business without taking me away from what I love — being out on the water."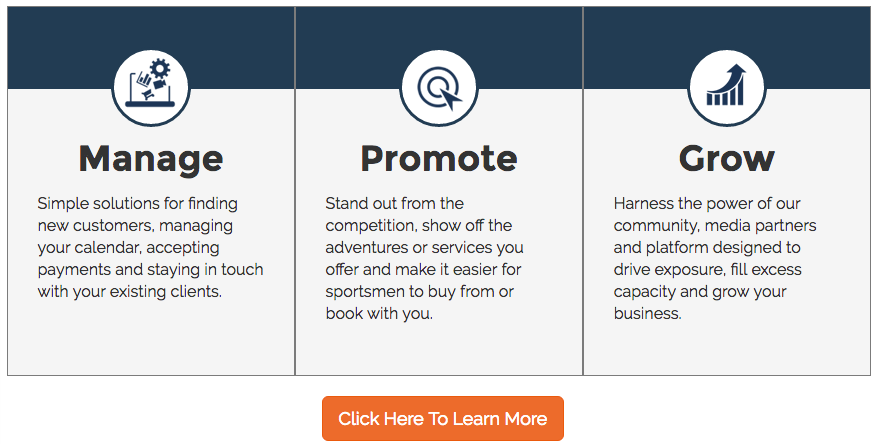 ---
About Fin & Field
#FinandField #FYNA #DreamBig2016
Fin & Field is all about finding your next adventure. We're working hard to provide the most comprehensive listing of services, reviews, and far reaching community available to help you take the guesswork out of planning your next adventure.
We believe in the ethical pursuit of hunting and fishing adventures and support taking from the land only what you can use and leaving it in better shape than you found it.
Tight Lines & Happy Hunting!
Visit us at www.finandfield.com