Al Bayer got his first taste of hunting with his father and grandfather tracking elk with a muzzleloader. To this day he remembers the wall tent camp and that he wasn't allowed to carry a rifle, but he remembers being old enough to help with camp chores! The highlights from that first trip was sitting around camp, hearing the hunting stories, gathering around the wood stove, and drinking hot chocolate while the adults drank coffee. This was when Al first dreamed of owning his own hunting outfit and worked towards that goal tirelessly until he founded Elk Springs Outfitters with his wife in 2001. Al learned most of his hunting and shooting knowledge from his dad in those early years of hunting. He caught the hunting bug pretty badly and by 15 he was expanding into archery.

To book with Elk Springs Outfitters, click or call Al at 877-934-0856
Al and his wife started Elk Springs Outfitters in 2001 after he spend years guiding in Wyoming, Washington, and Southern Idaho. When an opportunity to purchase an outfitter business came up, Al jumped at the chance. Al and his wife are committed to providing the high touch, personalized service that only a small operator can guarantee. Al does all of the guiding himself and limits hunts to 2 hunters in camp at any one time. With Elk Springs outfitters, clients will be hunting with the guy they book the trip with and there wont be more than one other hunter to compete with for opportunities.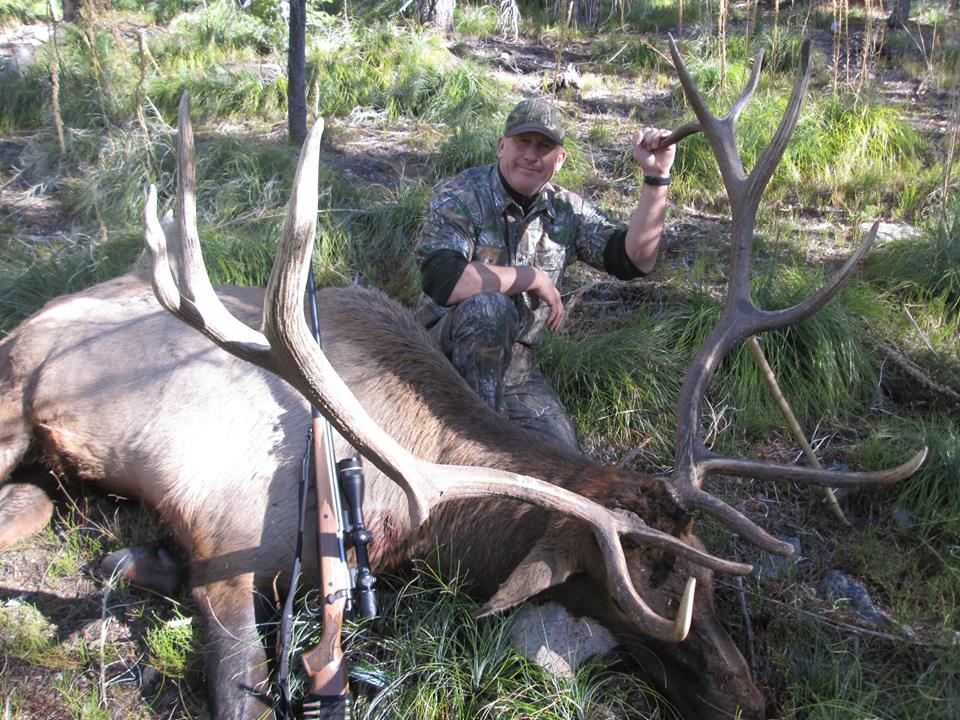 Booking a trip with Elk Springs Outfitters is the only way to hunt on this exclusive, game rich, 250 square miles of the Frank Church Wilderness Area located conveniently close to McCall, Idaho. The terrain is rugged and hunts with Elk Springs Outfitters are generally more physically demanding with the exception of some of the spring bear hunts. Al likes to take clients to where the best animals are and most of the time they don't live in places that are easy to get to. Elk Springs Outfitters hunt all day everyday. Sometimes it means lots of hiking, sometimes lots of glassing. The meals provided on trips are mostly home cooked meals, but on nights spent away from camp the food is in the form of freeze dried backpack meals.
Bear hunts take place from April to the end of June.
July through August are the perfect time for pack trips into the high mountain lakes.
September is prime time for archery elk hunting
From October through the middle of November they are hunting mule deer and elk.
From the Middle of November to the end of March are the mountain lion and wolf hunts.
Al is 100% focused on helping his hunters have successful hunts and his best advice is to prepare mentally as well as physically. Elk Springs Outfitters will get hunters into the best position for success. Sometimes this means having to spike out far from base camp. It might also mean glassing day after day in one spot or hiking all over the mountains. Expect to spend a lot of time in the huge, wild, free range, and be flexible because things are constantly changing. Be ready mentally and physically for the unexpected and your odds of success will increasing on ANY hunt you take!

---
About Fin & Field
#FinandField #FYNA #DreamBig2016
Fin & Field is all about finding your next adventure. We're working hard to provide the most comprehensive listing of services, reviews, and far reaching community available to help you take the guesswork out of planning your next adventure.
We believe in the ethical pursuit of hunting and fishing adventures and support taking from the land only what you can use and leaving it in better shape than you found it.
Tight Lines & Happy Hunting!
Visit us at www.finandfield.com