The US Fish & Wildlife Service recently announced that they will continue liberal waterfowl hunting seasons and bag limits. You know what that means? It's time to start dusting off the waterfowl gear!
Here in the Mississippi flyway we're looking forward to a 60 day season starting the last Saturday in October in the North zone.  And, we have a few calling competitions coming up like Duckfest in nearby St. Charles, MO.
Since October will be here before we know it we decided to reach out to our friends at Upperduck.com to see what they recommend for you calling enthusiasts out there.  Here are two favorite picks from Dave.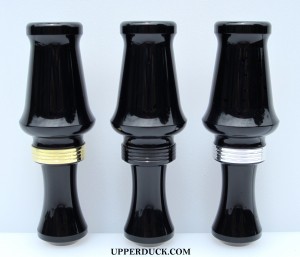 The HYBRID, by J.J. Lares Company
The HYBRID is a highly engineered acrylic duck call which produces most realistic duck sounds, and provides very fast transitions from top to bottom. The mid-sized HYBRID is a blend of top performing J.J. Lares calls and is an engineering work of art. A unique wedge and tone board system is complimented by 15 different reed size options, all of which are engineered to very high tolerances. The HYBRID produces incredibly well rounded duck sounds from top to bottom!!! UpperDuck.com has 10+ different colors and options of the J.J. Lares HYBRID duck call, you must check one out. J.J. Lares has been making duck calls for 29 Years in Chico, California, and has an incredibly loyal following of duck hunters all over the world. The HYBRID is a single reed duck call. Made in the USA.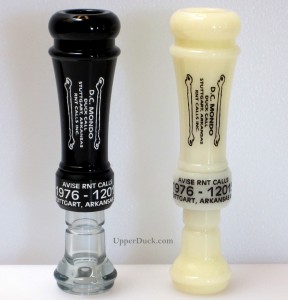 DC MONDO, by RNT (RICH-N-TONE) Calls
Designed after the old cut-down, keyhole style duck calls from years ago; the DC MONDO acrylic duck call mimics the "hard, loud, raspy lick of a mallard hen…" RNT says the DC MONDO was developed after a style of calling that built its reputation on putting "Mondo" wads of ducks in the woods. The MONDO has very little back pressure, runs Loud to Soft, and "talks 'em into giving up!" UpperDuck has several different color options of the DC MONDO. In 1976, Butch Richenback, 1972 World Champion and 1975 Champion of Champions duck caller, began whittling on a block of wood that he later shaped into his first duck call that established the foundations for Rich-N-Tone Duck Calls. The MONDO is a single reed duck call. Made in the USA.