Jimmy Johnson and the Seminole Hard Rock Hotel & Casino are teaming up for the 6th Annual Jimmy Johnson "Quest for the Ring" Championship Fishing Week. The event will take over Key Largo, Florida from March 8th – March 11th 2017. The event is composed of 3 separate tournaments for a total of 4 days of tournament fishing. The tournament schedule is as follows.
Wednesday, March 8: Registration & Captain's Meetings will take place at The Big Chill
Thursday, March 9: The 1 day Celebrity Pro-Am tournament will take place. Jimmy's friends, professional athletes, and entertainers will join fishing pros for a fun day of competitive angling. This is a charity tournament that benefits the Community Initiatives Foundation.
Friday, March 10 and Saturday, March 11: Two days National Billfish Championship will take place. It has a guaranteed purse of $1 million. Officially the largest guaranteed purse in sportfishing history.
Saturday, March 11: While the National Billfish Championship is still under way the 1-Day National Sportfish Championship will take place.
Saturday, March 11, 6PM: By the evening of the 11the all 3 tournaments will have concluded. Anglers and crews will celebrate during the awards dinner and pool party at JJ's Bill Chill pool deck as attendees overlook the waters of the Florida Keys and join us in awarding our winners with over $1 million in prize money.

With a guaranteed payout there is no need for teams to wait-and-see how many boats register before deciding if it is worth entering the tournament. But, in this case, there is something that competitive anglers want even more than the prize money (and with a MINIMUM of $1,000,000 on the line that is says a lot). More than money this tournament is about the rings. Teams are fishing their hardest for the chance to gain entrance to Jimmy Johnson's Ring of Honor. Stemming from his football career, where he has 3 championship rings, Jimmy selects a team each year as the overall champion and awards them with their own National Championship Ring.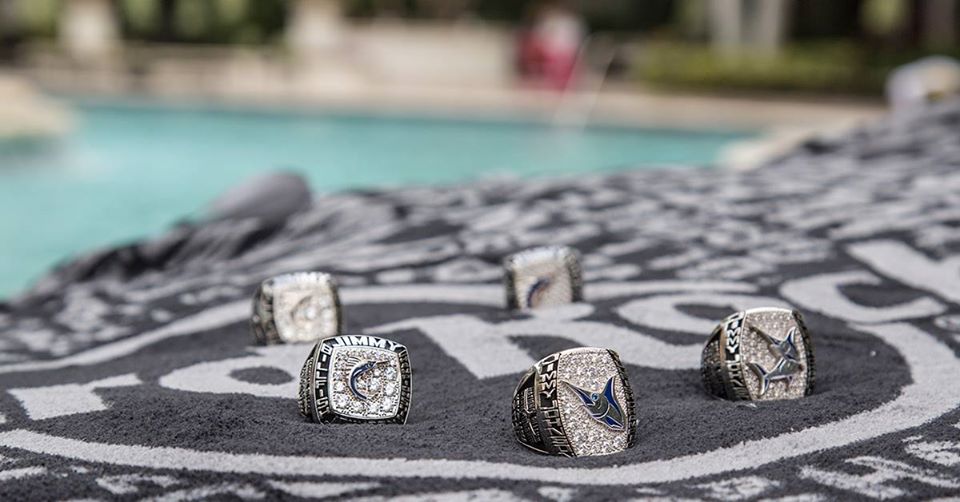 "I have to say, while it's always been about the rings, we are making history. And, as many of you know, I love a good competition," says Johnson. "We continue to grow each year and I am thrilled to have our partners at Seminole Hard Rock Hotel & Casino join us in our little slice of heaven down in the Keys to help us make this impact on the sport of Fishing. We look forward to seeing everyone in March!"
We think the chance to fish for $1 million and to take part in the festivities with Coach Jimmy Johnson is plenty of incentive to register for the Jimmy Johnson Championship Fishing Week. But if you are still on the fence then these register before the end of 2016 to take advantage of some great tournament specials. For example, you can save $1500 if you register this week! If you wait until next week that savings will drop to $1400. Fin & Field is proud to be a sponsor, good luck to all the anglers who will participate in making history at this tournament. See you at the scales!

---
About Fin & Field
#FinandField #FYNA #DreamBig2016
Fin & Field is all about finding your next adventure. We're working hard to provide the most comprehensive listing of services, reviews, and far reaching community available to help you take the guesswork out of planning your next adventure.
We believe in the ethical pursuit of hunting and fishing adventures and support taking from the land only what you can use and leaving it in better shape than you found it.
Tight Lines & Happy Hunting!
Visit us at www.finandfield.com