Bouncers Dusky 33 is a Miami based charter boat that is located 200 yards from the inlet, 5 minutes to the tarpon grounds, and 10 minutes to the sailfish. These trips are ideal for up to 4 passengers and the boat is set up perfectly for South Florida fishing. In addition to the 
great fishing for tarpon, sailfish and swordfish, South Florida provides opportunities to catch plenty of kingfish, dolphin (mahi –mahi), tuna, barracuda, cobia, snook, shark, snapper, grouper, assorted jacks, bonito, and so many more!

To book with Bouncers Dusky 33, click or call Bouncer at 888-688-1913
Captain Bouncer Smith has more experience than you could hope for in a charter captain. He worked on drift boats and on the Newport pier in junior high school. By high school he was working nights and weekends on drift boats. Straight out of high school he was working the drift boats at night and turning around and crewing charter boats during the days out of Pier 5 in Miami. He eventually went into business for himself as a flats guide in Islamorada. Even though this was his dream plan, he soon realized he needed sailfish and tarpon in his life and moved back to Miami to target these fish day and night. He has devoted his life to sharing fishing with others, through his radio shows, magazine articles, seminars, and on the water. He shares his love of the ocean and fishing with children and adults from the novice fisherman to the tournament sport fisherman. He loves all the excitement from catching bait to monster tarpon and marlin. He has been the captain of many winning tournament fishing teams and can arrange a tournament fishing opportunities for you. The sky is the limit.
The boat is a Dusky 33, a 33′ center console powered by twin Evinrude E-Tec 300s. It is fully rigged for Florida fishing with a Simrad Fish Finder, GPS/Chart plotter, VHF radio, all prudent safety equipment, fishing outfits for any conditions (including a couple fly rods), and all the terminal tackle you could ever need.
The typical day fishing in South Florida is spent live baiting for sailfish, dolphin, king mackerel, wahoo and blackfin tuna. If the conditions are right, and they often are, you can expect to utilize the fishing kite, as well as downriggers while fishing. Whether you are looking for new challenges, new experiences, or to fill the cooler, Capt. Bouncer will know what to do. For example, the artificial reefs and wrecks that abound in South Florida area a great spot to anchor or power drift over structures from 35 to 450 feet. You will have a blast catching fish like african pompano, cobia, grouper, snapper and assorted jacks.
Close to the inlets are some of the Captains favorite tarpon areas. Whether it's live shrimp, crabs or mullet, Bouncer knows what the tarpon will be eating and where. And if it's fly or plugs you want to throw, Bouncer is an expert in which lure to use and how. This fishing is great day or night.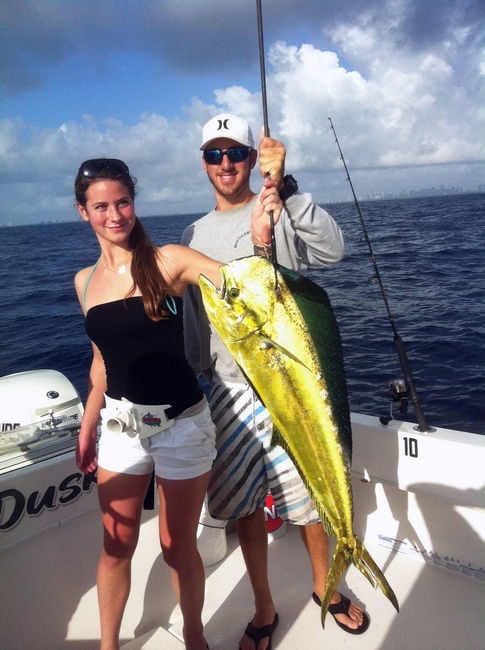 Perhaps the most unique thing is that Miami offers great fishing for all the above mentioned species, and more, while being surrounded with great shore based activities for you and your entire family. It is the perfect-year round spot!
Swordfish – Red hot swordfishing is back in South Florida. Although available year-round, swordfish weather is best May through October, but catching is best August through March.
Tarpon – year round, large fish best February – June.
Sailfish – year round, but best December – May
Snapper – Summer
Grouper & Cobia – Winter
Tuna – Winter and Spring
Sharks – Spring and early Summer
If you still aren't sure, Capt. Bouncer is endorsed by the "Most Interesting Sportsmen in the World" from the summer of 2016. Robert "Fly" Navarro is a seasoned offshore fishermen, is universally regarded as a world class mate and respected worldwide. His Fly Zone Adventures series takes the guesswork out of booking a trip by recommending fantastic guides like Bouncers Dusky 33 so you can be confident when choosing who to book with!

Editorial Contributor – Lewie Aldridge
---
About Fin & Field
#FinandField #FYNA #DreamBig2016
Fin & Field is all about finding your next adventure. We're working hard to provide the most comprehensive listing of services, reviews, and far reaching community available to help you take the guesswork out of planning your next adventure.
We believe in the ethical pursuit of hunting and fishing adventures and support taking from the land only what you can use and leaving it in better shape than you found it.
Tight Lines & Happy Hunting!
Visit us at www.finandfield.com