Martha's Vineyard fishing stays hot from May, when the big striped bass show up, all the way until the end of Fall when you can fish the Derby for striper, bluefish, bonito, and false albacore. The striped bass are the largest game fish here, and fish in 30-40 pound range are not uncommon in the Spring or Fall. Bluefish are notoriously tough fighters and aggressive when they bite, bluefish fishing peaks in the Summer and Fall. Bonito and false albacore (the larger of the two) are a blast on light tackle. Both of these fish are most prevalent in the Fall but only the Bonito make good table fare. Speaking of bringing home some fillets, the large "doormat" fluke are tasty treats that can be caught in the Summer months.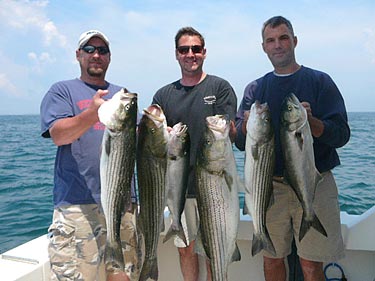 Or Call Ed at 844-290-0059
Captain Ed Jerome is not just a captain, he also teaches the 100 Ton Masters Course for people who want to become captains. For over 30 years Edgartown, Massachusetts has been his home fishing grounds. Ed has been a mainstay of the Martha's Vineyard fishing community for more than 2 decades as the President of the Martha's Vineyard Striped Bass and Bluefish Derby. He may be retired as the Principal of the Edgartown School, but couldn't leave education entirely. Ed works as an instructor for Marine Education and Training at the Massachusetts Maritime Academy. Captain Ed Jerome may be a hardcore fisherman, but he is just as happy to cater his charters on the Wayfarer to beginners and families.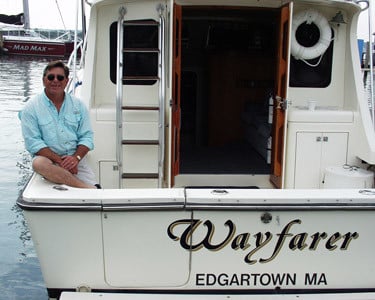 The Wayfarer is a 32' Luhrs Tournament fishing boat with all the comforts of home. The boat is designed to provide a smooth ride and it has a 13 foot beam for plenty of elbow room. There is a fully enclosed cabin with an eating area, couch, a full head, and a shower. The flybridge (upper deck) has room for up to five people to enjoy the scenic ride which often includes whale sightings. The Wayfarer provides a safe, comfortable, and enjoyable ride, and with Captain Ed Jerome at the helm you will enjoy a fantastic day of Martha's Vineyard fishing.

Editorial Contributor – Rob Duva
---
About Fin & Field
#FinandField #FYNA #DreamBig2016
Fin & Field is all about finding your next adventure. We're working hard to provide the most comprehensive listing of services, reviews, and far reaching community available to help you take the guesswork out of planning your next adventure.
We believe in the ethical pursuit of hunting and fishing adventures and support taking from the land only what you can use and leaving it in better shape than you found it.
Tight Lines & Happy Hunting!
Visit us at www.finandfield.com