Most people don't think of the southern states when they think about world class trout fishing. But Asheville Fly Fishing Company, owned and operated by Galen Kipar in North Carolina, will change the way you think. Galen started fly fishing because of his younger brother. His brother came home one day after a friends dad took him fly fishing. His brother was so excited about the sport that Galen couldn't help but to be excited as well. They went out and immediately got some cheap gear and taught themselves how to fly fish.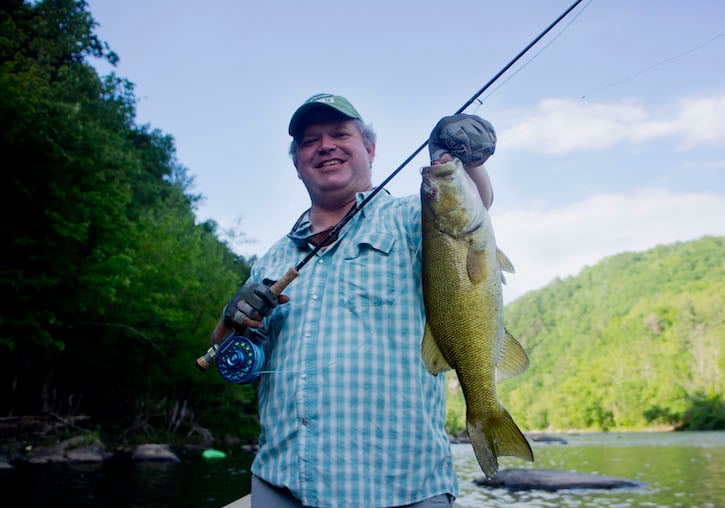 Considering his start, it is no surprise that, for Galen, fly fishing has always been about sharing and learning. He got his degree in music composition, is a classically trained guitarist, and spent 6 years touring with his band around the country. All the while he would find every chance to find new water near his latest venue and scrounge up a fishing buddy.
Galen had some reservations when he first considered setting down roots to be a fly fishing guide for a living. Chiefly he didn't want to exploit the thing that he found so perfect. But there are a lot of parallels between music and fishing. The currents of the water and melodic lines of music have the same affect on people. Both fishing and music make people happy. Ultimately he realized that guiding is a chance to share the sport he loves, teach people about trout, river ecosystems, and promote conservation. Today he measures his success by how many miles he drifts on the river while his clients are hooking fish. His clients invariably become friends, he enjoys taking out repeat customers and they make up more than 50% of his bookings.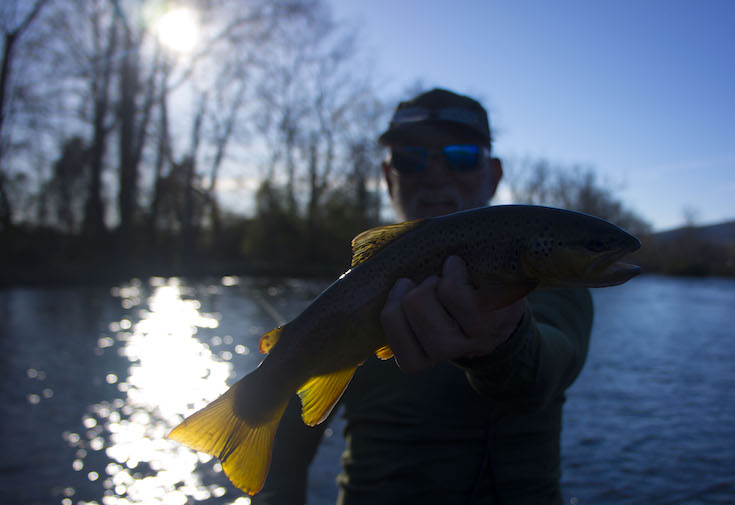 Or Call 866-643-8108
The plethora of streams and tailwaters around Asheville provide a unique opportunity for anglers year round and Galen is uniquely qualified to provide an unforgettable day on the water.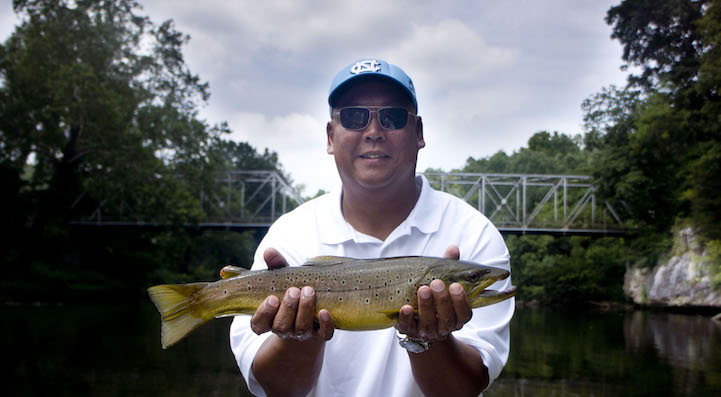 Fall
Fall fishing is just about to get started and is a completely underrated time of year in this area. September is the start of excellent smallmouth bass fishing. By October the wild browns start running up the rivers and are hungry and aggressive! Fall is also a great time to enjoy their year-round wade trips in the back country. These are technical trips best suited for intermediate and advanced anglers who want to venture far off the beaten-path and target small wild trout.
Winter
Winter fishing is all about the tailwater rivers like the Watauga River and South Holston. Consistent water temps, high water flows, and few insects create the perfect conditions for catching big and aggressive wild browns on streamers. This pattern can last all the way through March.
Spring
The spring black caddis hatch in March and April is huge and marks the beginning of spring. Fish are gorging themselves on the caddis and the dry-fly fishing is excellent. Early spring is also pre-spawn for the smallmouth bass. The fish are aggressive as they get ready to spawn and it is the best time of year to target trophy sized bass.
Summer
In the summer the tailwater rivers stay perfectly cold, it may be 100 degrees out and humid but you can catch trout all summer long. In general the fish population is thriving, there are more and bigger fish than ever before. The wild brown trout are big and healthy. On the South Holston the famous summer sulphur hatch is not to be missed. The Wataga is a caddis river, and trout are eagerly taking caddis flies. Another one of the summer highlights is the mid summer terrestrial fishing, specifically on Japanese beetles and cicadas. Summertime is also a great time for backcountry wade trips, beat the heat by wet wading, rock hopping, and covering up to 6 miles of high mountain river.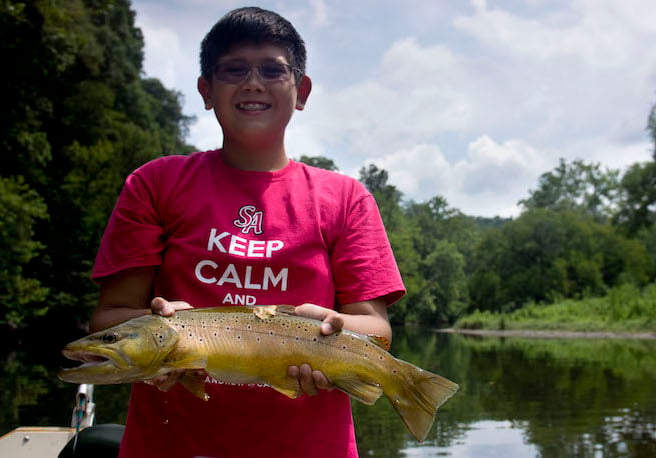 Galen's favorite thing about this area is that there is something for everyone. There are so many different types of water that Asheville Fly Fishing Company can accommodate anyones preference or skill-set. Contact Galen and let him know what you want to do.

---
About Fin & Field
#FinandField #FYNA #DreamBig2016
Fin & Field is all about finding your next adventure. We're working hard to provide the most comprehensive listing of services, reviews, and far reaching community available to help you take the guesswork out of planning your next adventure.
We believe in the ethical pursuit of hunting and fishing adventures and support taking from the land only what you can use and leaving it in better shape than you found it.
Tight Lines & Happy Hunting!
Visit us at www.finandfield.com