Optimized exhaust and intake systems improve your engine airflow, creating more horsepower. Upgrading these systems will not only cut down on that horrible cacophony of screams every time you press the pedal, but also maximize fuel efficiency.
Understand which exhaust fits your truck, whether it's a single or dual exhaust system, and customize it to the style of overall vehicle. Following is some essential information to consider when upgrading your truck's exhaust and intake systems.
Single vs. Dual Exhaust System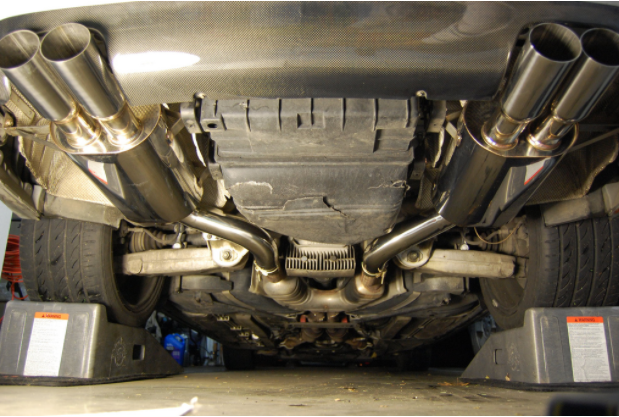 A single exhaust system contains a single muffler and tail pipe. Single exhaust systems offer a sleek look while improving the performance of your air intake and your fuel efficiency. Single exhaust systems are easier to install and replace because they contain fewer mechanical parts.
A dual exhaust  system offers many of the same benefits with increased performance. Drivers could either purchase an axle-back or cat-back exhaust system. An axle-back system is cheaper, but a cat-back system expands upon an axle-back system to include mid pipes to further improve air intake and your vehicle's performance.
Cold Air Intake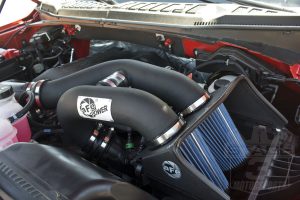 Drivers should consider a cold air intake system to maximize their engine's performance and fuel efficiency. A cold air intake system replaces your stock air-cleaning box with a tube that collects cool air from outside the engine compartment. Cold air contains more oxygen than warm air, which allows your engine to burn more fuel at an increased rate. A cold-air intake system filters more cold air to your engine that a standard exhaust could accomplish and is the perfect fit to any exhaust upgrade.
Accessories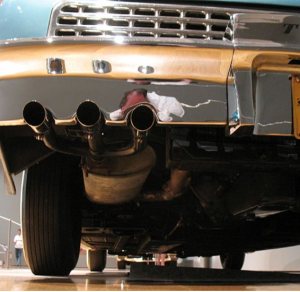 Once you have that new exhaust system assembled, it's time to hear that baby roar. Upgrade your exhaust system with Q2 sensors to monitor oxygen levels and a ceramic catalytic converter for that show-winning performance. Upgrade your muffler to rattle those mirrors or install an upgraded resonator for maximum horsepower.