Carolina Style Sportfishing is owned by two brothers, Capt. Jason Sadler and Capt. John Sadler. They grew up in Engelhard, NC, a small fishing and farming town on the banks of the Pamlico Sound. Their passion for Fishing was born as young boys catching North Carolina speckled trout. They were constantly fishing the Pamlico Sound until they graduated from high school.
The draw to the water led both brothers to join the USCG. Their time serving in Coast Guard taught them skills ranging from navigation, seamanship, and marine safety to mechanical and technical. After proudly serving this great nation they could only identify one problem with their lives, not enough fishing! Hence the birth of Carolina Style Sportfishing. Their plan was to obtain all the tools to fish both the Pamlico Sound (inshore) and the Atlantic Ocean (offshore/deep sea) without compromise. They were quick to build a 2 boat fleet of fully-rigged fishing boats to cover both inshore and offshore applications. With the ability to chase giant NC red drum, speckled trout, and flounder inshore or head offshore for wahoo, dolphin, tuna, and more…they are one of the most flexible charter boat operations in the Outer Banks of North Carolina.  Flexibility is one of their strongest advantages.

Or Call Jason at 855-900-5250
In relation to the entire US east coast, Outer Banks protrudes prominently into the Atlantic Ocean. North Carolina's Outer Banks (more affectionately abbreviated "OBX") are a thin, sandy strip of islands that protect the NC mainland from the forceful Atlantic. The Outer Banks are perfectly situated between the Atlantic Ocean and the Pamlico Sound. Along the western side of the Outer Banks lies the bountiful and protected Pamlico Sound. To the east lies the blue Atlantic Ocean. Carolina Style Sportfishing understands the vastly different requirements of fishing Pamlico Sound versus offshore fishing. Whether you're looking to stock the freezer, become a better angler, enjoy a peaceful day fishing with the family, or any combination, pick a charter that can tailor the trip to your goals, skill level, the conditions, and the current fishery. A Carolina Style Sportfishing charter is a  memorable fishing experience and their huge rate of returning customers is a testament to that.
---
Offshore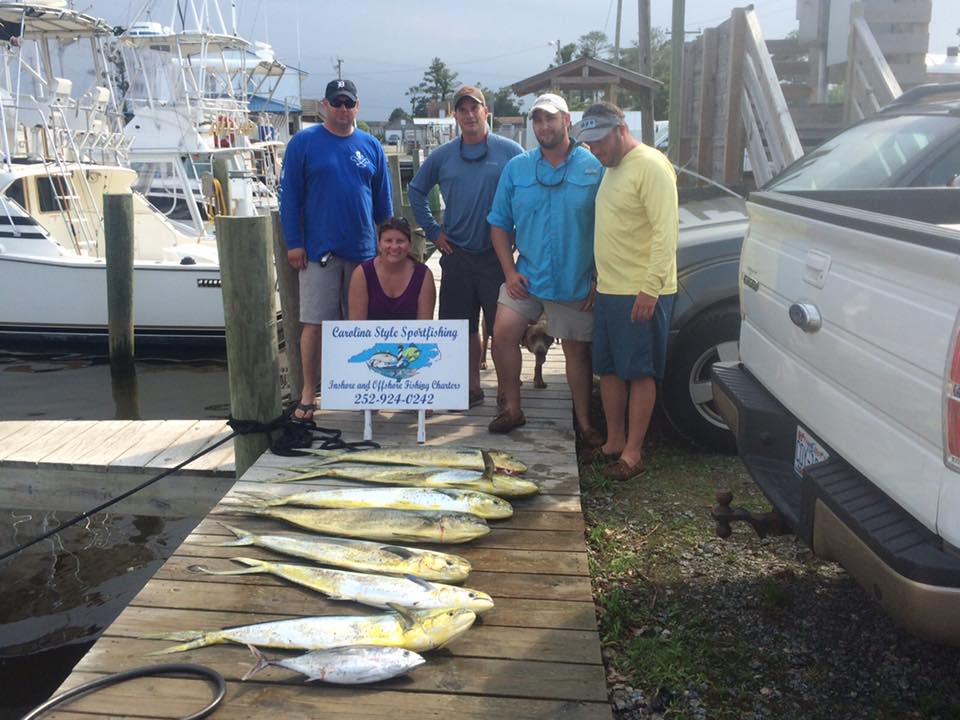 Deep sea fishing charters offer world-class fishing for dolphin (mahi mahi), wahoo, yellowfin tuna, and bluefin tuna. On offshore/deep sea charters, an experienced mate makes sure your fishing trip is made as easy as possible.
Dolphin, often called mahi mahi or dorado, are great table fare and an exciting gamefish. North Carolina's Outer Banks' nearshore wrecks and reefs are full of them! They're hard fighters, acrobatic, and travel in schools. Carolina Style Sportfishing knows where the dolphin are and filling the ice chest with these delicious gamefish is an awesome way to spend the day!
Wahoo are streamlined predators. They cut through schools of bait at high speed and are at the top of the food chain. From early spring to late fall, wahoo ride the Gulf Stream to The Outer Banks to dine on the plentiful baitfish in our nearshore waters. Wahoo are powerful, fast, and give even the most experienced anglers a run for the money. If you're looking for reel-screaming action, wahoo fishing is your answer. Plus, wahoo are delicious, the white meat is perfect for the grill and is a favorite for many anglers!
Yellowfin tuna visit North Carolina and the waters near the Outer Banks every summer by the millions. Like other gamefish, they follow the bait fish to The Outer Bank's rich nearshore marine ecosystem. Yellowfin tuna are undoubtedly one of the most highly-coveted gamefish in the world. Tuna often give amazing aerial displays when crashing a distantly-trolled topwater plug. These deep-diving, drag-screaming monsters will give you an arm workout. It's all worth the effort when they surface on the table. Carolina Style Sportfishing is your place to stack up the Yellowfin tuna, in fact you might need another freezer!
Giant bluefin tuna are hard to beat, for most it will be the fish of the lifetime. Bluefin visit North Carolina's coast every year from December through early April. These fish range from 300 to over 800 pounds. This is extreme fishing and is not for the faint of heart. Carolina Style Sportfishing's 32-foot Albemarle Express slices through the chop to make the ride out to the bluefin grounds a breeze. She also boasts top-of-the-line radar, sonar and a full assortment of electronics. Carolina Style Sportfishing has been catching these giants for years, and has everything to make the trip both enjoyable and successful. Bluefin tuna are prized worldwide for their flavor. Come to The Outer Banks and fish for a true giant.
---
Inshore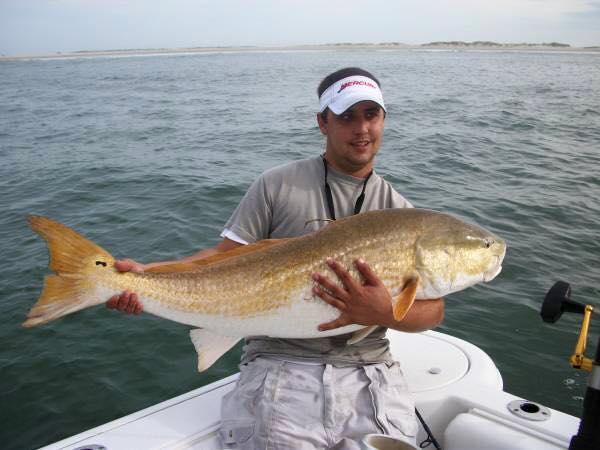 North Carolina is home to over 2 million acres of estuaries—no wonder the fishing is so good! Carolina Style Sportfishing loves inshore fishing, and their inshore fishing charters offer a fun, relaxing day on the water. Time is spent primarily fishing the eastern Pamlico Sound that is protectively nestled behind the Outer Banks. Pamlico Sound is the east coast's 2nd largest body of water (behind the Chesapeake Bay).
Guided inshore fishing charters often produce a mixed bag of fish. It is not uncommon to catch a combination of red drum, flounder, speckled trout, Spanish mackerel, and bluefish. Of course you can request to target a specific fish and they will cater the approach accordingly.
If you're looking to catch giant red drum (redfish), then North Carolina is the place to be! More specifically, Outer Banks, NC is the place to be!! Fish where the world record all-tackle Red Drum was caught! Every year from April through November, giant bull red drum use NC's many inlets to access Pamlico Sound to spawn. The Outer Banks inlets act as funnels to tightly concentrate the fish and Carolina Style Fishing Charters is in a prime location to target these concentrations of fish. This is strictly a catch and release fishery. Some of these fish are 40, 50, or more years old and the future if this monumental fishery is dependent on the survival of these fish.
Every year, in the cold of winter, giant OBX rockfishing heats up! Carolina Style Sportfishing is proud to be the top NC striper fishing charter in the Outer Banks. Trips for Oregon Inlet striper fishing and for Hatteras striper are thrilling experiences. This time of year finds the NC OBX beautiful, uncrowded, and peaceful. Outer Banks rentals are classified as "off season" and, therefore, much more affordable too. These saltwater rockfish are some of the tastiest fish around. These fish stay in cool water year-round, and the meat is delicious.
Cobia are a sportfisherman's dream. They offer action-packed excitement during the fight, and they are a mouth-watering delicacy on the table. These beasts flock each year to The Outer Banks to feed on the countless baitfish that live in our shoals. The short May-June season is red hot! cobia are pound-for-pound one the strongest fish in the ocean. They'll give you several drag-screaming runs that will keep your heart pounding! Average fish are between 30 and 50 pounds, but many weigh over 60 pounds. The popularity of cobia and the short season means these charters book very quickly. Don't miss your chance to catch trophy North Carolina cobia.
---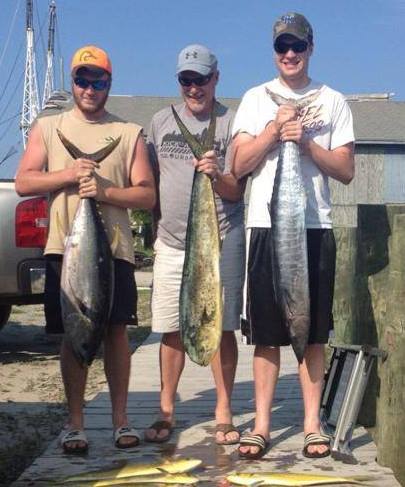 What to bring:
Plenty of sunscreen
Sunglasses
Hat
Camera
Cooler with drinks, sandwiches, snacks, etc. For a half-day trip, drinks and snacks will be fine. For a full-day trip, be sure to pack a lunch.
Rain jacket (even if no rain is in the forecast)
If you want to bring your own rod, please feel free!
No fishing license is required. We have a special license that covers everyone fishing from our boats.

---
About Fin & Field
#FinandField #FYNA #DreamBig2016
Fin & Field is all about finding your next adventure. We're working hard to provide the most comprehensive listing of services, reviews, and far reaching community available to help you take the guesswork out of planning your next adventure.
We believe in the ethical pursuit of hunting and fishing adventures and support taking from the land only what you can use and leaving it in better shape than you found it.
Tight Lines & Happy Hunting!
Visit us at www.finandfield.com