Peter Barela, owner of Barela's Alaskan Outfitters, is an avid bowhunter who grew up in Colorado. Looking for adventure, he moved to Alaska where he started working as a guide and outfitter. In 2008, Peter started Barela's Alaska Outfitters. With over 20 years of guiding experience, Peter partners with his clients to help them achieve their goals and fulfill their dream of a safe and successful Alaska big game hunt. Like us, Peter realizes that conservation is at the core of our continued enjoyment of the sport. That's why he's made a habit of donating an Alaskan big game hunt every year to an organization that advances the cause of conservation.
This year he's teaming up with the Wild Sheep Foundation (WSF). The WSF is dedicated to enhancing the wild sheep population, promoting professional wildlife management, educating the public (especially the young) on sustainable use and the benefits of conservation. Peter is donating a ten-day brown bear hunt for the third consecutive year to the Wild Sheep Foundation. Online bidding is ongoing and the live auction begins January 21st. Go online to the Wild Sheep Foundation where you will be able to bid on the ten-day hunt with Barela's Alaskan Outfitters. The value of this hunt is $18,500.00 and the winning bidder will have the satisfaction of knowing they are helping Peter support a great cause and advancing conservation efforts.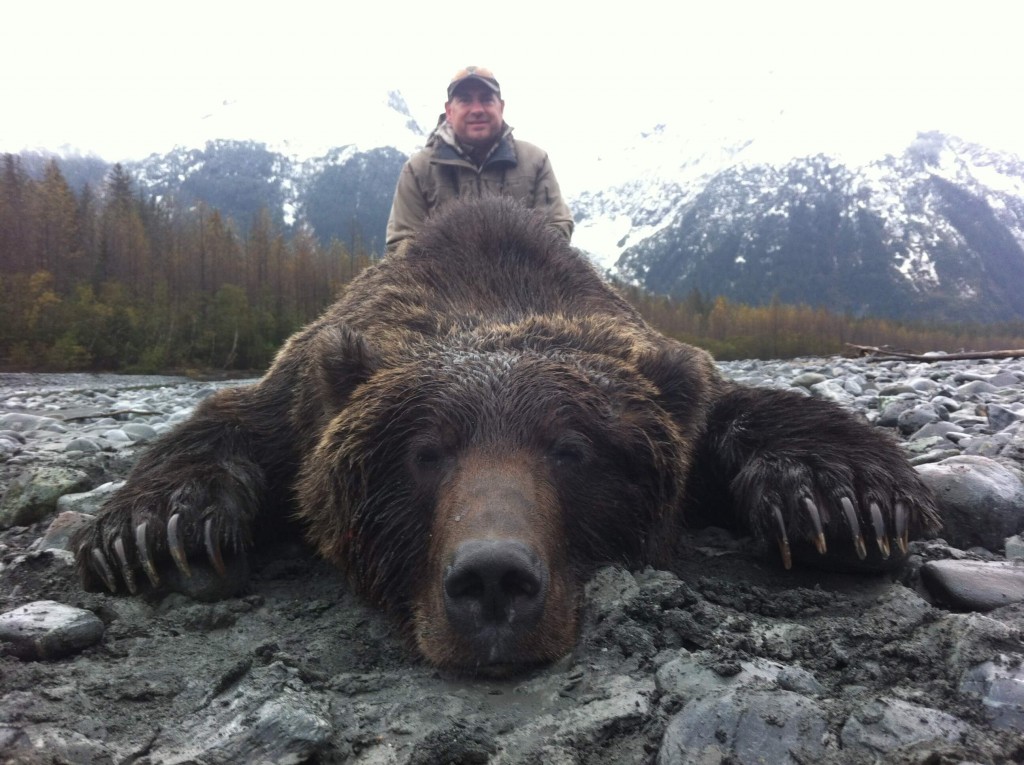 The Hunt:
The hunt begins from Cordova, Alaska where Peter will supply the flight to and from the hunting camp. All the necessary camping gear (tents, cots, gourmet cooking, food, heaters, fresh water, first aid supplies, emergency satellite phone) is up-to-date and high quality. Peter handles the preparation of the bear hide so it is ready for the tannery. As an experienced guide Peter knows the Alaskan hunting regulations and will make sure your are safe and compliant while you fill your tag.
The lucky winning bidder will only need to supply a round-trip ticket via Alaska Airlines to Cordova, a non-resident hunting license ($85.00), a bear tag ($500.00), and food/lodging when in Cordova. The winning bidder should also plan on packing their weapon, sleeping bag, personal hygiene supplies and a sleeping pad.
If a ten-day Alaskan brown bear hunt is on your bucket list, then there is no better way to make it a reality. Fin & Field thanks Peter Barela, Barela's Alaskan Outfitters, and the WSF for making conservation a priority and for their generosity.
Good luck and happy bidding!

---
About Fin & Field
Fin & Field is all about finding your next great adventure. We're working hard to provide the most comprehensive listing of services, reviews, and far reaching community available to help you take the guesswork out of planning your next adventure.
We believe in the ethical pursuit of hunting and fishing adventures and support taking from the land only what you can use and leaving it in better shape than you found it.
Tight Lines & Happy Hunting!
Visit us at www.finandfield.com