For most outdoors and hunting brands the time in between January and March is an exhaustive race from one outdoors show to another. Sprinkle in a trade show here and there, like ATA, NWTF and SHOT, for good measure and you've got some tired outdoor personalities looking for a break.  Their loss is your gain though because now that "show" season is behind us here are six brand spanking new pieces of turkey gear that you can take into the woods this spring to increase your success on those lonesome longbeards. 
Sit and Wait
If you are the type of hunter who likes to meticulously scout and plan out your turkey hunts this year's new gear is sure to have you as excited as a kid in a candy store. It was hard to choose just two pieces of equipment for those hunters who liked to set up and call those gobblers into range. The first product isn't necessarily exclusive to turkey hunters however it's certainly a game changer no matter what game you hunt. The second piece is sure to get those thunder chickens all fired up!
Primos SurroundView 360o Double Bull Blind
This new blind from Primos was a stunner at the ATA and SHOT shows this year. Primos touts their new blind as the "Blind Without A Blind SpotTM ". Primos has found a way to construct sturdy, durable, water-resistant walls which are see through. You don't believe them? Head on over to the Primos website to find out more information on how this product works and "see for yourself". They even have an app for that! The SurroundView 360o retails for $499.00 and is also available in two other models the SurroundView 270o and the SurroundView 180o which are available for $399.00 and $299.00 respectively.
Flambeau King StrutterTM Decoy
What good is a blind without any decoys? Have no fear; Flambeau has got your back. This year they've added the King StrutterTM decoy to their arsenal of deadly decoys. The King Strutter is modeled after a design by award-winning Master Carver Dave Constantine. The decoy fatures a keyhole stake plate which allows for the decoy to be set in a fixed position or a more natural side-to-side movement in a breeze. For added detail Flambeau's high-def fantail can be removed and replaced with an actual dried fan tail to increase the realism. Strut on over to the Fambeau website to learn more about this killer decoy which retails for $139.99.
Run and Gun
If lugging around a heavy ground blind and massive decoys isn't to your liking that doesn't mean you are left out in the cold this turkey season (Ok, it might mean you are slightly colder without the protection of a ground blind but you get where I am going with this!). For those hunters that like the freedom to roam and put a stalk on a gobbler this year's offerings won't weigh you down. Both pieces of gear come from well established companies with reputations for quality and innovative designs. First up is what I like to call a mobile turkey hunting office with the best seat in the house followed by a piece worthy of hanging in your office as well as staking in the field.
Alps Outdoorz NWTF Impact Turkey Vest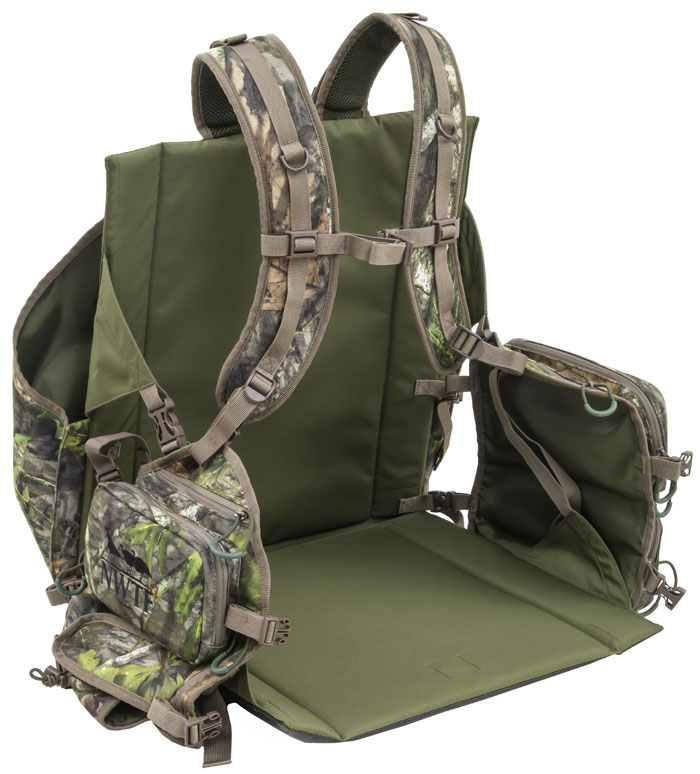 New for this season's turkey hunt is a lightweight vest from Alps Outdoorz. The vest has a flip down stadium-style seat and features numerous pockets for all your calls, from pot to box to diaphragm. There is also a removable from pocket that can be thrown over your head when you just need the bare minimum.  Weighing in at only 3 pounds, 15 ounces this vest is all you need to set up shop at a moment's notice. Available in both Mossy Oak Obsession and Bottomland proceeds from each vest benefit the National Wild Turkey Federation and its Save the Habitat. Save the Hunt. Program. For additional information and to check out all the features of this vest has to offer head on over to Alps Outdoorz.
Avian X Trophy Tom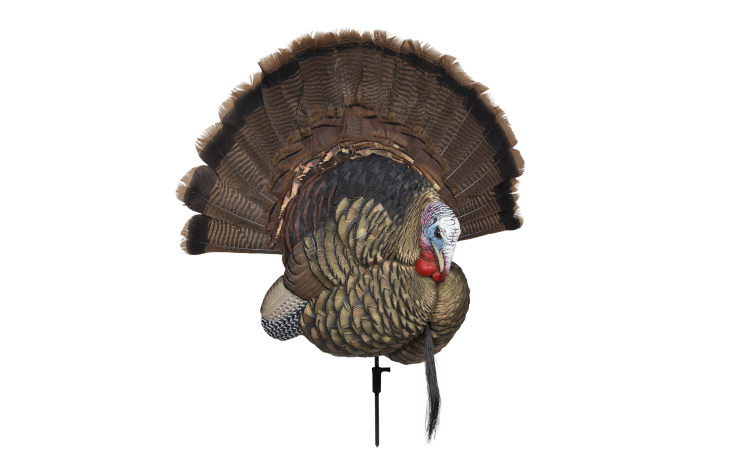 This isn't your typical decoy, but then again when has Avian X EVER made a typical decoy? New for the 2018 season the Trophy Tom is a dual purpose bird; great in the field as a decoy while easily at home on the wall displaying your treasured trophies. The decoy is a taxidermy-style showpiece that can hold your trophy gobbler's tail fan and beard. This means not only will it look great on display for friends and family but it will also look just as realistic staked out in the field on your next hunt. Retailing at $79.99 the Trophy Tom is lightweight and can not only be staked out but also used at stalking and fanning a longbeard into submission. To see why this decoy is heads and tails above the competition check out Avian X before the season starts.
Up your Game
Whether you like to sit and wait or run and gun the next two items will help you up your game in the field this spring. Both will help you extend your range and deliver a knockout punch to any Tom, Dick or Harry (or Jake) that shows up to your spread.
Federal Premium HEAVYWEIGHT TSS

Federal has done it again. This time they have introduced a shot shell that, in my opinion, was much needed on the scene, the HEAVYWEIGHT TSS. The "TSS" stands for Tungsten Super Shot which is 22 percent denser that standard tungsten, 56 percent denser than lead and has twice the pellet count of No. 5 loads of the same weight. Combine this with the FLITECONTROL FLEXTM wad which provides tight consistent patterns at extreme ranges and you have yourself a new standard in the turkey field. The TSS is available in 12 and 20 gauge and even in .410 (yes you read that right, .410!) and shot sizes of 7 and 9. Just like Alps Outdoorz, portions of the proceeds of HEAVYWEIGHT TSS benefit the NWTF. For more info and a look inside this new shot shell check out Federal Premium.
TRUGLO HEAD-BANGERTM Long Range Turkey Choke Tube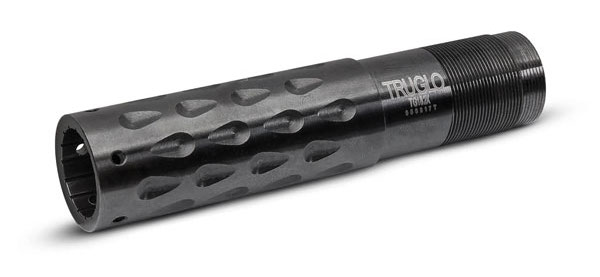 What could be better than new ammo that packs a wallop at long range? Why a choke tube that can extend that range and tight pattern even further! New from TRUGLO this year is their HEAD-BANGER choke tube which sports multi-phase groove technology that engaged the shot cup and guides the pellets into a tight and consistent pattern time after time. Each choke tube is CNC-machine for precision and made out of heat-treated steel for increased strength and durability. The HEAD-BANGER was designed to do just that, bang turkey heads, and is rated for Hevi-Shot, Winchester Longbeard XR, Federal Premium 3rd Degree and other high performance turkey loads. The HEAD-BANGER is offered in both 12 and 20 gauge models.  TRUGLO offers it to fit several different firearms choke tube systems. To check if it will fit your firearm head on over to the TRUGLO website.
Bonus

I know I said there were six pieces of turkey gear that you weren't going to be able to live without, but I couldn't help mentioning the new line of turkey specific clothing coming out this year from NOMAD. Most of their gear is offered in both Mossy Oak Obsession and Bottomland and is also available in Greenleaf for specific pieces. If you are looking to outfit yourself, from head to toe, this turkey season Nomad has you covered, literally. Wander, but don't get lost, over to the NOMAD website for more info and available sizes on their clothing.
Guest Blogger Shawn McCardell

---
About Fin & Field
Fin & Field is changing the way sportsmen find, compare, book and share their fishing and hunting adventures. We've consolidated the hunting and fishing industry into a powerful marketplace that connects sportsmen and operators (charter boats, fishing guides, hunting guides, lodges, marinas, outfitters, outdoor brands, and more). We're using technology to drive more meaningful, fun, and efficient communication that's making it easier for sportsmen to get the information they need to do what they love.
Book your next adventure at www.finandfield.com.