The 2017 Jimmy Johnson's 'Quest for the Ring' Championship Fishing Week is a wrap. Fin & Field was there every step of the way for this history making tournament. Read on for all the details on who got a piece of the guaranteed $1,000,000 purse and who earned a place in Coach's coveted 'Ring of Honor'!
"Being the Best" was the mantra of this tournament. Jimmy Johnson set the tone at the captains meeting and thrilled the already excited audience by pointing out the historic nature of the first ever tournament to have a guaranteed purse of $1,000,000. The Seminole Hard Rock Hotel and Casino guaranteed the purse and also hosted the gift event and poolside celebration. Anglers and teams were treated to gear by the events sponsors including Oakley, Grundens, Papa's Pilar, and Tunaskin. Coach Jimmy Johnson also pointed out that every team there was competing to be the best and to earn a spot in the Ring of Honor.
After the rousing captains meeting, where hundreds of anglers, captains, crews, and fans celebrated the start of the tournament, the teams were drawn for the Celebrity Pro-Am day of fishing on Thursday, March 9th. A host of NFL players and other celebrities turned out including Russell Maryland, Zach Thomas, Ryan Tannehill, Worldwide Wes, Greg Mark, Dan Stubbs, Steve Walsh, Harvey Dahl, Desmond Howard, Alex Gonzalez, and Twan Russell. Each celebrity guest was paired with a captain and crew to form a team and the teams each fished for a different charitable partner. Celebrity Twan Russell was on the wining team aboard The Patriot with Captain Joe McGivern. For their effort, Twan Russell's Education Foundation took home a donation of $8,500. All of the winners were announced and a total of $75,000 was given away at the Champions Dinner at the Ocean Reef Club that evening. Tranquil Shores Foundation, Walking with Anthony, Twan Russell Foundation, and Fishing for Muscular Dystrophy were among the recipients.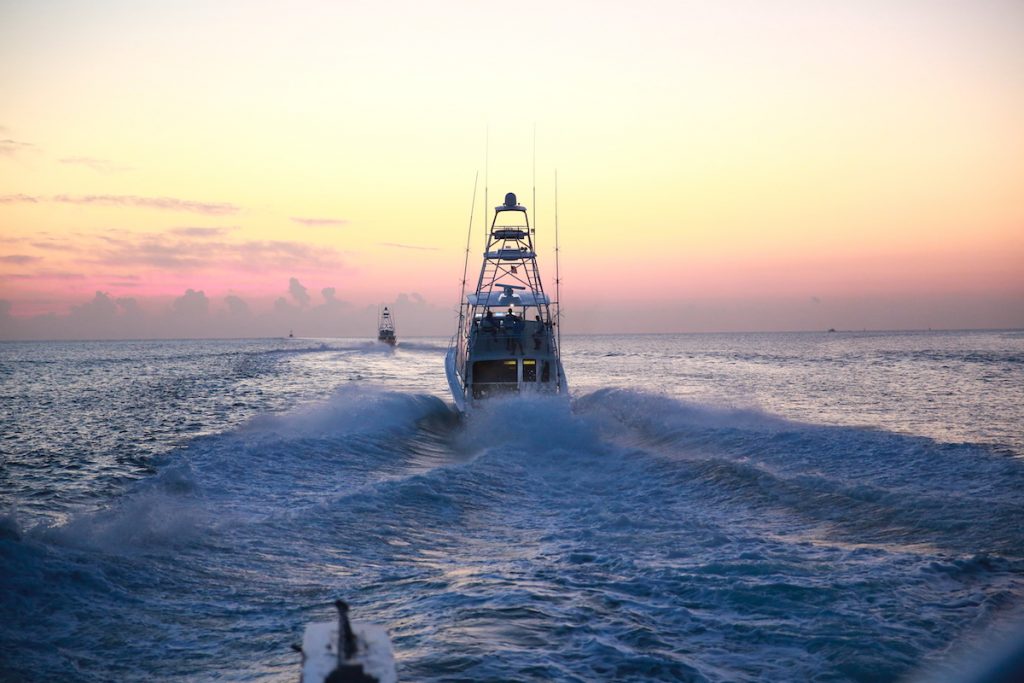 The Next Day, Friday, marked the start of the National Billfish Championship and 71 boats competed for the prestigious honor, and prize money, that would belong to the winners in just two days time. 71 boats amassed 437 billfish releases by the end of the 6th annual Jimmy Johnson's 'Quest for the Ring' Championship Fishing Week. In addition to covering the event, the Fin & Field team threw ourselves into the tournament and also competed. Sadly we fell short of the winners circle but each of us walked away better for the experience. The fantastic Capt. and crew of the Buzz On are to be commended on turning this rag-tag bunch of internet entrepreneurs into a tournament sailfishing team! There is no doubt that Capt. Aaron Brower on the Buzz On is equally suited for a serious day of fishing or a Florida Keys family adventure, check them out!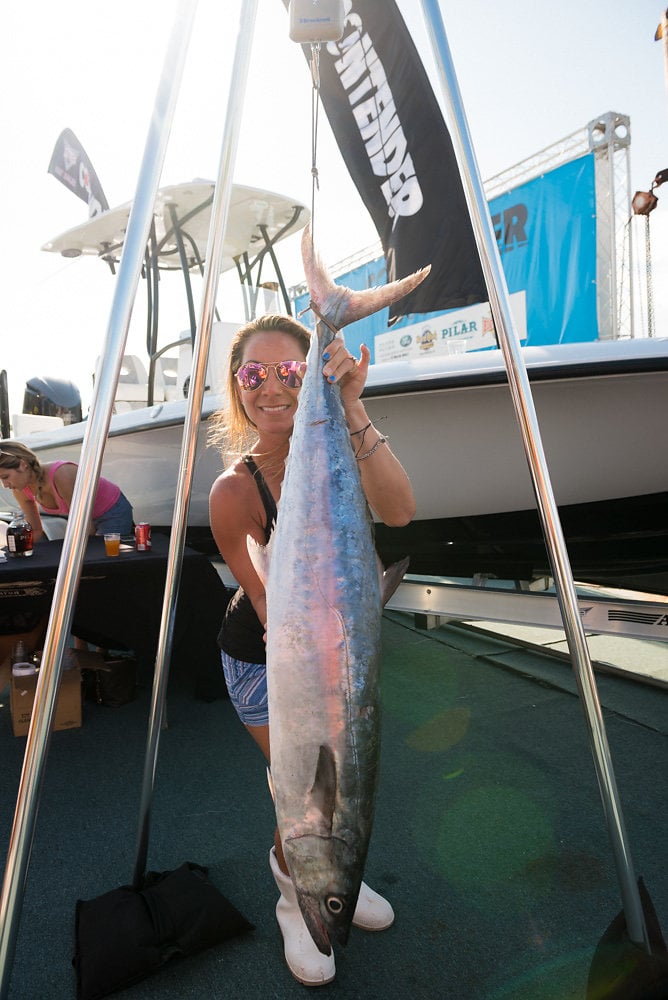 The final day of fishing, Saturday, was the last chance for teams to score more precious release points in the National Billfish Championship. It was also the 1 day National Sportfishing Championship. The weather for both days was outstanding, combined with the large 75mile boundary teams had the pick of where to fish. By the end of the day the winners in each tournament and in each category were determined. Frustrated Amateurs won the National Sportfish Championship with 2 large kingfish and took home $4,500 for their efforts.
There are more than a few familiar names among the boats that had great performances in the National Billfish Championship. Taking advantage of the great weather (that at times was so nice it made flying the kites tricky), their expertise, and a bit of good fortune, these boats pulled off top finishes and we congratulate them!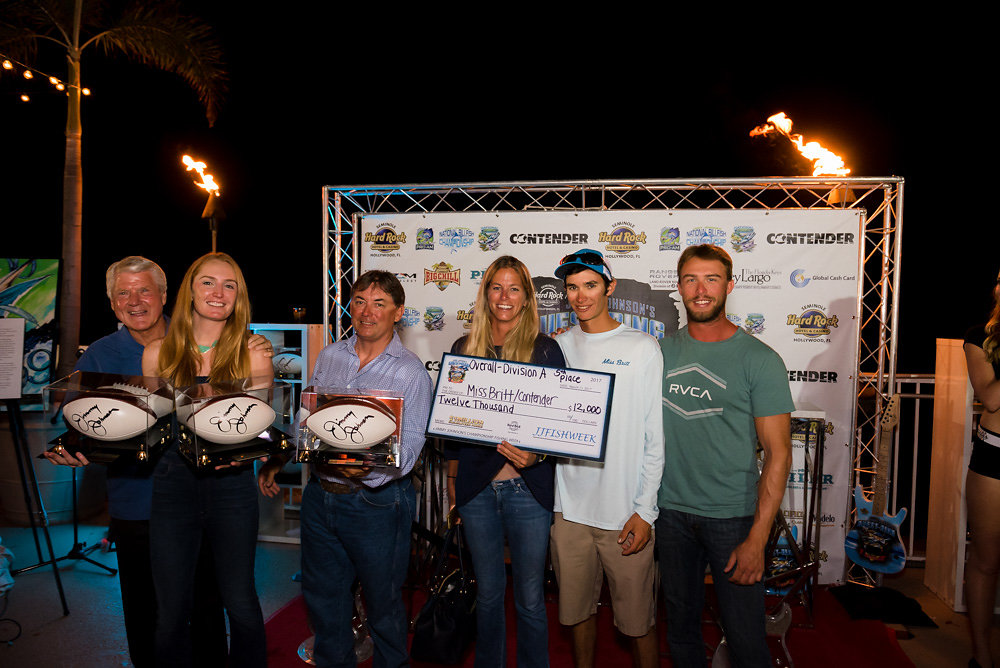 Miss Britt / Contender ($14,500) was in the money at 5th place with 13 releases. Capt. Ray Rosher of the Miss Britt fleet led the team made up of Stephanie Choate, Sasha, Matthew Bierley, Brent Feder, Matt Neber, Todd Malicoat, and Steven Stallings.  In addition to 5th place overall they won 1st place in the early bite – Saturday.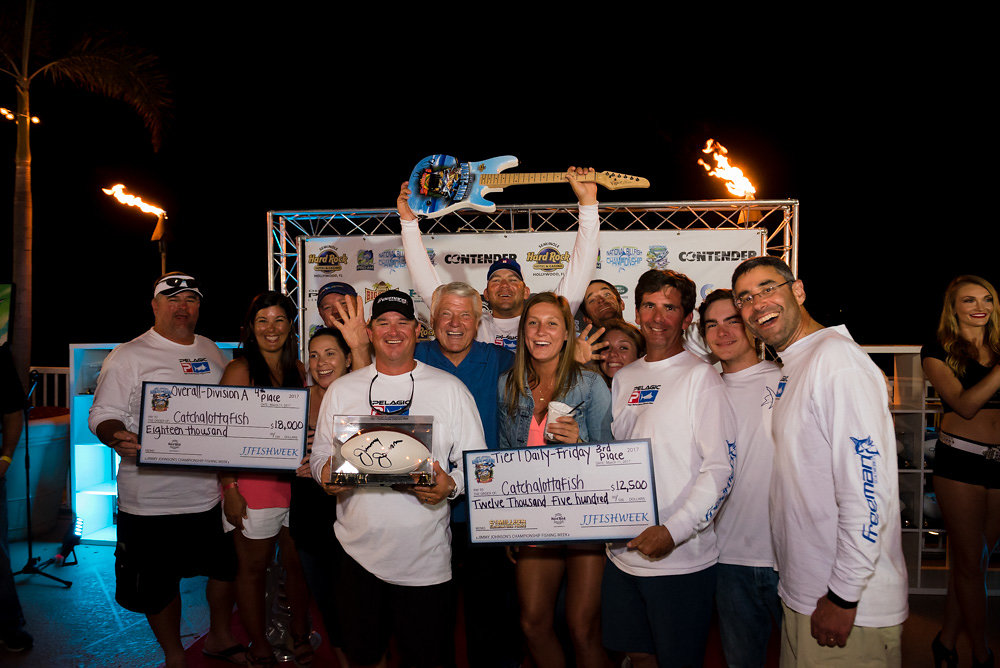 Catchalottafish ($30,500) earned a 4th place finish overall with 13 releases, but beating Miss Britt on time. Capt. James Chappell and his team (Drew Rhonehouse, Lee Robertson, Harry Kennedy, Bill Walters, Gerold Cohen, Craig Waller, and Jimmy Hendrix) also scored the Tier 1 – Friday 3rd Place.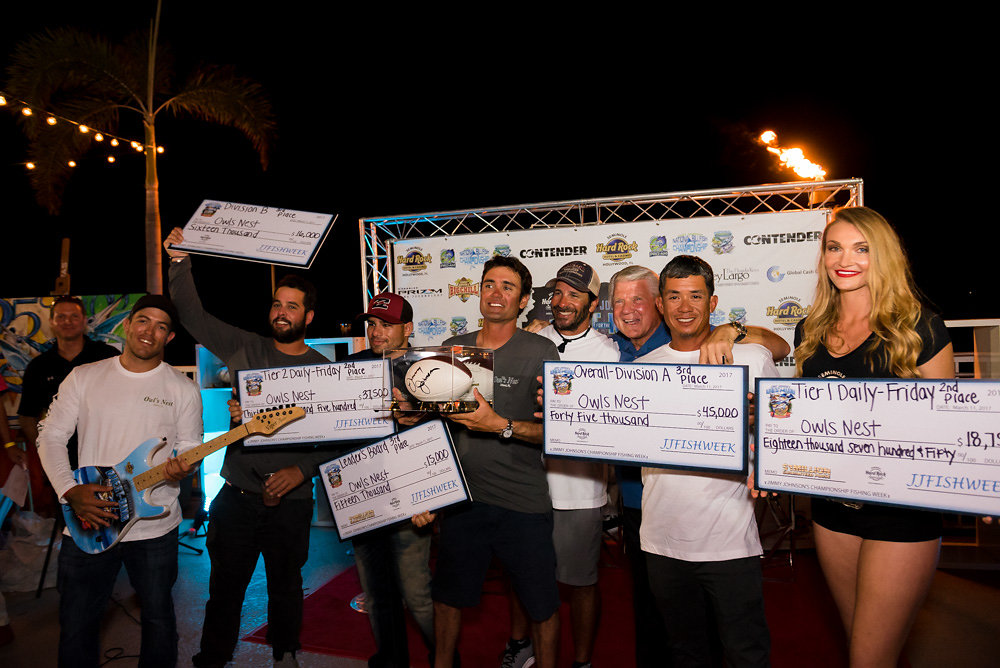 Finishing in 3rd place was Owl's Nest ($132,250) who also racked up a Division B – 3rd place, Leaders Board 3rd place, Tier 1 Friday 2nd place, and Tier 2 Friday 2nd place. Captain Matty Tambor fished with anglers Jack Altman, Aron Nussbaum, Mike Green, Sean Lue, Marcello Para, Jessie Maerhoff, Tito Sanchez, and Scott London.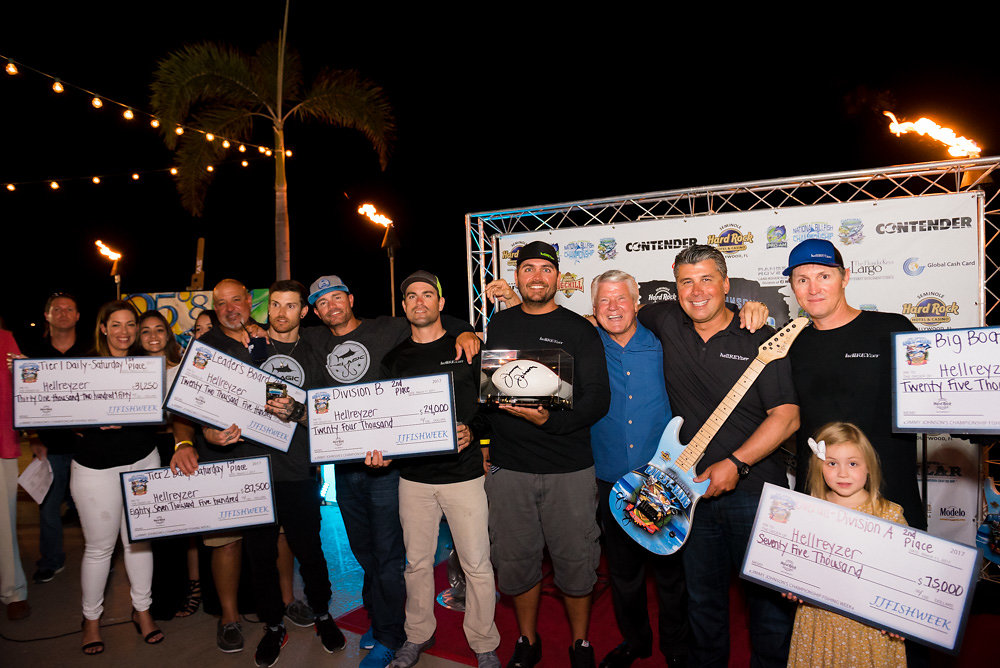 In 2nd place overall with 17 releases was HellReyzer ($265,250). Capt. JC Cleary with anglers Rudy Espinosa, Ryan Alexander, Eric Darvill, Jorge Corzo, Michelle Beltran, Ray Acosta, and Nick Carullo also locked up Big Boat 1st place, Division B 2nd place, Leader's Board 2nd place, Tier 1 – Saturday 1st place, and Tier 2 – Saturday 1st place.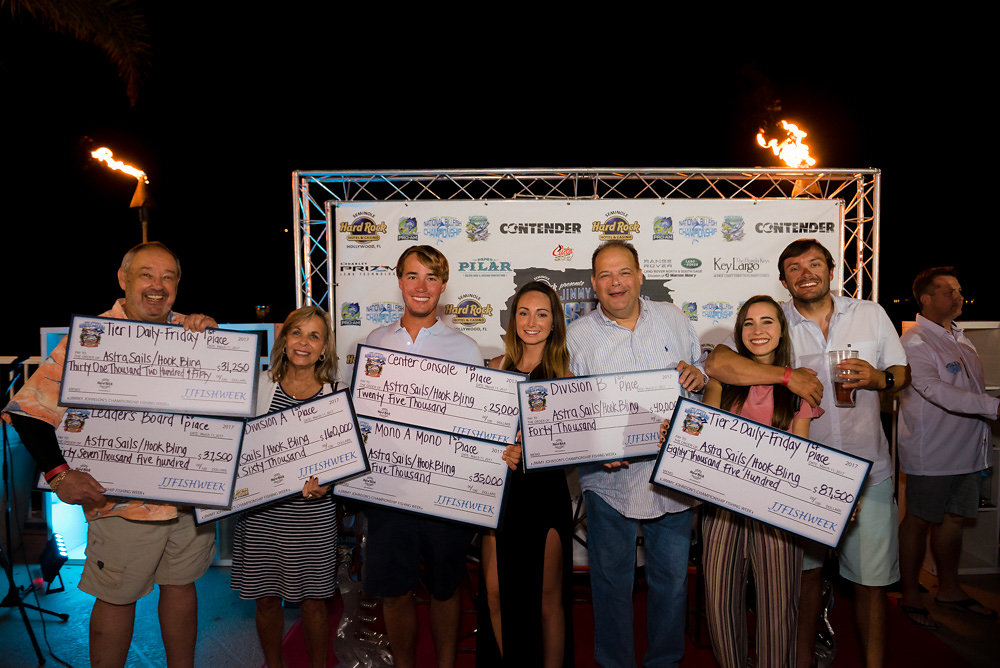 And the big winners…the best team of 2017…the newest inductees into the 'Ring of Honor" Astra Sails! With a whopping 19 sailfish releases they took home a total winning of $416,250! Capt. Greg Graham was joined by anglers John McTurk, Mike Levy, Madison Roberts, Brad Zimmerman, Will Osthe, Steve Smith, Morgan Cadell, and Andi de Young. Their 1st place Division A win alone was worth $160,000. The also racked up wins for, Center Console 1st place, Division B 1st  place, Leader's Board 1st  place, Mono A Mono 1st  place, Tier 1 – Friday 1st  place, and Tier 2 – Friday 1st  place.
Fin & Field was a proud sponsor of this event and was joined by Oakley Prizm, Tunaskin, and Grundens, Crook & Crook, Dennis Friel Art Studios, Land Rover North & South Dade, Garmin, Global Cash Card, Raymarine, Papa's Raw Bar, Cuda, Breakthru Beverage, Celebrity Cruises, and Papa's Pilar. Like Fin & Field,
Papa's Pilar
 also competed with a team including television stars Wild Bill and Scott Walker.

---
About Fin & Field
Fin & Field is all about finding your next great adventure. We're working hard to provide the most comprehensive listing of services, reviews, and far reaching community available to help you take the guesswork out of planning your next adventure.
We believe in the ethical pursuit of hunting and fishing adventures and support taking from the land only what you can use and leaving it in better shape than you found it.
Tight Lines & Happy Hunting!
Visit us at www.finandfield.com