South Florida is considered by many to be one of the fishing meccas. People travel from all over to fish the nearshore and offshore waters of the region and many of the worlds biggest offshore tournaments take place here. You are hard pressed to find a bigger concentration of talented captains and crews and decked out boats. If you want to book the best of the best for your next Miami area charter, give Miss Britt Charters and Captain Ray Rosher a good hard look! Don't just take our word for it, Miss Britt Charters comes highly recommended by Fly Navarro as part of the Fly Zone Adventure Series!
Ray has assembled a 3 boat fleet to handle any type of fishing you want to do. He has also assembled a world class team of captains and mates that genuinely love fishing and understand that they are ambassadors to the sport every time a client steps on the boat. With 12 months a year of fishing, Miss Britt Charters specialize in catching sailfish, blue and white marlin, spearfish, daytime and night time swordfish, sharks, mahi, wahoo, kingfish, spanish mackerel, groupers, snapper, jacks, cobia, tarpon, and snook. All three boats are equipped to handle anything you might encounter on your Miami, FL fishing adventure.

Or Call at 866-927-9015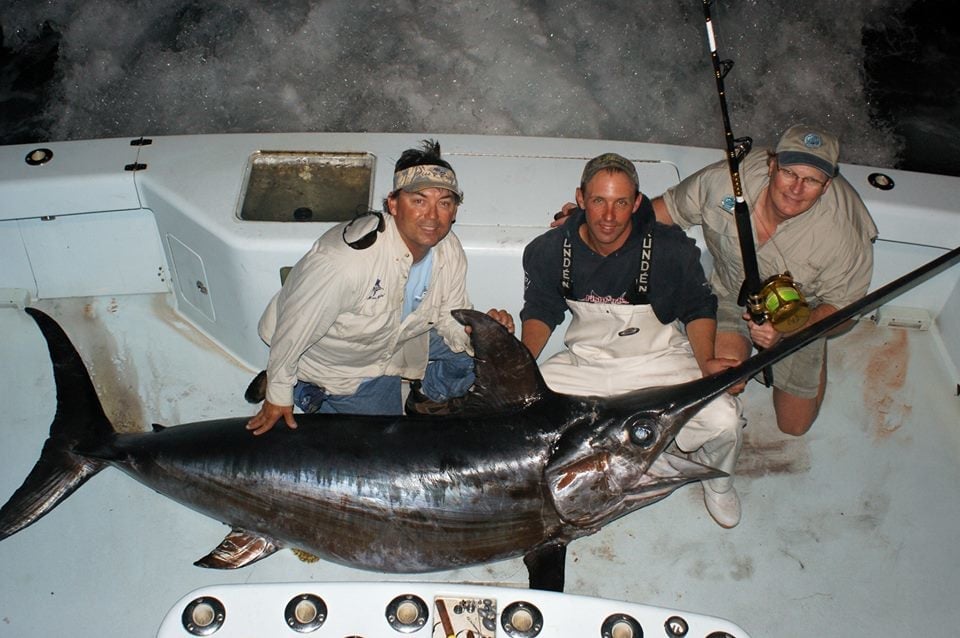 Captain Ray Rosher became a professional angler in 1979 by working as a mate, and eventually a captain, aboard a corporate boat. During that time Ray developed a passion for getting the details right, he witnessed time and again that the small things make the difference between catching fish and not. He also saw first hand the importance of bringing world class customer service to the charter boat business. In 1999 Ray started Miss Britt Charters based on the dual principals of unparalleled customer service and attention to detail. All of his captains and crew share in those principals and have created a sport fishing culture based on integrity, honesty, and diligence.
For 18 years Miss Britt Charters has been providing the most memorable and thrilling Miami fishing experiences. Their reputation has grown and they have earned a reputation for being among the best outfits in South Florida. Book a charter with Miss Britt Charters and you can count on being treated with respect, having fun, and learning a lot. You will also most likely catch some amazing fish.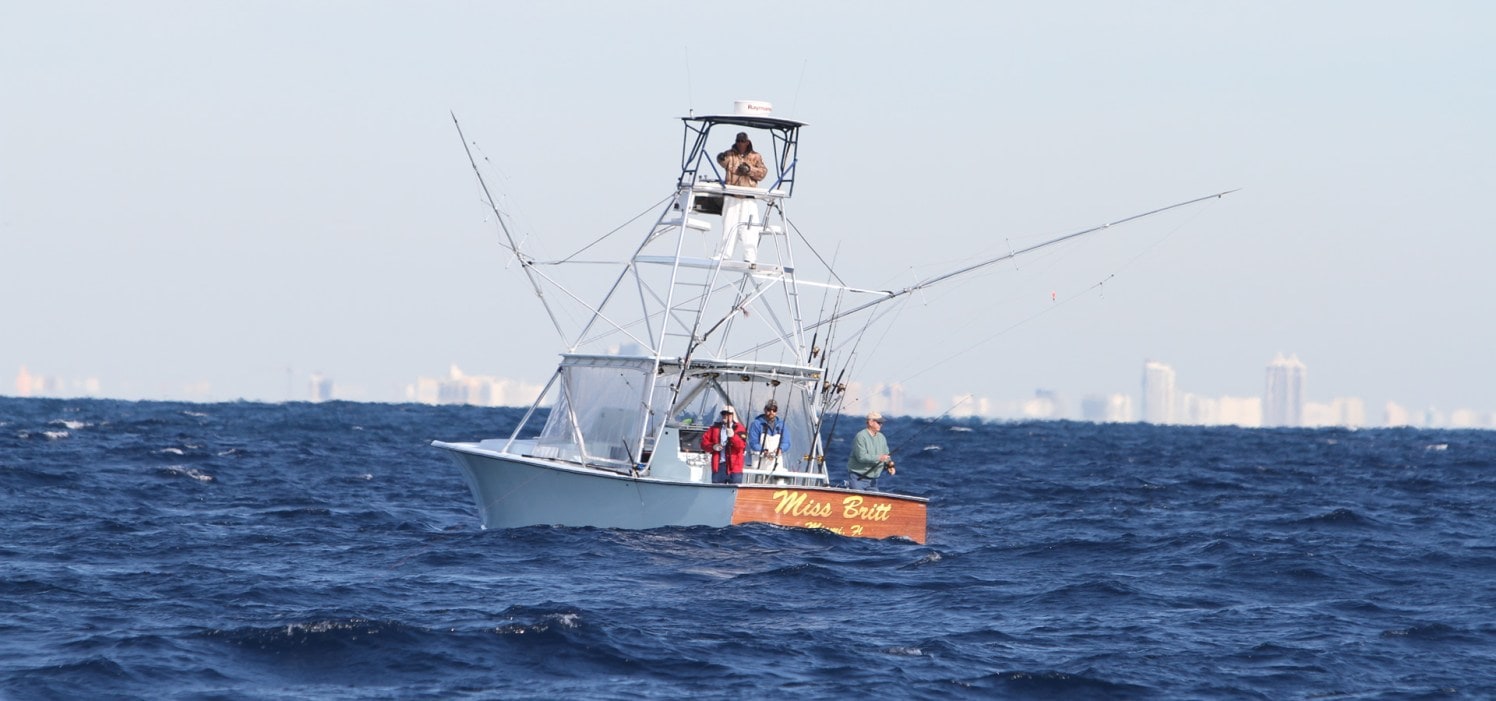 The fleet is made up of the Miss Britt I, the Miss Britt II, and the Miss Cheyenne. The Miss Britt I is a custom built 34′ Express that was purpose built with all the features of a much bigger boat. It has an enclosed bathroom, modern Raymarine electronics, and an arsenal of tournament ready Penn tackle. Chartering the Miss Britt 1 is a good way to save a little money, and each boat can legally fish up to 6 anglers, the Miss Britt I is ideally suited for 5 (though it accommodates 6 anglers routinely).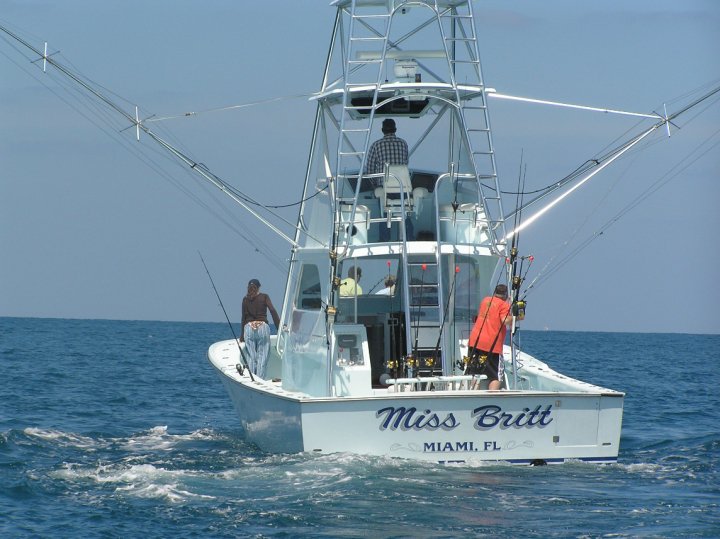 The flagship, the Miss Britt II is the ultimate fishing machine. The custom built 43′ Jim Bacle (Torres) is specifically designed for South Florida fishing. Ray spent two and a half years with the builder creating this fishing machine from scratch. The Miss Britt II includes an enclosed bathroom, modern Raymarine electronics, 4 live-wells, and walk-around fishability. This is the most comfortable boat for a full group of 6 anglers.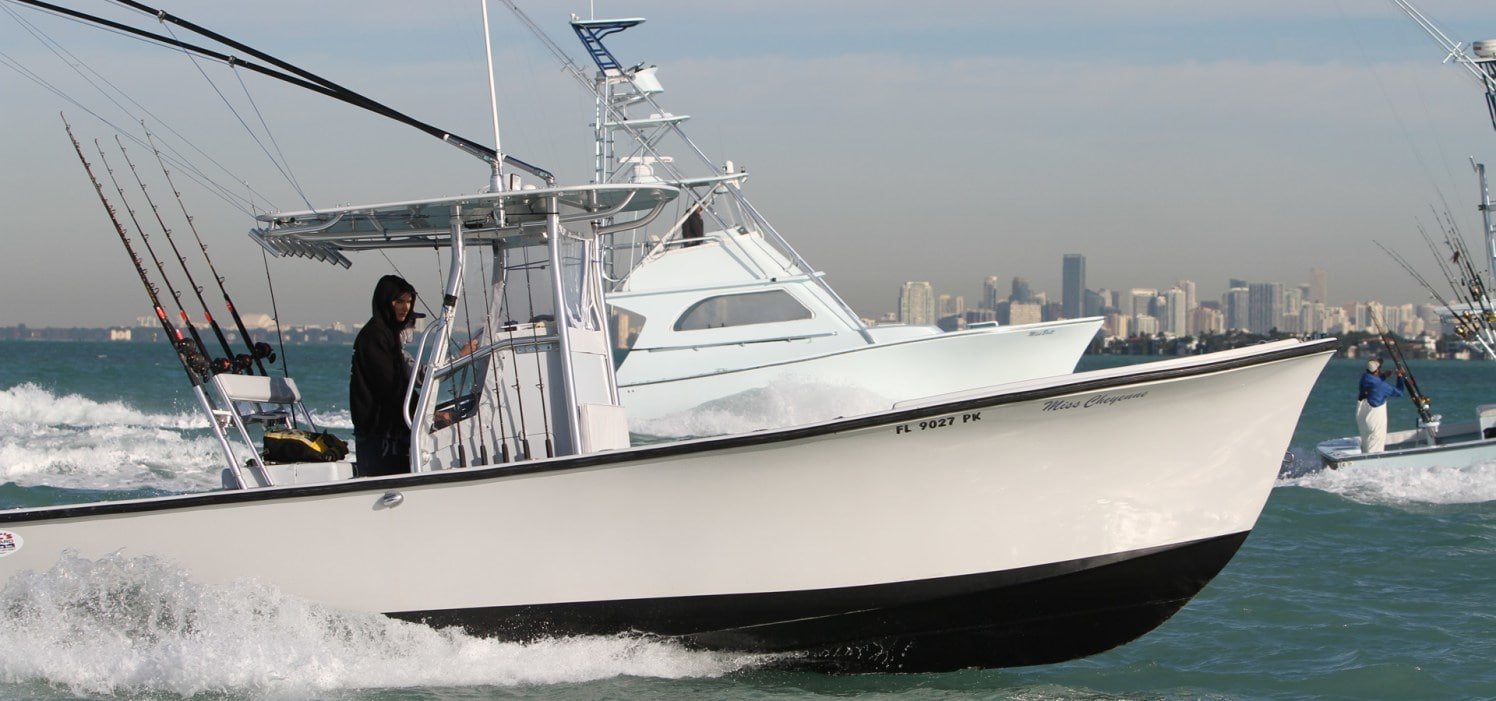 The Miss Cheyenne is the newest and smallest member of the Miss Britt fleet. She features a custom built, high-sided Goldline with Yamaha power, modern Raymarine electronics, and 3 built in live-wells. This boat can catch all the same fish that her big sisters do while providing a less expensive alternative for groups up to 4.
All of the boats are decked out with top-of-the-line tackle and quality Penn reels & rods. Fishing any of the Miss Britt boats is the perfect adventure for hardcore anglers, weekend warriors, and even families with kids and first time anglers. The experienced and professional crew can tailor the experience to your experience level and goals for the day. You can even hire Miss Britt for any of the exciting South Florida tournaments. They are experienced and winning tournament anglers. Between Ray and his crew have had several seasons with combined earnings right around $1M!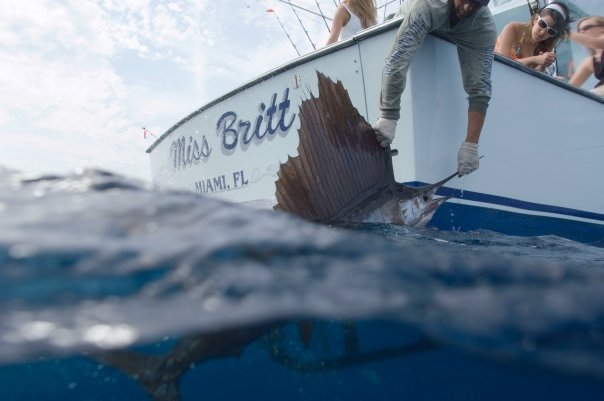 Your charter will include all of the dead bait, tackle, guidance, and even fish cleaning. You will need to bring just a few personal items on board:
Bring whatever you want to eat or drink including water. Coolers and ice is provided so your food stays fresh and your water/beer stays cold.
Sunblock
Hat
Polarized sunglasses
Camera
The Miss Britt Charters team understands this might be a once in a lifetime experience for you and will be more than happy to take photos, especially when the fishing is HOT. Just make sure to let the crew know you are eager for some photos! Photos are also key for taxidermy and they are able to set you up with Gray's Taxidermy and Atlantic Taxidermy if you want a release mount. You are also welcome to keep any legal fish. The crew will clean as many of the fish as time allows at no additional charge beyond tips.
Captain Ray Rosher and Miss Britt Charters are your best bet for a 1st class, professional, experienced, and knowledgeable crew in South Florida. Contact them today, they are happy to help you reserve a trip date based on what species you want to catch or when you will be in the Miami area!

---
About Fin & Field
Fin & Field is changing the way sportsmen find, compare, book and share their fishing and hunting adventures. We've consolidated the hunting and fishing industry into a powerful marketplace that connects sportsmen and operators (charter boats, fishing guides, hunting guides, lodges, marinas, outfitters, outdoor brands, and more). We're using technology to drive more meaningful, fun, and efficient communication that's making it easier for sportsmen to get the information they need to do what they love.
Book your next adventure at www.finandfield.com.