Once again Fin & Field had the chance to watch NASCAR driver Ty Dillon, recipient of our Most Interesting Sportsman in the World (MISITW) award, at historic Bristol Motor Speedway. The weekend of racing featured back to back night-time races, the Monster Energy NASCAR Cup Bass Pro Shops / NRA Night Race and the Xfinity Series 25th Anniversary Food City 300.
Adding to the excitement, title sponsor Bass Pro Shops set up several impressive displays & exhibits including King of Bucks, NRA Shooting Experience, Archery, and a catch and release pond. Bass Pro paint schemes were featured along with NRA on Ty's #3 in the Xfinity race and Ducks Unlimited was proudly featured on Monster Energy series leader Martin Truex's #78.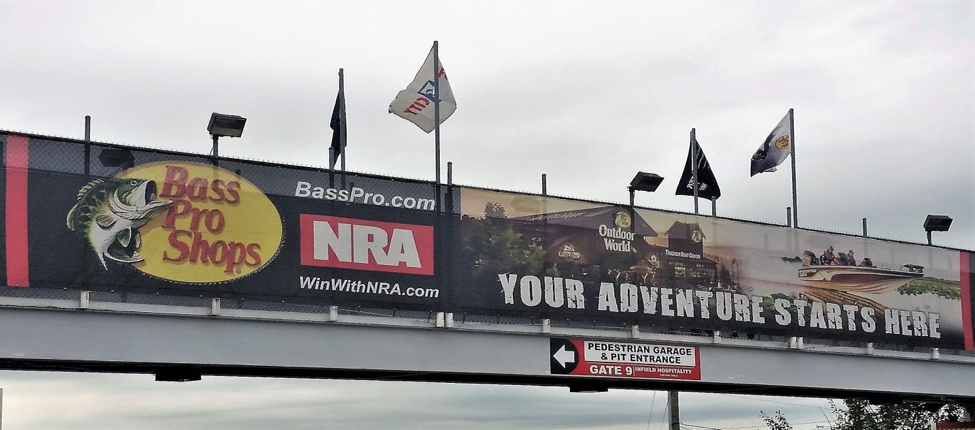 "NASCAR fans love racing, hunting, and the outdoors, and we are excited to spotlight them together in Bristol," said Johnny Morris, founder of Bass Pro Shops. "Located in the Blue Ridge and Smoky Mountain region, the Night Race is the perfect venue for us to celebrate our shared love of the outdoors and the importance of protecting natural resources for future generations.
The weekend was even more historic because it was Dale Earnhardt Jr.'s last race at Bristol in the #88 Chevrolet for Hendrick Motorsports. There were several tributes to Dale including a showcar hauler parade downtown, music, food, and fireworks.

Back to our MISITW. Ty is currently 3rd in the Sunoco Rookie of the Year standing and 24th in the Monster Energy NASCAR Cup Series.  We spoke with Ty at the #13 hauler before qualifying on Friday morning and covered a range of topics. He was proud of his hard-working team and the constant improvements he's been able to make. His rookie class features some talented drivers and Ty realized the need to make a big move this weekend if he wants to end up the Sunoco Rookie of the Year. He was upbeat and optimistic because of recent runs at Dover and Daytona. Ty lead 27 laps at the AAA 400 Drive For Autism in June at Dover and finished 14th, he then lead 7 laps at the Coke Zero 400 in July at Daytona and finished 16th.
We asked how his outdoor experiences in hunting and fishing have helped him be a better race car driver. Ty says "you have to practice, you have to prepare, and you have to put yourself in the right place for a chance at success. Whether it is taking a shot at a trophy Elk or leading a race at Daytona, you have to be willing to put in the time". For once, after the season Ty is not planning any crazy outdoor adventures. Instead he is having a baby! His wife Haley is expecting in November so fatherhood will take up his entire off season…and more!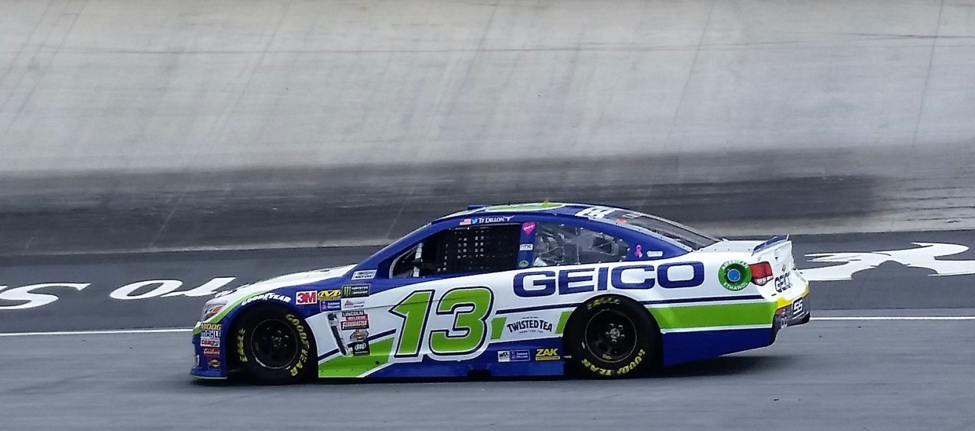 Ty was pulling double duty at Bristol and running both night races. Fin & Field attended the BASS Pro Shops / NRA Night Race where he ran his usual #13 GIECO Germain Racing Chevy and finished 36th. In the Food City 300, he ran the Richard Childress Racing #3 Chevrolet Camaro with one of Bass Pro Shops special paint schemes which paid tribute to the National Rifle Association (NRA) and the NRA National Sporting Arms Museum. Ty finished 4th.
Bristol is known as "The Last Great Colosseum." It is all concrete and the world's fastest half mile. The track is completely surrounded by grandstands like an amphitheater. It is a fan favorite on the NASCAR circuit because of the tight precision racing which usually leads to some contact and a slim margin of victory. Racing at night just makes it even more exciting.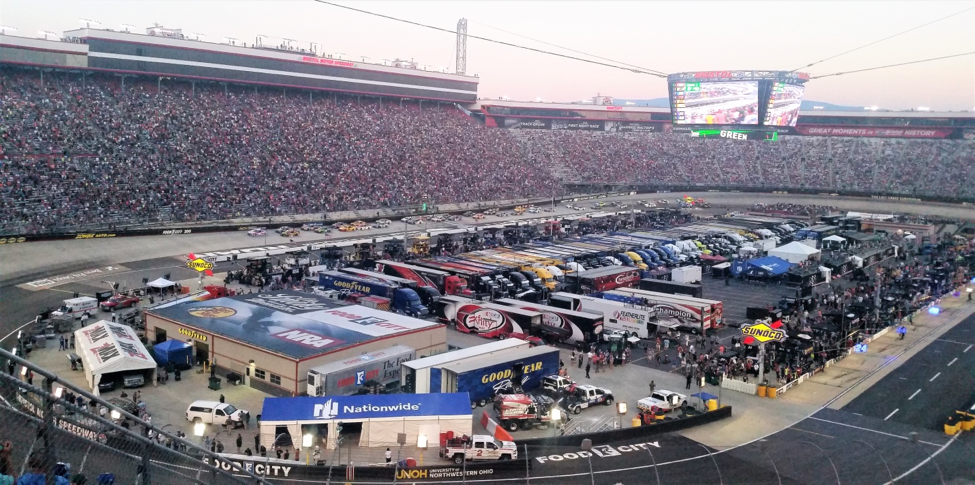 Johnny Morris, Founder & CEO of Bass Pro Shops; Dale Hall, CEO of Ducks Unlimited; and Ed Carter, Executive Director of Tennessee Wildlife Resources Agency started the race by proudly dedicating the weekend to the sportsmen and women of America! That was followed by the tributes to Dale Jr's #88.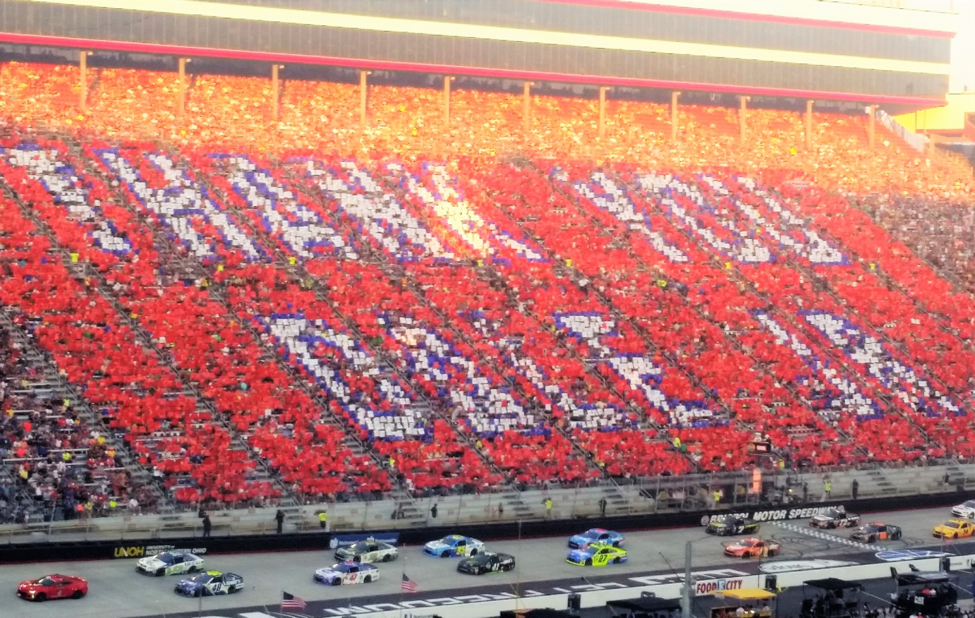 The Race did not disappoint. There were 6 leaders and 21 lead changes and 8 caution flags. Kyle Busch's #18 Caramel Camry battled rookie Eric Jones #77 5 Hour Energy Camry for most of the night. In the end, Rowdy Nation got to watch the Joe Gibbs Racing #18 Caramel Camry cross the finish line as Kyle Busch headed to victory lane.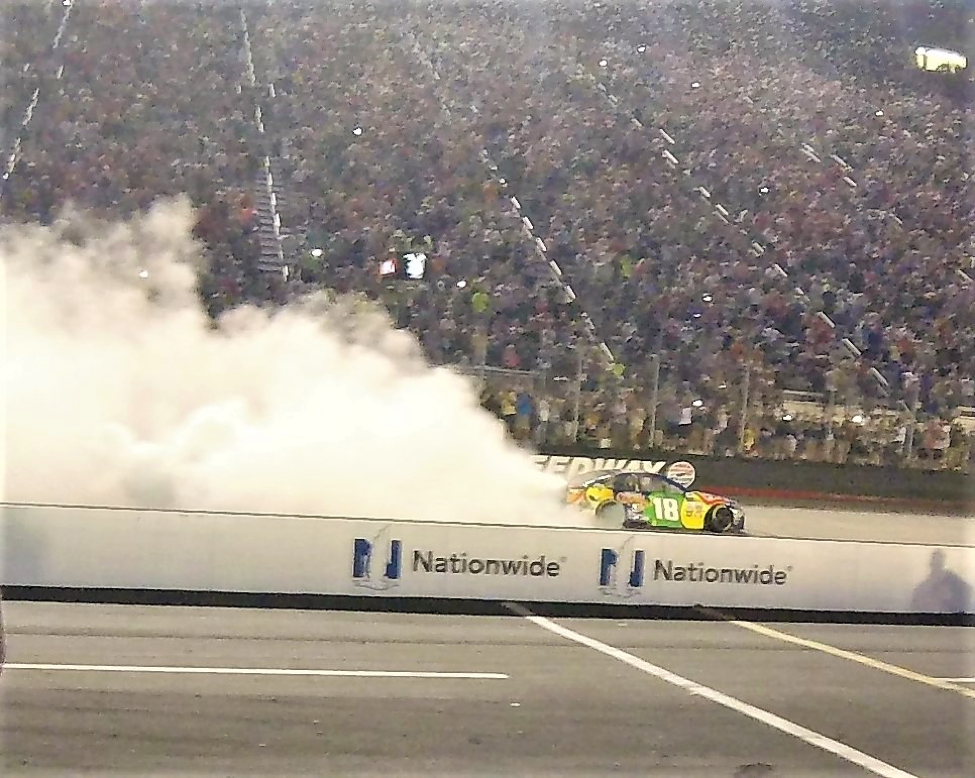 Toyota's swept the top 4 spots, other notables were Kurt Busch's #41 Monster Energy/Haas Automation Ford Fusion in 5th, Kevin Harvick's #4 Busch Outdoors Ford Fusion in 8th, Jimmy Johnson's #48 Lowes Chevy in 11th, Dale Jr.'s #88 Axalta Chevrolet Ducks Unlimited in 23rd, Ty's #13 GIECO Chevy in 36th, and Ty's brother Austin Dillon's #3 DOW Chevy in 39th.
Kyle Busch completed the "Sweep" by winning the Camping World Truck Series race, the Xfinity Series race, and Monster Energy Series race. Busch completed the same sweep in 2010. He is the only driver in NASCAR history to sweep 3 series races on the same track in the same weekend…and know he has done it twice!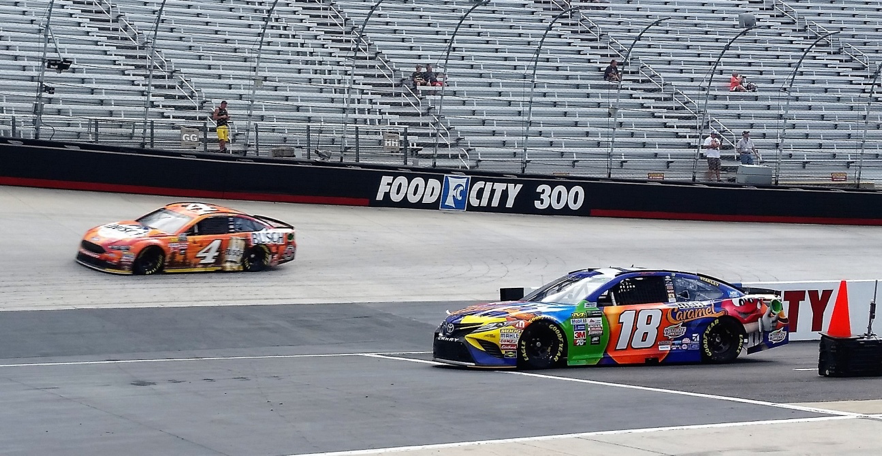 Unfortunately, Ty was involved in one of the cautions on lap 394 causing him to finish in 36th place. Hopefully his 4th place finish in the Food City 300 helped offset the crash in the Bass Pro Shop/NRA Race. We will be looking ahead to the season finale, the Ford Ecoboost 400 at Homestead-Miami Speedway to see how Ty finishes up his rookie year. You can see the complete schedule on the official NASCAR website.
We have come to learn that GEICO has renewed it's contract with Germain Racing and Germain Racing has extended Ty's contract another 2 years. Congrats to Ty and team, hard work pays off!
"GEICO is an amazing sponsorship partner and a great supporter of NASCAR as a whole. I love having the chance to represent them and be a part of their widespread footprint in the sport, along with their long-standing relationship with Germain Racing. We've experienced success together during my rookie season and I'm excited for what the future holds for our No. 13 GEICO team," says Ty Dillon.
By Staff Writer Lewie Aldridge

---
About Fin & Field
Fin & Field is changing the way sportsmen find, compare, book and share their fishing and hunting adventures. We've consolidated the hunting and fishing industry into a powerful marketplace that connects sportsmen and operators (charter boats, fishing guides, hunting guides, lodges, marinas, outfitters, outdoor brands, and more). We're using technology to drive more meaningful, fun, and efficient communication that's making it easier for sportsmen to get the information they need to do what they love.
Book your next adventure at www.finandfield.com.