If you saw our recent article on Flying with your Fishing Gear and asked yourself "what about hunting," you aren't alone. When you aren't driving to your hunting destination you have two choices, you can rely on the guide to provide everything or bring your own equipment on your flight. Bringing your own equipment means you know how it performs and will have confidence when the time comes to shoot. If you were wondering how to travel with a bow or gun, this article will clear things up (beyond the obvious that you can NEVER carry on a bow, firearm, ammunition, and knives).
The usual disclaimer, the rules may change and you should always check with your specific airline as well as TSA before you show up at the airport with your hunting gear. Also, make sure you know the applicable firearm rules at your destination, including legal methods of storage and transportation. For example, due to possession laws it's illegal in New York City to check a firearm or leave the airport with a bag containing a checked firearm. Finally, since every country has specific permits and rules regarding the transportation of bows and firearms we will focus just on domestic airline travel. 
Weapons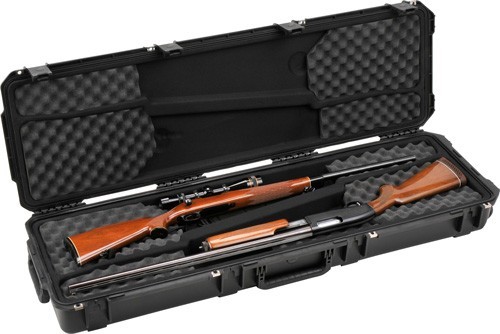 Bringing a firearm with you when you fly is not as hard as you may think. You simply declare that you are checking-in a firearm to the gate agent, you may be asked to show it to TSA and they will ask you to fill out a form, every airport does it a bit differently so just follow instructions. Before leaving for the airport in the first place the firearm must be unloaded and stowed in hard sided and locked case, keep the case locked until asked by an official to unlock it. This is the one situation where you should NOT use a TSA lock. Use a high quality case and lock and always keep the key in your possession, this is not the place to skimp on quality to save a few bucks.
If you are bringing a bow instead of a rifle it does not technically need to be declared in the same fashion. You do still need to have it in a secure hard sided case, and the lock SHOULD be a TSA approved lock.
With rifles and bows you should check POI when you get to your destination, being shaken and dropped during baggage handling can affect the optics.
Recommended Weapon Cases:
SKB Gun Case, Single Scoped Gun
Ammunition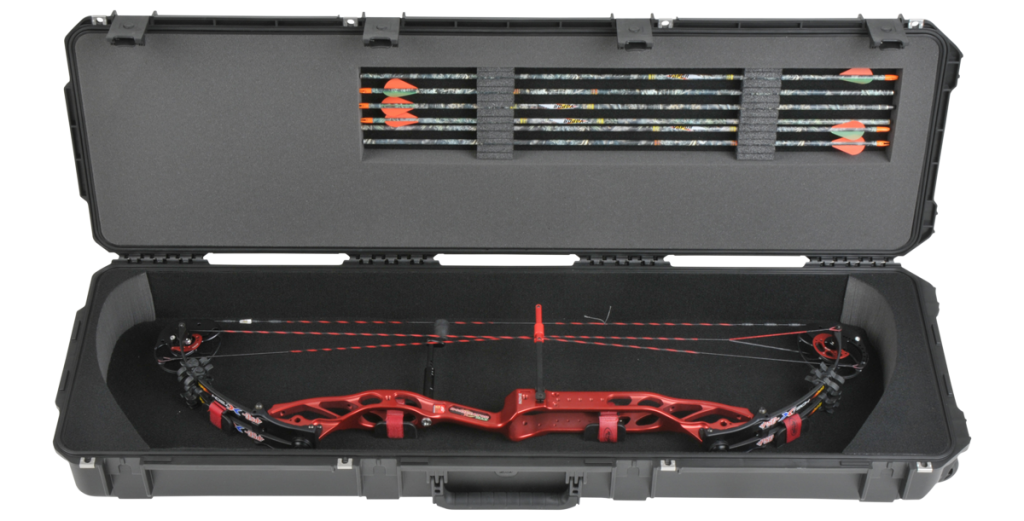 Bullets must also be declared at check-in, they are required to be stored in ammo specific containers, and you can not bring more than 11 pounds. They can be stored in the same container as the weapon which many hunters find to be very convenient. The same rules apply to arrows, shotgun shells and all calibers up to .75. Gun powder, black powder, primer, and percussion caps and are prohibited entirely and that makes life harder for those who shoot muzzle loaders. The remaining option for muzzle loaders is to have the local outfitter at your destination provide these prohibited items or have them shipped to your final destination.
An important tip for packing arrows, don't attach your broadheads until you arrive at your destination, and in fact don't even assemble them. They can do serious damage to the other gear you checked.
Recommended Ammo Cases:
Plano 20-Round Rifle Ammo Case
Knives and Tools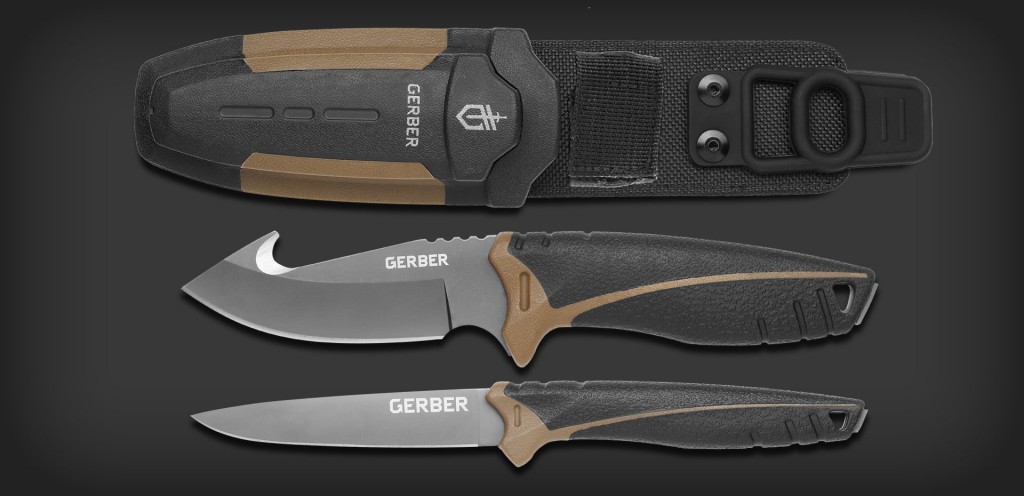 Check all knives, obviously, you don't want to risk even a pocket knife because it will likely be confiscated. Other tools, like pliers, can be carried on if they are under 7 inches total length (scissors must have blades under 4″).
Recommended Field Dressing Set:
Gerber Myth Series Field Dressing Kit
Miscellaneous

Carry all important papers on you at all times. IDs, passports, TSA rules about firearms, contact info for your destination etc… If something goes wrong having those in hand can help you get out of a jam. Plan plenty of time so if something unexpected happens you can handle it patiently and calmly. Finally, expensive optics might be better in your carry-on, rifle scopes, spotting scopes, and binoculars are delicate, why trust their care to baggage handlers if you don't need to?
Next time you are planning a hunting trip, remember that it is easier than you think to bring your gear on a flight. Don't let air travel limit your next adventure.

---
About Fin & Field
#FinandField #FYNA #DreamBig2016
Fin & Field is all about finding your next adventure. We're working hard to provide the most comprehensive listing of services, reviews, and far reaching community available to help you take the guesswork out of planning your next adventure.
We believe in the ethical pursuit of hunting and fishing adventures and support taking from the land only what you can use and leaving it in better shape than you found it.
Tight Lines & Happy Hunting!
Visit us at www.finandfield.com