It was 3:00 am by the time we made it to the dock. The moon was full and instead of the dead of night, the sky resembled dusk. The tide was headed out, made much more intense by the full moon. We had to hurry to exit the channel before our chance quite literally dried up. We managed to sneak out of the inlet with about an hour to spare and headed east toward the canyons and the open Atlantic.
As we rode in silence and the boat rolled on waves I thought about how I had gotten here. I had met Eric a year before, nearly to the day, when he took my son, nephews and I out in search of mahia board the Debra K. This year was a little different; the trip wasn't all about fun but about giving back as well.
All too often "access" creates a barrier to the outdoors, especially hunting and fishing. Access to public or private land, access to a boat to go fishing, or even access to the knowledge and experience to be successful.
My son Jacob learned that his College roommate, Nick, had lost his father over Spring Break. Jacob and I Wanted to do something for Nick so we decided to get him outdoors and take him fishing. Nick lives in New Jersey so naturally I asked if Eric could take us out for another adventure.
To say the weather on the East Coast has been unpredictable this year would be an understatement. We've had periods of absolutely beautiful conditions followed immediately by periods of intense thunderstorms. But the mahi and tuna bite offshore had been steadily hot for nearly a month despite the weather. The day we were scheduled to fish coincided with the start of the White Marlin Open, but as that date quickly approached it was evident that the elements were going to be too rough to risk going out.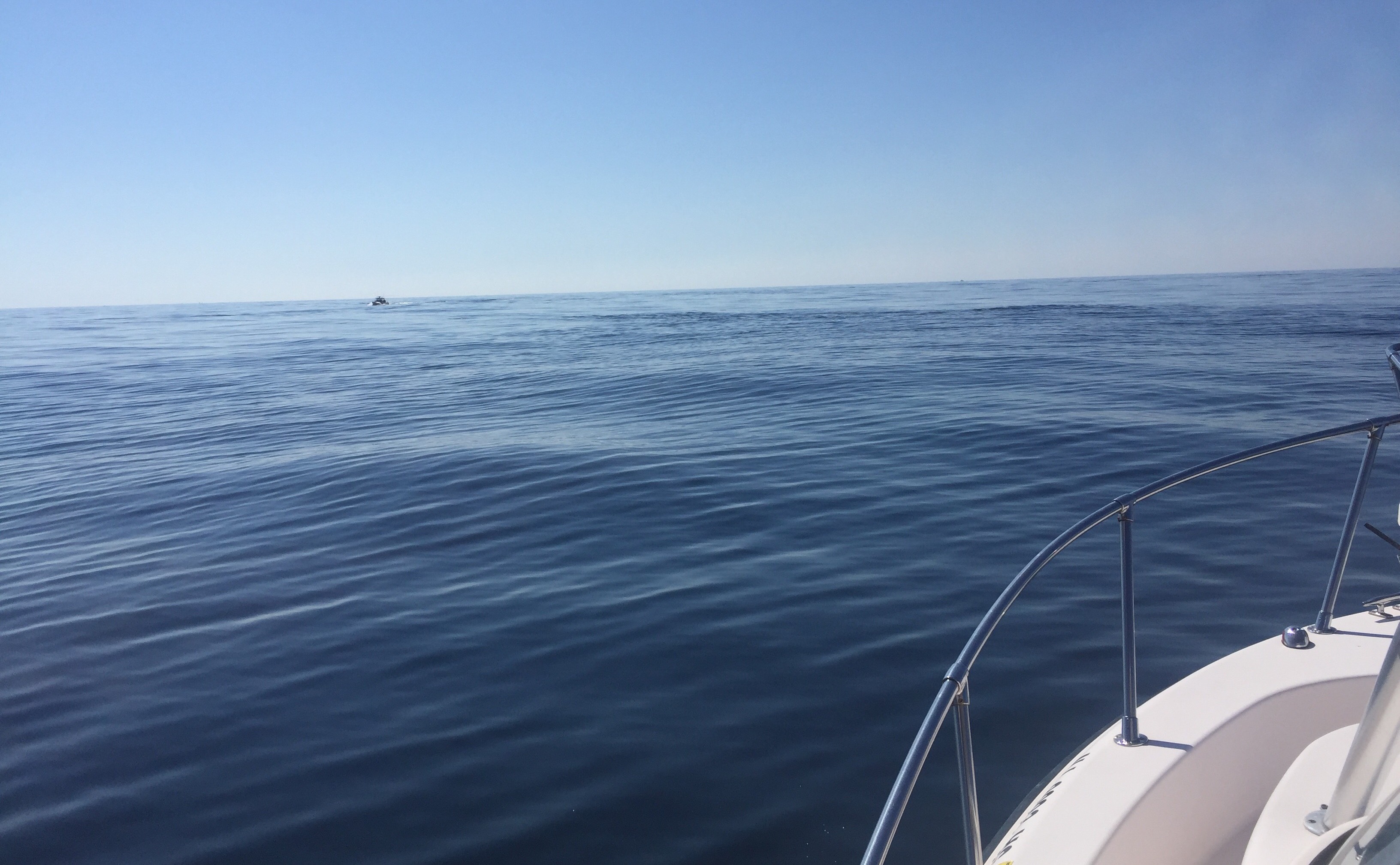 That is how we found ourselves, two days later, motoring out of the inlet by the moonlight. Our hopes were high and the seas were calm. As the sun lit the horizon, and began its steady climb in the sky, life began to appear in the vast ocean before us. First came the fluttering of a few tuna chicks here and there; not in great numbers but easily seen skimming close to the water. As we moved farther to the fishing grounds the tuna chicks became more abundant followed by shearwater birds. These birds are always a sign that baitfish are in the area. Sure enough as we rode further on we could see baitfish boiling on the surface. Things were looking brighter, figuratively and literally.
About 7 miles from our destination we came upon a concentration of birds and baitfish, the captain made the decision to put out the lines and troll the rest of the way. As we zeroed in the fishing grounds we began to see porpoises breaching on the surface and chasing after baitfish. The water was nearly flat for as far as the eye could see making dorsal fins, of fish and porpoise, easy to spot. We weren't alone in our search for gamefish, other charter boats were visible in the distance working their lines in search of tuna, mahi, or even wahoo.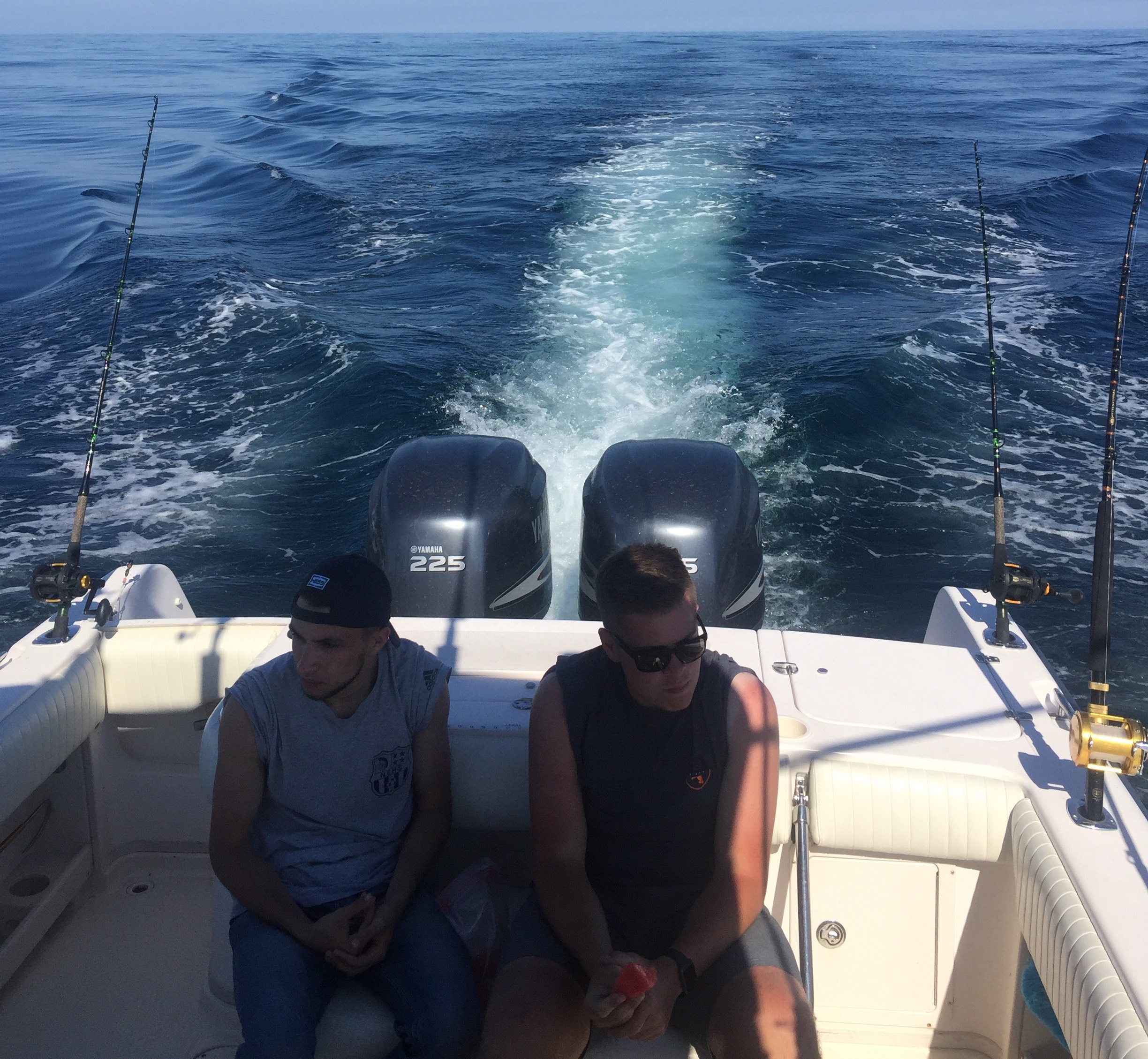 Despite the signs of life, we didn't boat any fish as the day wore on, even when we marked some fish on the bottom and tried our hand at jigging for them. The rest of the fleet was having limited success as well, it looked like the storm had scattered the fish and. We decided to head further south in hopes of finding some schools of willing gamefish.
We set out on our own and began to study the surface of the water for anything that could be a sign of fish. Occasionally something would catch our eye and we would investigate. More often than not we found mylar balloons floating on the surface or a sea turtle basking in the sun.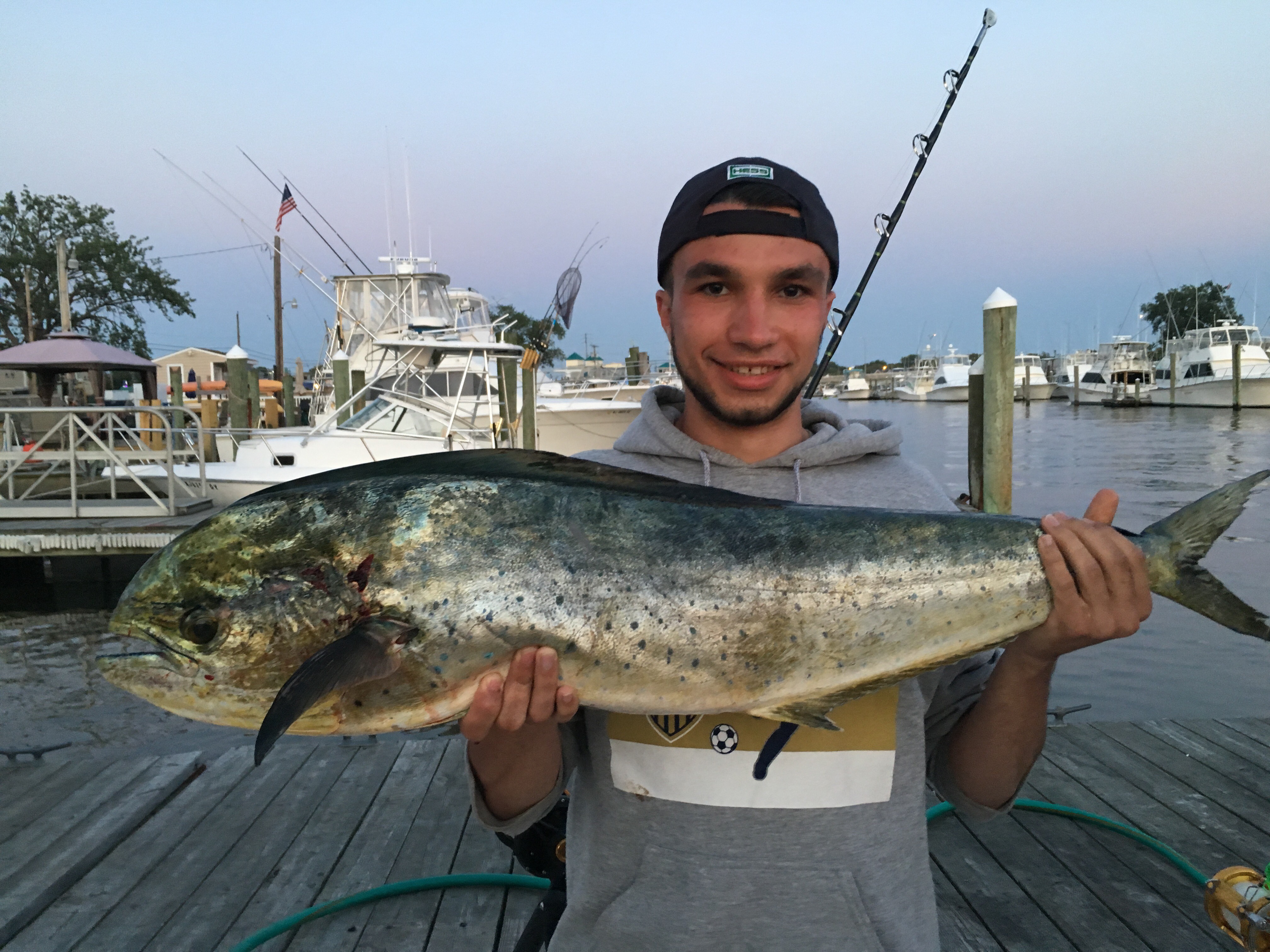 About halfway to our new grounds I caught something big and white out of the corner of my eye, it was definitely some solid structure and as we got closer we identified it as wooden debris. We started pitching jerkbaits and poppers and instantly saw the telltale flash of green and gold beneath the water; mahi. They weren't overly large but what they lacked in size they made up for in numbers. They steadfastly refused our artificial lures so we started pitching them cut bait. Finally we tasted success when Nick hooked up on the first mahi of the day. While Nick fought the fish we continued to fish with cut bait but didn't have any further success. Feeling somewhat frustrated, Eric decided to tie on a few jig heads tipped with some BKDs (Bass Kandy Delight soft plastics) and the game was on. Jacob and Nick proceeded to boat an additional four small mahi on the first drift with the jigs. We made one more pass at the debris in hopes of catching one or two more small mahi. As we drifted by, Eric yelled out that there was a larger mahi father down in the water column and he began pitching the jig to it. After a few tries the mahi came tight on the line and Eric handed the rod to Nick. Nick made short order of is first "gaffer" and before I knew it we had a nice sized mahi in the box and were headed again towards some new water.
Failing to see anything promising we ultimately decided to turn around and head back the way we had come. As we started work our way back, Eric heard on the radio that a Captain had hooked up on two tuna! We high-tailed it back to find ourselves face to face with a pod of yellowfin and albacore tuna pushing water on the surface. We threw everything we had at them from jerkbaits to jigs, but we just couldn't get them to bite anything. That was the last action we saw before it was time to head in.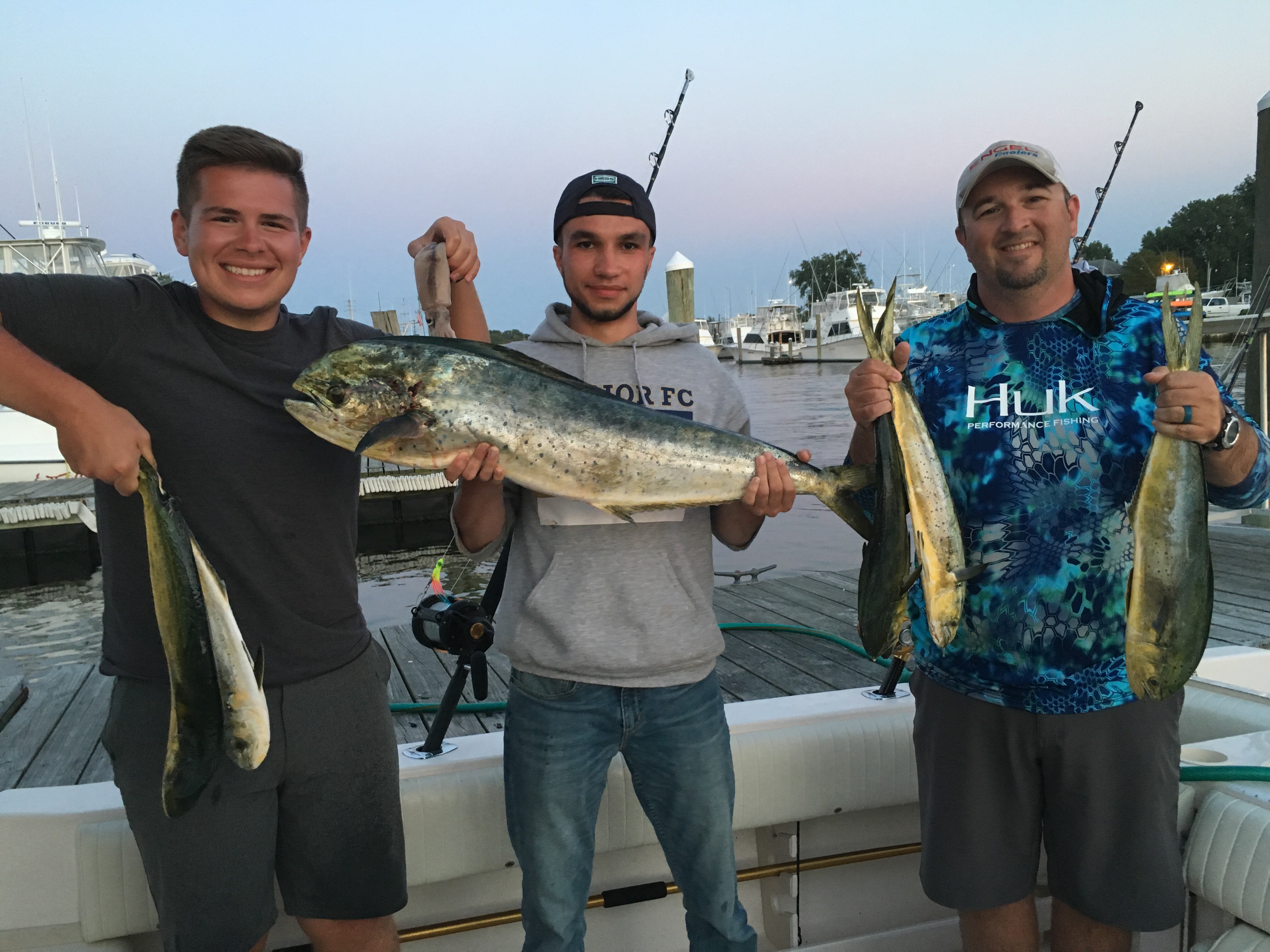 It wasn't our best day on the water but it sure wasn't our worst. Eric's decision to venture off for better action ended up paying off, just not the way he had anticipated. We had enough mahi for several dinners' worth of fish tacos. We had put Nick on his first and personal best mahi, hopefully instilling a love of fishing that will continue to grow. But most importantly we had given Nick a few hours of fun on the water to help ease the grief of losing the most important man in his life.
If you are looking to take your family on the adventure of a lifetime, or want to introduce someone new to the world of hunting and fishing, than head on over to Fin & Field where we have the best captains and outfitters in the business. While you are there don't forget to sign up for our Florida Keys Dream Weekend Giveaway, sponsored by Papa's Pilar!
Guest Blogger Shawn McCardell

---
About Fin & Field
Fin & Field is changing the way sportsmen find, compare, book and share their fishing and hunting adventures. We've consolidated the hunting and fishing industry into a powerful marketplace that connects sportsmen and operators (charter boats, fishing guides, hunting guides, lodges, marinas, outfitters, outdoor brands, and more). We're using technology to drive more meaningful, fun, and efficient communication that's making it easier for sportsmen to get the information they need to do what they love.
Book your next adventure at www.finandfield.com.