On some trips you are content to fish with the gear that is provided by your guide. But other times you simply want or need to bring your own gear. In my case, every year I take a trip to Baja Sur to target big game on the fly in the Sea of Cortez. I fish with local panga captains and they most certainly do NOT provide gear (at least not fly gear). I also build all my own rods and sometimes I just want to use my own gear, and I am familiar with how it performs.
When it comes to toeing the line with TSA to get all my gear down there, packing can be a challenge. Doubly so because you want to avoid checking valuable items, fragile equipment, or gear that is critical to the trip. You don't want to get to your destination and have only broken rods to fish with! Here are the ins and outs of traveling with a variety of fishing gear, both domestically and internationally. Keep in mind these rules are subject to change, sometimes multiple times a year. You should check with your specific airline as well as TSA before you fly. If you are traveling internationally it gets even more complicated and the rules can change often, it is best to do some research right before your trip and be ready for surprises. In the case of Mexico specifically the rules seem to be highly variable, sometimes from airport to airport, especially with carrying on fishing rods.
Rods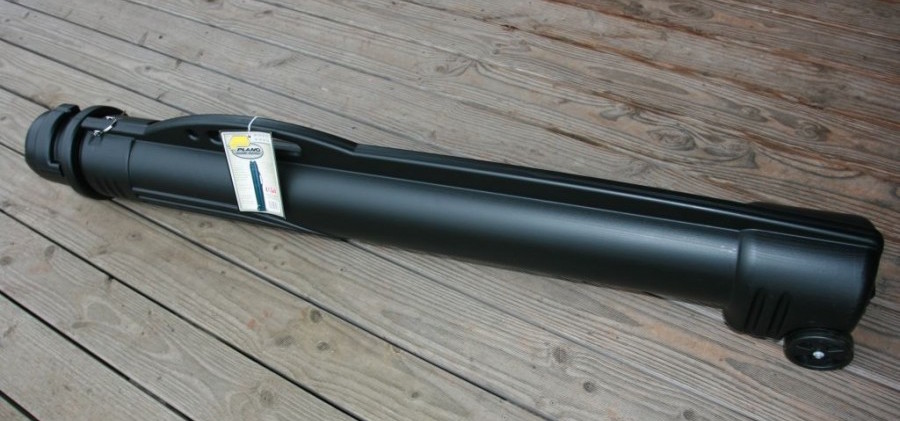 Flying with rods is nerve-wracking. If you have 1 piece rods they are going to be checked and you need to have an adequate tube to protect them. Rule of thumb with checking an oversize rod tube, your going to pay. The cost can be anywhere from $25 to $100 if you already checked a couple other bags. Most airlines will allow a tube of at least 115 inches but some limit it to 2 rods, fortunately the rules are pretty well spelled out for checking rods. Notable restrictions are Southwest with a limit of 91 inches, Alaska with a 2 rod limit, American with a 2 rod limit, Jet Blue with a 2 rod limit, and United with a 2 rod limit (limit is per container, you can check multiple containers but the cost adds up fast).
Once you chose an airline, pack your rods to take some abuse. Buy a hard sided rod carrier or build a case out of PVC. If you buy one it will come with the ability to lock but if you build one you should engineer a way to put on a TSA approved lock. If you are building one, use schedule 40 PVC or heavier, I have heard of lighter material being crushed. Make sure to pad the rods within the  tube, neither the human or mechanical baggage handlers are known for being gentle. A quick search will yield your airlines specific rules including any international restrictions.
If you plan to bring travel rods, or 4 piece fly rods rods like I do, you might be might be able to cary them on. The tubes or cases might be longer than the approved carry-on size but the airlines tend to treat them like fragile musical instruments and make exceptions. I have not personally seen anyones rods be refused on domestic flights, but I have read reports, so it is possible but rare. Internationally the rules vary and it is more likely that your rods will need to be part of your checked luggage. You are much more likely to end up with full overhead storage bins and be asked to check your rods plane side. So whatever your plan is for carrying on multi-piece rods you should be prepared with a rugged container if your plan goes awry. The fishpond bag below has survived several times after I was forced to check it into the belly of the plane. It is not my preference, and I try and board as early as possible to prevent it, but stuff happens. 
Recommended Rod Cases:
Plano 6508 Airline Telescoping Rod Case
Fishpond Dakota Rod and Reel Travel Case
Reels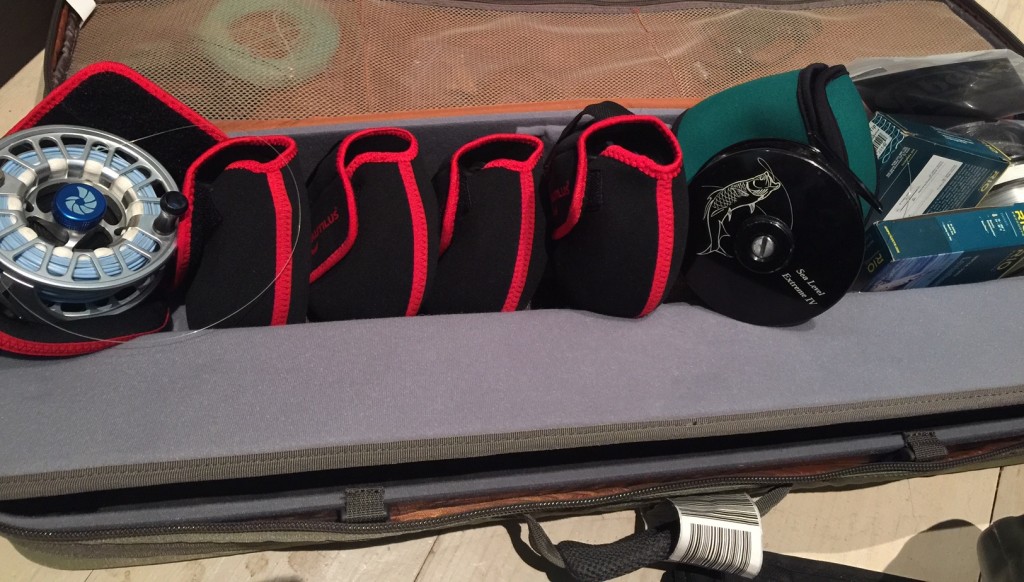 The rules for flying with reels are very straight forward. Unequivocally you can carry-on fishing reels on flights. Unfortunately, the rules about fishing line, on the reel or spare spools, gets murky. Fishing line, including mono, floro, braid, and fly line are not directly addressed by TSA so we have to rely on reports from fellow sportsmen. It seems that from time to time a specific TSA agent will consider the fishing line dangerous, and with no specific rule allowing you to carry-on line, you are at their mercy. The consensus is that at domestic airports you are extremely unlikely to have a problem. Coming home on an international flight however, your fishing line is more likely to pose a problem. So, just like with your fishing rods, be prepared to check reels and spools of line if the security agents balk.
Hooks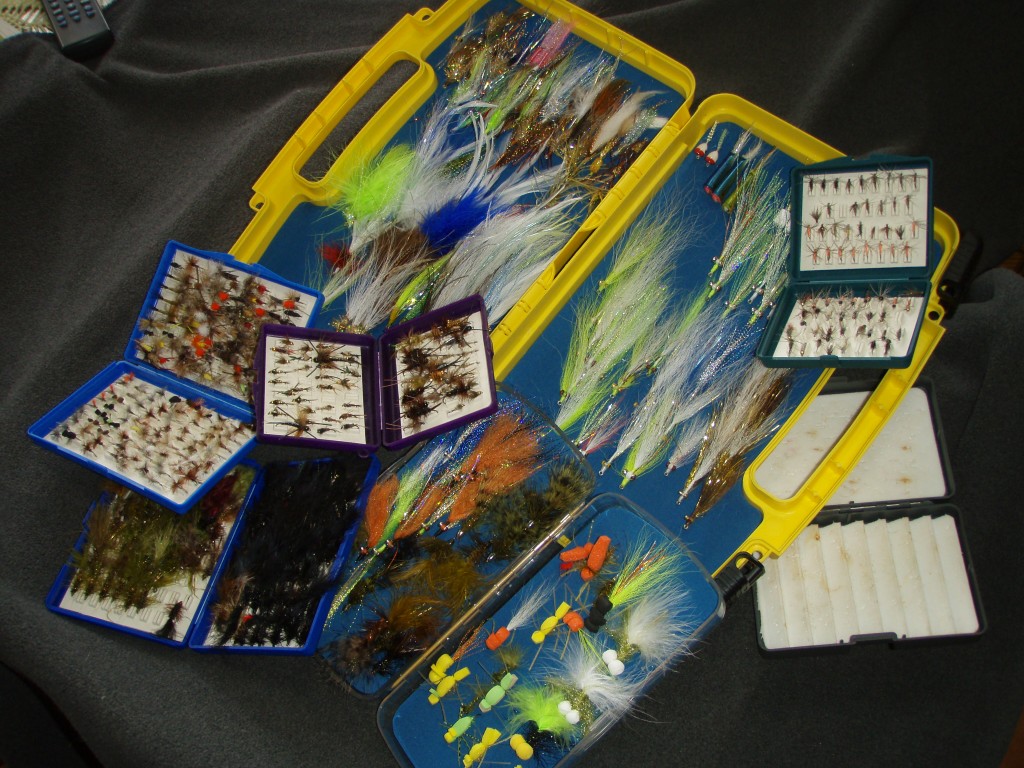 TSA allows you to carry-on small hooks and freshwater hooks, but "large deep sea fishing hooks" are not allowed in carry-on luggage and need to be checked. How do you define a "large deep sea fishing hook" you ask? Your guess is as good as mine. Ultimately, once again, it is a judgement call that the TSA agent must make (and they probably don't know much about fishing). A lot of the flies in my box are built on 1/0 – 4/0 hooks, so I check my flies in my main bag. But I am also confident that flies are low on the list of things that would get stolen, they can't be broken by rough baggage handlers, and I can get at least a few flies down in Baja if my bag is lost. So far, checking my flies has been a hassle free decision on both international and domestic flights.
Recommended Tackle Boxes
Plano Guide Series 4477-00 3700 Lumbar Fishing Pack
Tools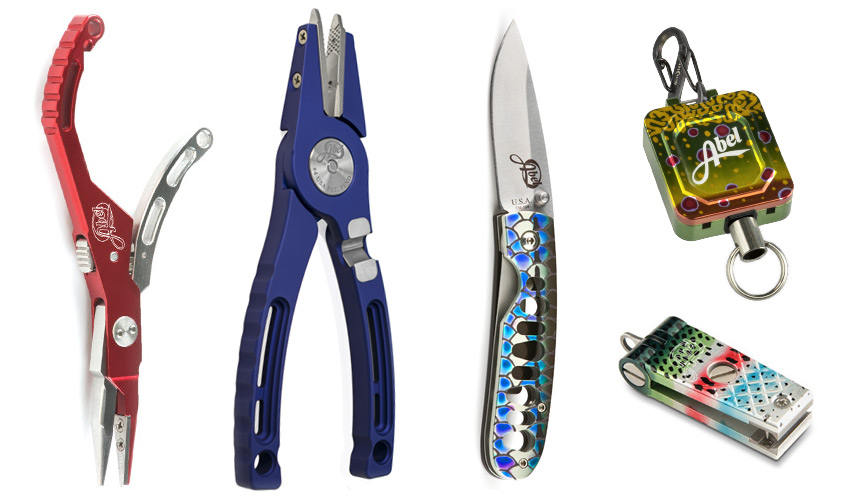 The other things we, as fishermen, would be tempted to bring on a flight is our tools. I think we are all smart enough to leave the knives at home (like the Abel knife above) or at least keep them in checked bags. But what about the other tools of the fishing trade? The magic number here is 7. As in 7″. Pliers, hemostats, line clippers/nippers, zingers, knot tying tools, even scissors (with a blade under 4″ in the US) are all ok as long as they are under 7″ in total length. Again, when flying internationally you will face more restrictions and it is safest to check anything you don't want confiscated.
Recommended Tools:
Yeti MOLLE Zinger and Bottle Opener
In conclusion, you should be able to bring your fishing gear just about anywhere you want to go as long as you are willing to put at least some of it in checked bags. In the US you will face fewer restrictions when trying to carry-on your fishing gear including hooks and tools. The good news here is that if you are departing from the US you will be able to carry-on your gear on the way to your fishing destination, improving the chances that everything you need for a successful fishing trip makes it on time and in one piece. You might have to check more of your equipment on the way home, so be prepared for that scenario.

---
About Fin & Field
#FinandField #FYNA #DreamBig2016
Fin & Field is all about finding your next adventure. We're working hard to provide the most comprehensive listing of services, reviews, and far reaching community available to help you take the guesswork out of planning your next adventure.
We believe in the ethical pursuit of hunting and fishing adventures and support taking from the land only what you can use and leaving it in better shape than you found it.
Tight Lines & Happy Hunting!
Visit us at www.finandfield.com