Operation Sailfish, leg 1 of the Quest for the Crest series, is complete. Congratulations to the captain and crew of the Crescendo who are in the lead for the Crest, the jackets, and the bragging rights that come along with winning the "Masters of Fishing". You can read our recap article for all the details. Crescendo is in the lead but the Quest is far from over as anglers get ready for the Sailfish 400.

The next leg in the series is the Sailfish 400. Anglers are preparing to fish their hearts out from January 11th through 15th to release as many sailfish as possible and stack points in their favor. The tournament has a racing theme and is right at home in Miami at the DoubleTree Grand by Hilton. Last year 47 boats competed for a purse of more than $665,000. It is not too late to register for the Sailfish 400 and it isn't too late to be competitive in the Quest for the Crest!

With ties to Homestead Miami Speedway and Nascar, teams battle to see who will fly the checkered flag at the end of the tournament. The Sailfish 400 is proud to benefit a local charity called Driving for a Cause. With the support of Homestead Miami Speedway, Driving for a Cause uses the popularity of motor sports to promote its mission of helping South Florida youth and education programs.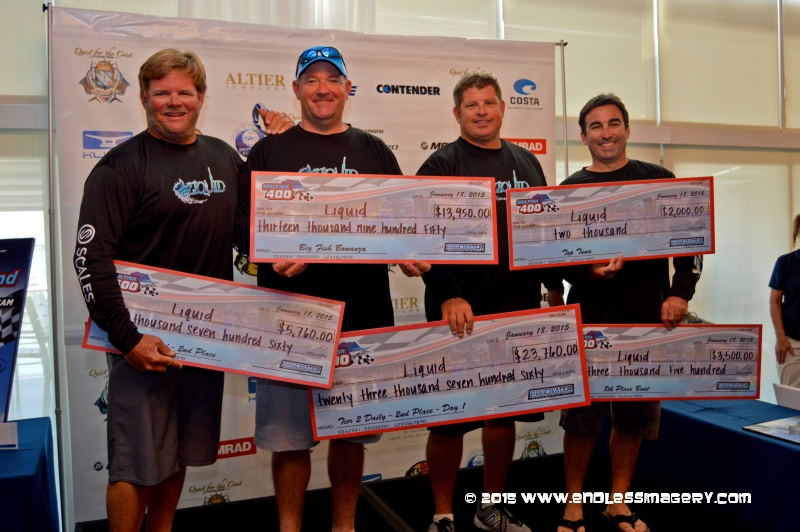 Editorial Contributor – Lewie Aldridge
---
About Fin & Field
#FinandField #FYNA #DreamBig2016
Fin & Field is all about finding your next adventure. We're working hard to provide the most comprehensive listing of services, reviews, and far reaching community available to help you take the guesswork out of planning your next adventure.
We believe in the ethical pursuit of hunting and fishing adventures and support taking from the land only what you can use and leaving it in better shape than you found it.
Tight Lines & Happy Hunting!
Visit us at www.finandfield.com