The Huk Big Fish Classic wrapped up on Sunday and it was an exciting tournament for all those competing and hanging out on the docks. The weather was great and and a flood of last minute entries made this the largest Big Fish Classic to date with 67 boats (up from 47) and $333k in prize money (up from $202k). This proves yet again to be a fast growing and fun addition to the Ocean City tournament scene.
It came down to the wire on Sunday with a lot of boats rising to glory or being bumped off the leader board. The action at the scales on Sunday afternoon was pure excitement. A large crowd gathered to watch as the boats queued up waiting for their turn to come to the scales. Rumors flew around about what was coming in. Nobody was disappointed when multiple blue marlin, large white marlin, bigeye tuna, mahi, wahoo, swordfish and mako shark where weighed. No other tournament has that kind of action a 4 hour window!
Day 1 was especially exciting for the Fin & Field family because one of our top boats in OC and West Palm Beach, Rhonda's Osprey came to the scales with 4 nice fish.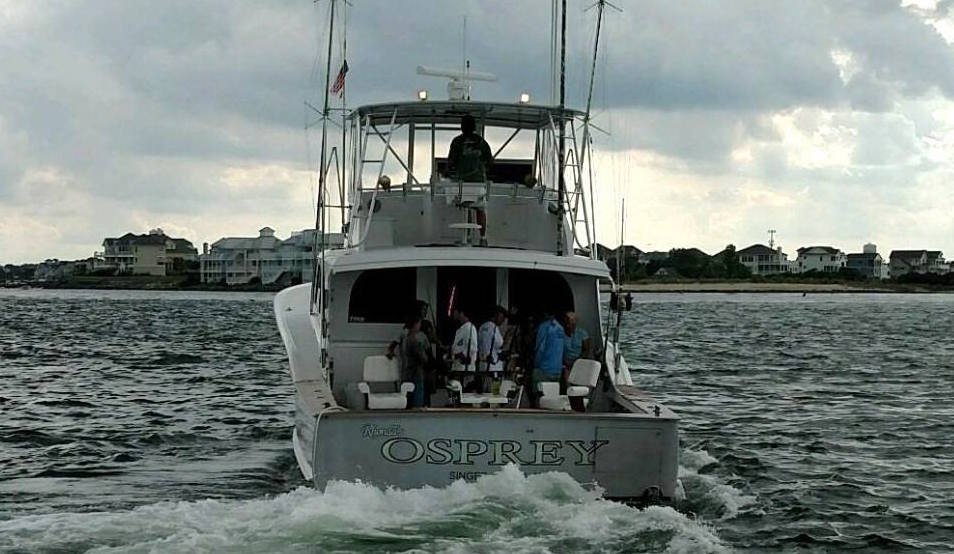 Check out the video recap from day 2 below! Kyle Peet on the No Quarter weighed in a 49lb wahoo and a couple mahi mahi. The Reel Intent weighed in a 358lb blue marlin that they hoped would hang on through the weekend as the big fish.
Day 3 was all about billfish and sharks. The Marli brought in a nice blue marlin and it ultimately tipped the scales at 407 lbs to take the title of heaviest fish and a total of $105,270. Foolish Pleasures brought a 193 lb mako to the scales that was good for 2nd heaviest fish winning $24,470.
Congrats to the crew on the Marli for taking top spot. We are also proud that 3 Fin & Field boats placed in the money:
-The Foolish Pleasures and Capt. Dale Lisi (of Wicked Tuna fame) won 2nd place heaviest fish and 1st place heaviest shark with a 193lb Mako worth $24,470.
-The Restless Lady won 3rd place heaviest stringer with a 191 lb stringer worth $5,166.
-The No Quarter won 1st place heaviest wahoo with a 49 lb wahoo worth $5,805.
The Fin & Field Billfish Division with the new Huk Release Level had 11 boats sign up creating a pursue of $9,900. The Katherine Anne released 12 white marlin to win the release level. One of the fish weighted 78.5 lbs and won heaviest billfish and heaviest white marlin to earn the Katherine Anne another $68,580.
Congratulations to Tournament Director Brian Roberts, Capt. Sean Welsh, and the entire Lewis Family. It was a phenomenal tournament! We are already looking forward to next year, see you on the docks!


---
About Fin & Field
#FinandField #FYNA #DreamBig2016
Fin & Field is all about finding your next adventure. We're working hard to provide the most comprehensive listing of services, reviews, and far reaching community available to help you take the guesswork out of planning your next adventure.
We believe in the ethical pursuit of hunting and fishing adventures and support taking from the land only what you can use and leaving it in better shape than you found it.
Tight Lines & Happy Hunting!
Visit us at www.finandfield.com