Captain Jeff Schneider of Louisiana Tuna Charters spent 15 years riding motorcycles professionally. Most of that time was spent riding for Harley Davidson as a stunt man at exposition events around the world. But the whole time he was riding motorcycles he knew he couldn't do it forever, and he had a plan! Jeff grew up in Texas and started fishing as a kid with his dad. His dad fished bass tournaments and Jeff was just as passionate about fishing. Jeff always planned to start a charter business when he gave up riding motorcycles, and that is just what he did. He started his charter business in Florida but soon realized that Venice, Louisiana was where he wanted to be. Venice offered Jeff, and Louisiana Tuna Charters, the best inshore action and the best offshore action all from the same place.

Or Call at 866-356-4609
The waters off the coast of Louisiana are teaming with life due to the rich, nutrient-filled water dumping in from the mighty Mississippi River. On top of that there is a network of ready made fish aggregating devices "FADs" right offshore in the form of oil rigs. With more than 2000 oil rigs, there is no shortage of structure to fish both inshore and offshore. These factors, combined with a short 8-9 mile run to the continental shelf, makes the Venice area a fisherman's dream. Experienced anglers can target a specific species like yellowfin tuna or wahoo. Families who are looking for a good time on the water will find variety and excitement. Every trip is customized to meet the needs of the client. Louisiana Tuna Charters prides itself on providing the highest level of customer service, professionalism, equipment, and overall experience.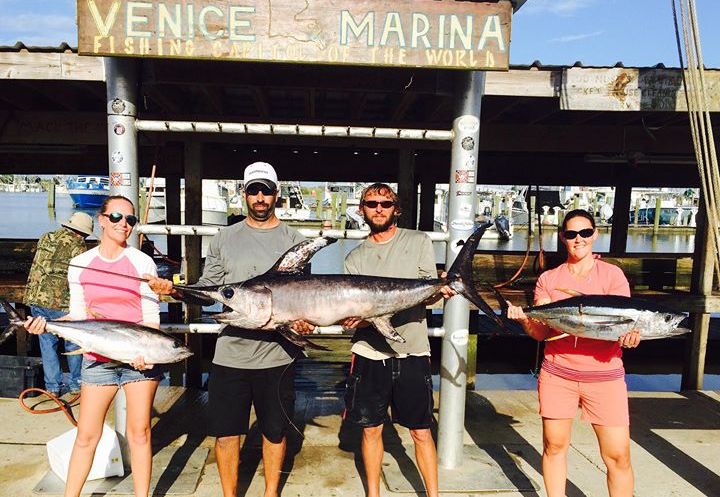 Venice is just over an hour's drive south of New Orleans on the edge of the Mississippi River. You can find lodging at the Venice Marina where Louisiana Tuna Charters is docked. You can also stay at the Cypress Cove Marina where you can be picked up at no charge. You will fish on an extremely well laid out 36′ contender with triple Yamaha 4 strokes, modern Simrad electronics, the latest fishing tackle and gear, and plenty of ice to keep your catch as fresh as possible. You will get to the fish quickly in comfort and style. The boat is ideal for 4 people and charters will accommodate a maximum of 6 anglers. The boat is versatile enough to fish offshore for tuna, wahoo, dorado, and billfish as well as inshore for cobia and snapper.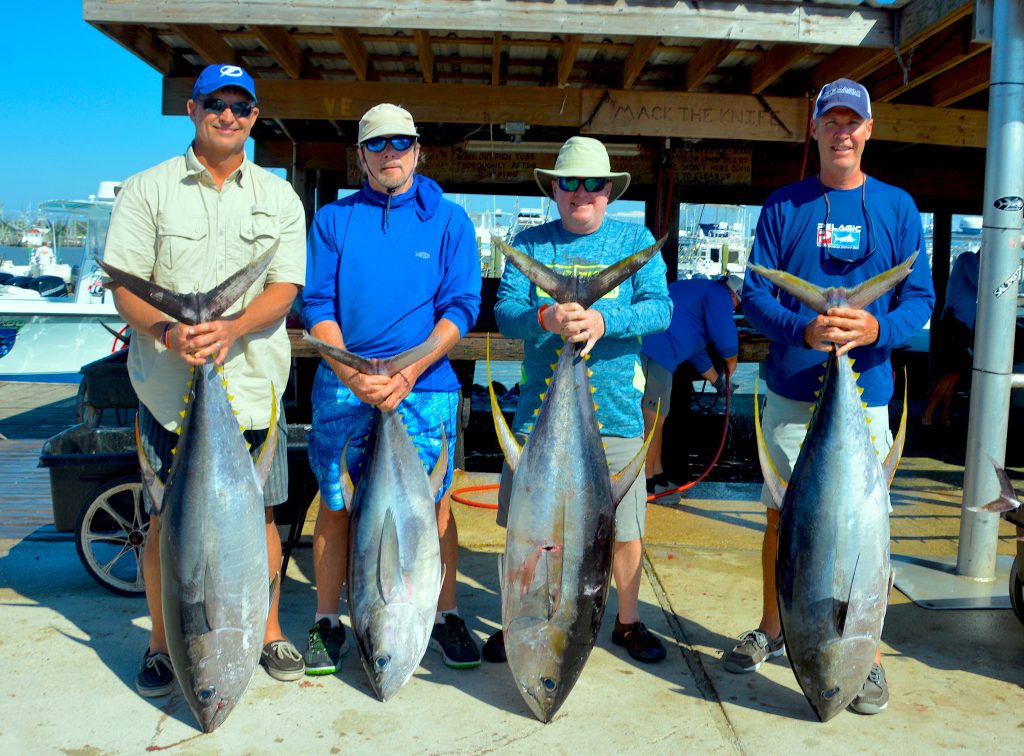 With so many species of fish, the fishing in Venice is awesome year round. Some of the worlds most respected game fish are caught here year round as well, like yellowfin tuna. There is a reason Venice is known as "Tuna Town"! But there are distinct peak seasons for most species.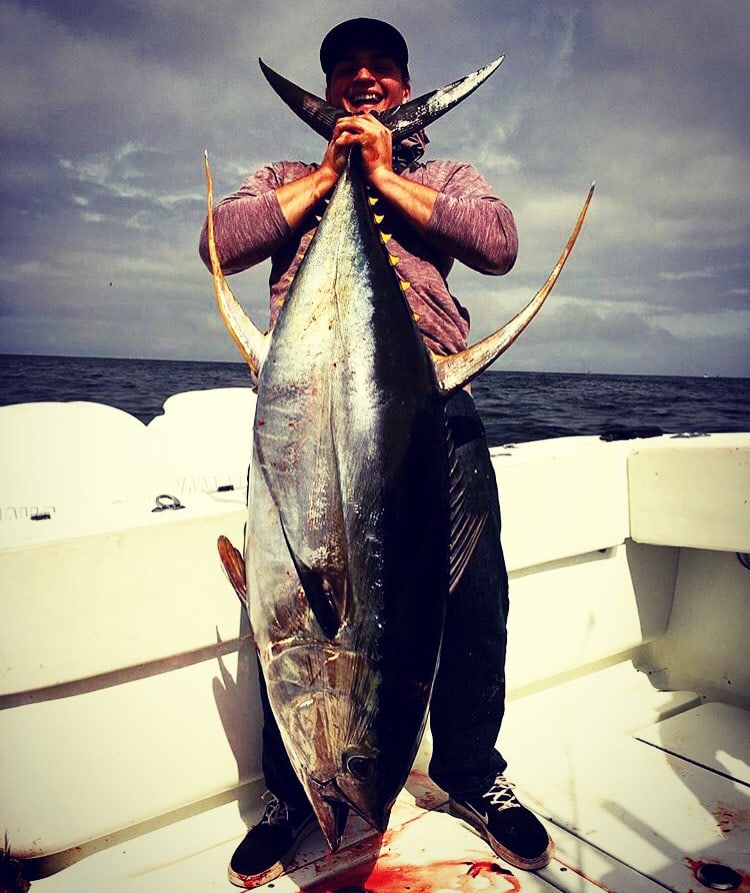 October and November are affectionately known as shrimp boat season. Louisiana Tuna Charters has perfected the technique of pulling up behind shrimp boats to chum up the big yellowfin. Once you find the fish they will stay with the boat as you chum and drift away from the shrimp boat. Fish in the 130-150 pound range are common! This is an amazing fishing experience, very visual, in fact you will often target a specific fish in a school. Most of December is taken off for weather and because of the holidays. But the big yellowfin tuna bite continues in late January and February. Without the shrimp boats, this time is spent chunking for tuna up to and over 200lbs!
January through March is the prime time to target large numbers of wahoo. 75-80 lb fish are common, with the biggest fish usually being caught in February. The most effective technique is to troll figure eights around the rigs. A properly enticed wahoo will come out from the rigs and eat.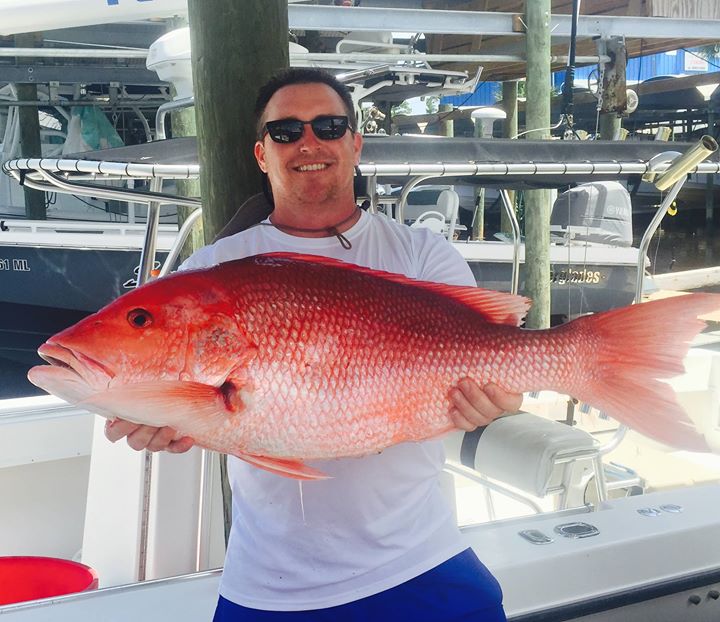 April through August has the flattest and calmest seas, with little to no wind, and warm weather. It is also the best "mixed bag" season, you have so many options for what you are going to catch. Offshore you might run into tuna, wahoo, marlin, swordfish (daytime deep dropping), and of course mahi mahi. Inshore you can pull on cobia, snapper, amberjack, and grouper to name a few! With the calm weather and the large variety of fishing options, summer is a great time for novice anglers and families. Live bait fishing at the rigs in the summer is a blast!
Louisiana Tuna Charters is the one of the hardest working boats the entire crew is professional and the boat is comfortable. Their focus on customer service keeps customers coming back again and again. Check them out for yourself!

---
About Fin & Field
Fin & Field is changing the way sportsmen find, compare, book and share their fishing and hunting adventures. We've consolidated the hunting and fishing industry into a powerful marketplace that connects sportsmen and operators (charter boats, fishing guides, hunting guides, lodges, marinas, outfitters, outdoor brands, and more). We're using technology to drive more meaningful, fun, and efficient communication that's making it easier for sportsmen to get the information they need to do what they love.
Book your next adventure at www.finandfield.com.