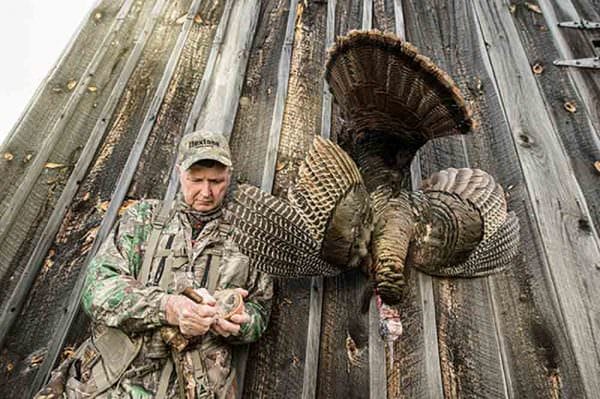 New Roads, LA –-(Ammoland.com)- "The Turkey Man", Eddie Salter, has hunted turkeys for over 50 years and has won two World Turkey Calling Championships and multiple local, state and regional competitions. His hit Sportsman Channel show, Turkey Man, brings a new level of real-life excitement to turkey hunting TV, taking viewers along during his passion-filled pursuit of wild turkeys wherever they're found.
A proud user and endorser of Flextone Game Calls, The Turkey Man lends his unmatched experience and expertise to the design of each of Flextone's top-performing Turkey Man Series calls.
New for 2017, Flextone's Turkey Man Series 'Ol Faithful Pot Calls bring true custom quality within reach of the everyman turkey hunter. Hand made in the USA and available with either glass or slate surfaces, these two new beautifully crafted and highly effective pot calls are right at home in the Turkey Man's vest. And he's betting they'll earn a spot in yours as well.
The Turkey Man Series Ol' Faithful Slate turkey call is built on a custom, hand-tuned walnut pot for optimum sound and resonance. The Pennsylvania slate friction surface is placed over a unique, wood soundboard for maximum volume and realistic turkey tones. The Ol' Faithful Slate pot call is an exceptional finishing call. The included Magnum Hickory Striker balances perfectly in the hand for precise control during the softest purrs, clucks and tree yelps, while delivering maximum volume during more aggressive cutting and yelping. An included Super Slate Conditioning Pad is provided to keep the slate surface and striker tip in top condition.