Despite most of the Northeast being under threat of a fourth Nor'easter, fishing is starting to heat up all across the south. This past weekend saw anglers descend on the 2018 GEICO Bassmaster Classic on Lake Hartwell in Greenville, South Carolina. The Bassmaster Classic is an invitation only tournament where 52 qualifying anglers compete for over $1 million in prize money.  To coincide with the tournament, Bassmasters also hosts the Bassmaster Classic Outdoors Expo which is a free three day exhibit of the latest in bass fishing equipment and outdoor gear.  In between all the excitement I managed to catch up with Marty Brown, a 19 year angling veteran currently competing on the Costa FLW Series and Ram Open Team Trail, to talk a little fishing.
Name: Marty Brown
Age: 45
Hometown: Dalton, GA
Home Waters: Chickamauga Lake, TN
Facebook – @martybrownoutdoors
Instagram – @martybrownoutdoors
Twitter – @martyboutdoors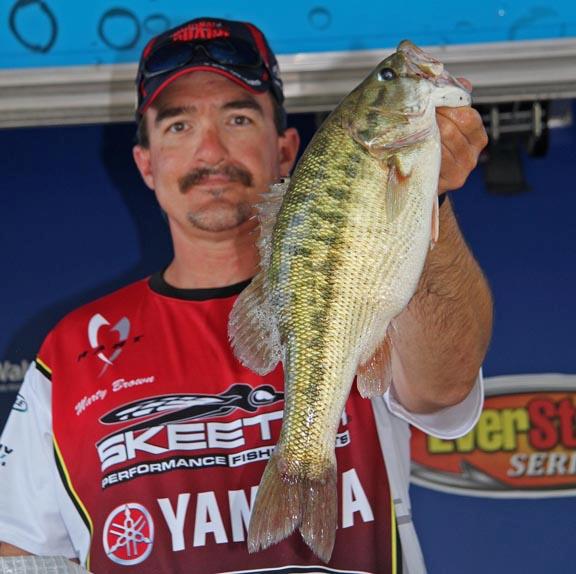 F&F: What started your love of fishing?
MB: I grew up fishing for just about anything that swims in southern Mississippi. My dad had me hunting and fishing as soon as I was able to go. I love being outdoors as it gives me a mental break from 27 years of working in emergency services. When I am outdoors I live in the moment and enjoy it. Nothing else matters.
F&F: Are you into saltwater fishing at all, if so what's your biggest fish (size and species)?
MB: Yes I have done some saltwater fishing. My brother used to have a boat in Panama City. The biggest catch I had was a grouper that probably weighed 25 lbs or so. We always bottom fished for Grouper and Snapper because that is what I wanted in the freezer. I would love to go out trolling for Blue Marlin or Tuna someday though.
F&F: Do you like to hunt? What's the biggest buck you've bagged so far?
MB: I have been hunting about as long as I've been fishing. I hunt on a farm in western Kentucky. My biggest buck was a 160″ mainframe 10 point last season.
F&F: What are your best/most notable finishes?
MB: In 2010 I won a FLW Everstart Series (currently Costa Series) at Lake Okeechobee. In 2012 I finished 11th in the Bassmaster Southern Open at the Harris Chain fishing against a lot of Bassmaster Elite Series guys.
F&F: What is your pre-tournament fishing routine? How do you target new water to know where to start? How do you know those fish are going to be there the day of the tournament?
MB: I start by keeping my equipment ready to go. When I get back from a trip my boat gets cleaned up, organized and maintained. If you take care of your equipment, it will take care of you! If I am going to a lake I am familiar with, I know seasonal patterns and the lures I have done well with historically. I try to remove excess tackle and gear from my boat to remove clutter and force me to focus on lures and tactics that I know are successful.
For new lakes, I still follow seasonal patterns but make adjustments for the type of water I'm going to be fishing. A river system fishes different than a reservoir. One thing a lot of people forget is that a largemouth bass is a largemouth bass anywhere you go in the country. Knowing their habits and adapting to local conditions is what it is all about. Once I am on the water I focus in on water color, temperature and the dominate type of forage and cover.
Once I get locked in on a successful pattern I follow weather, current and water levels to keep up with what the fish might do if something changes. It doesn't always work though. A few weeks ago in the FLW Costa Series at Seminole I had a pattern going that I figured I could get 15lbs a day maybe more if I caught a kicker fish. The first day of the tournament ended up getting cancelled due to high winds forecasted for most of the day. When the tournament started I caught a 5 pounder pretty quick and it went downhill from there. I had one other small keeper from my primary area before abandoning it. When I went to my backup area, the wind had muddied up the water and the fish would not bite. It was the only pattern I had working in practice and I spent the rest of the tournament trying to put something together but never did. It happened to a lot of other anglers as well that day.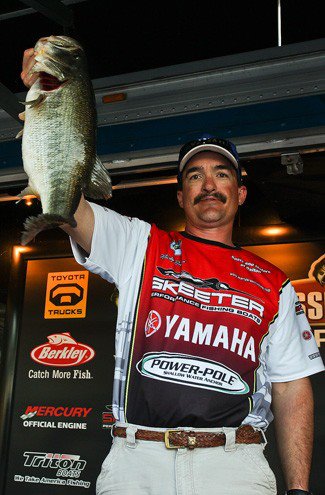 F&F: What are your "go to" baits for pre-spawn bass in the southeast?
MB: My favorite technique is slow rolling a big spinner bait on main lake and secondary points. For grass lakes, you have to go with reaction baits like a lipless crank bait, square bill or a bladed jig. Red or crawfish colored baits are standard fare just about anywhere in the country for pre spawn bass. As the spawn approaches I love to throw a Gambler Fat Ace weightless around vegetation and hang on!
F&F: If you could choose only three baits/rigs to fish with for the rest of your life, what would they be?
MB: A jig, spinner bait and a 6″ lizard would do it for me. Jig fishing works year round and can be adapted to many different situations. Spinner baits also work year round in most parts of the country even though most anglers have stopped fishing them in favor of swim baits, and bladed jigs. You adjust the weight and blade size/ type to the conditions. And a lizard, well, it's a lizard and all bass love lizards! You can flip it, pitch it, Texas rig or Carolina rig this versatile critter. A lizard was my main lure in the FLW tournament I won. They couldn't believe that I caught all those fish on a simple 6″ lizard.
F&F: How often do you fish on the professional circuits? How has this impacted your other outdoor passions?
MB: This year is my first season back fishing at the pro level. I had an arm injury that sidelined me for a few years. Fishing and deer hunting are my main activities but I did a lot of hiking when I was recovering from arm surgery. In 2016 I hiked the 500 mile Colorado Trail. Then last summer I hiked the John Muir Trail in California which was about 300 miles total. When I am fishing the pro level events it takes up most of my time off. Work definitely gets in the way of my outdoor activities but I love what I do.
F&F: How has the professional circuits changed since you first started fishing professionally?
MB: When I first started you pretty much had to figure things out for yourself. Today, people fish year round and travel to lakes they have tournaments on later in the year instead of having to go back to work. There is also tons of tournament history in magazines and on the internet that can give you information to get you going in the right direction. Not all but some pros, keep guides in business by hiring them before off limits and information rules take effect. The most valuable tool most of today's anglers have is their phone. I'm still old school and do my homework and try to figure things out myself.
F&F: What advice would you give for a young (or old) up-and-coming bass angler thinking of dipping their toes in the professional waters?
MB: Stay positive and have a good attitude. It is a business like anything else and people are watching everything you say and do, especially this day and time. Spend as much time on the water as possible. For newer anglers, fishing for a few years as a co-angler in upper level tournament is an excellent way to learn. I try to learn something from people that fish with me and I don't mind teaching them either.
F&F: How do you think bass fishing, as a sport and industry, has affected conservation and getting people outdoors?
MB: The popularity of bass fishing has had a huge impact on both. The industry has developed a lot in the last ten years.  The funds accumulated from license, tackle and equipment have been used to improve access to accommodate the popularity. They have also increased stocking programs to improve fisheries to bring anglers into the area. This brings thousands of dollars to the local economy every weekend on popular lakes.
When people see television shows and social media with big bags of fish it makes them want to go fishing. The newfound popularity of high school fishing has nearly double the number of people on the water and had a huge impact on the used boat market and new equipment sales in the last few years.
F&F: I know this is a sensitive topic, but with the tragedy that befell co-angler Nik Kayler, on Lake Okeechobee, have there been any changes or positive impacts to safety on the Costa FLW tour?
MB: That hits close to home. The pro that was driving the boat was my roommate and travel partner. Bill and I have known each other for about 8 years or so. Since the accident, tournament organizations are a little more cautious about the weather. The first day of the Costa event at Seminole was cancelled due to high winds being forecasted for the day. I'm glad they did because Lake Seminole is dangerous enough on a calm day.
F&F: Do anglers usually understand the risks associated with fishing such a large body of water at that time of year?
MB: Most experience anglers know the risks. The weather we were having was unseasonably cold for Okeechobee. Some anglers may not have brought appropriate clothing since it is usually shorts and flip flop weather.
F&F: Do you feel this was something that was unforeseen and somewhat unavoidable?
MB: This was definitely an unfortunate accident. Bill had great equipment and the experience to handle his boat in rough water. I was actually planning on going the same direction they were but changed my mind just before takeoff that morning. It wasn't because of weather, I knew that the wind had probably muddied the water in the area we were fishing and I didn't want to make that long run to find muddy water that the fish will not bite in. That turned out to be the case when I went there later in the day via 7 mile cut and the rim canal.
F&F: Have you taken anything away from your experiences at Okeechobee that has changed the way you approach fishing a big lake like that, or fishing any tournament in general?
MB: My 27 years in the fire service has always given me a heightened awareness of what can happen out there and how to best prepare. It definitely has made others take a closer look at their safety equipment.
As recent evidence of FLW's commitment to safety day one of the Costa FLW Series at Lake Seminole was cancelled due to strong winds. Luckily for the anglers the weather cooperated for the 2018 GEICO Bassmaster Classic. After all the results were in, angler Jordan Lee successfully defended his 2017 title to take home the $300,000 in prize money.
Guest Blogger Shawn McCardell

---
About Fin & Field
Fin & Field is changing the way sportsmen find, compare, book and share their fishing and hunting adventures. We've consolidated the hunting and fishing industry into a powerful marketplace that connects sportsmen and operators (charter boats, fishing guides, hunting guides, lodges, marinas, outfitters, outdoor brands, and more). We're using technology to drive more meaningful, fun, and efficient communication that's making it easier for sportsmen to get the information they need to do what they love.
Book your next adventure at www.finandfield.com.