God's Country Outfitters has been providing personalized osceola turkey hunts, hog hunts, and gator hunts since 2008. They love hunting just as much as you do and with over 20 years of hunting experience they have the knowledge to make your hunt successful. With more than 20,000 acres of private land near San Mateo, Florida and along the St. Johns River there is plenty of land to chose from. From the deep swamps to the high oak hammocks, the land is beautiful. The first settlers that came through San Mateo in the 1800's were inspired by the beauty and the wildlife and thought of the land as "God's Country". In fact, their great, great, great grandfather, Mateo Solana, was one of the founders of San Mateo.
God's Country Outfitters treats their clients like family, they pride themselves on the level of service and warmth they bring to their unforgettable hunts. They focus 110% on making sure customers leave happy and as friends. Despite being just 30 minutes from St. Augustine, 45 minutes from Daytona, and 2 hours from Orlando, God's Country Outfitters hunts are truly a wild adventure! So while your family plays at the beach or takes in Disney World, you can get away and enjoy a turkey, hog, or gator hunt! Daniel Lee Martin and Julie McQueen are the stars of the hit show Till Death Do Us Part and they make a habit of hunting with God's Country Outfitters. In fact, God's Country is part of their Till Death Adventure Series where the endorse the best fishing and hunting guides in the country.

Or Call at 877-362-1299
Florida osceola turkeys have a reputation as the hardest turkeys to hunt. Despite their reputation, the expertise of God's Country Outfitters has enabled them to average a 95% success rate over the past 10 seasons. If you are looking for a turkey slam, or to scratch osceola off your bucket list, this is the place for you. Turkey hunts are 3 days and lodging is included (as well as home cooked southern comfort food, since food doesn't come out of a box in the south)!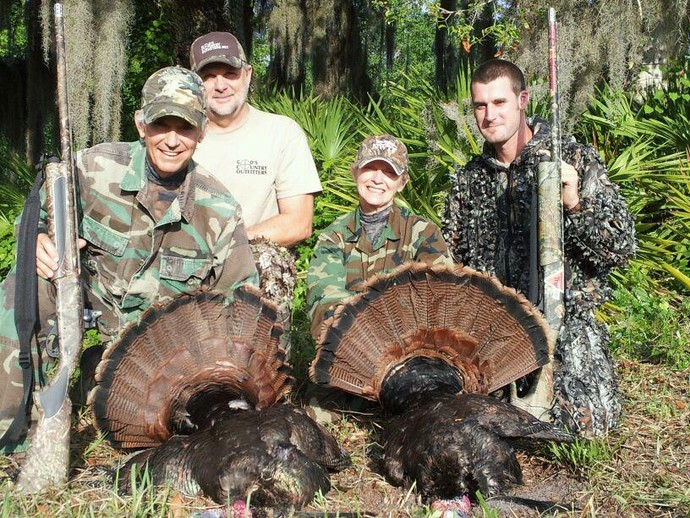 When it comes to Gator hunts, the options are nearly endless. Florida allows day and night hunting and also allows a variety of weapons. God's Country Outfitters specializes in crossbow, harpoon, fishing pole, and archery. These prehistoric creatures are a challenge no matter what weapon you prefer! Night hunts are the most challenging and the guides will use spotlights to scan the lakes and swamps for giant gators. The darkness creates an eerie excitement to the gator hunt. Night hunts typically produce larger gators since the small ones are harder to spot in the dark! Beginners and experienced gator hunters also appreciate the thrill of seeing the gators in the light of day. Once you spot a gator they will attempt to snag it, that's when the fight begins! You will need to battle the alligator to within 25 yards for a rifle shot, and a lot closer for bow and spear shots!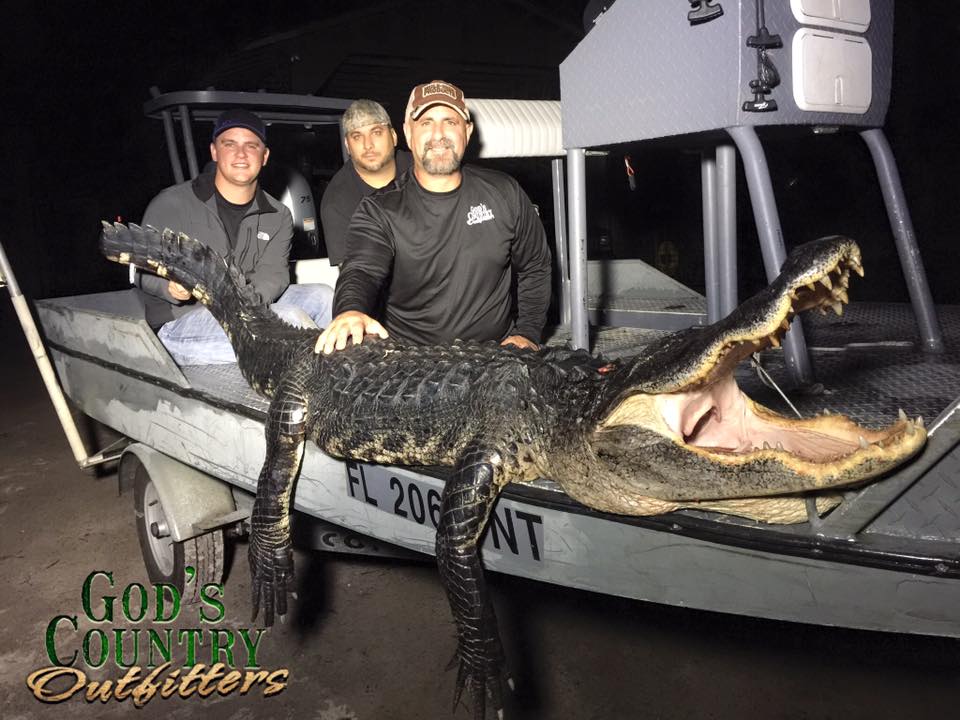 Weapon selection is up to the hunter but they will offer some suggestions before you make your final choice. Bow hunters will need to be experienced to be successful. Even though shot distances are pretty short, you are taking the shot from a moving boat and need to make a clean shot. A clean shot is necessary whether it's a night or day alligator hunt.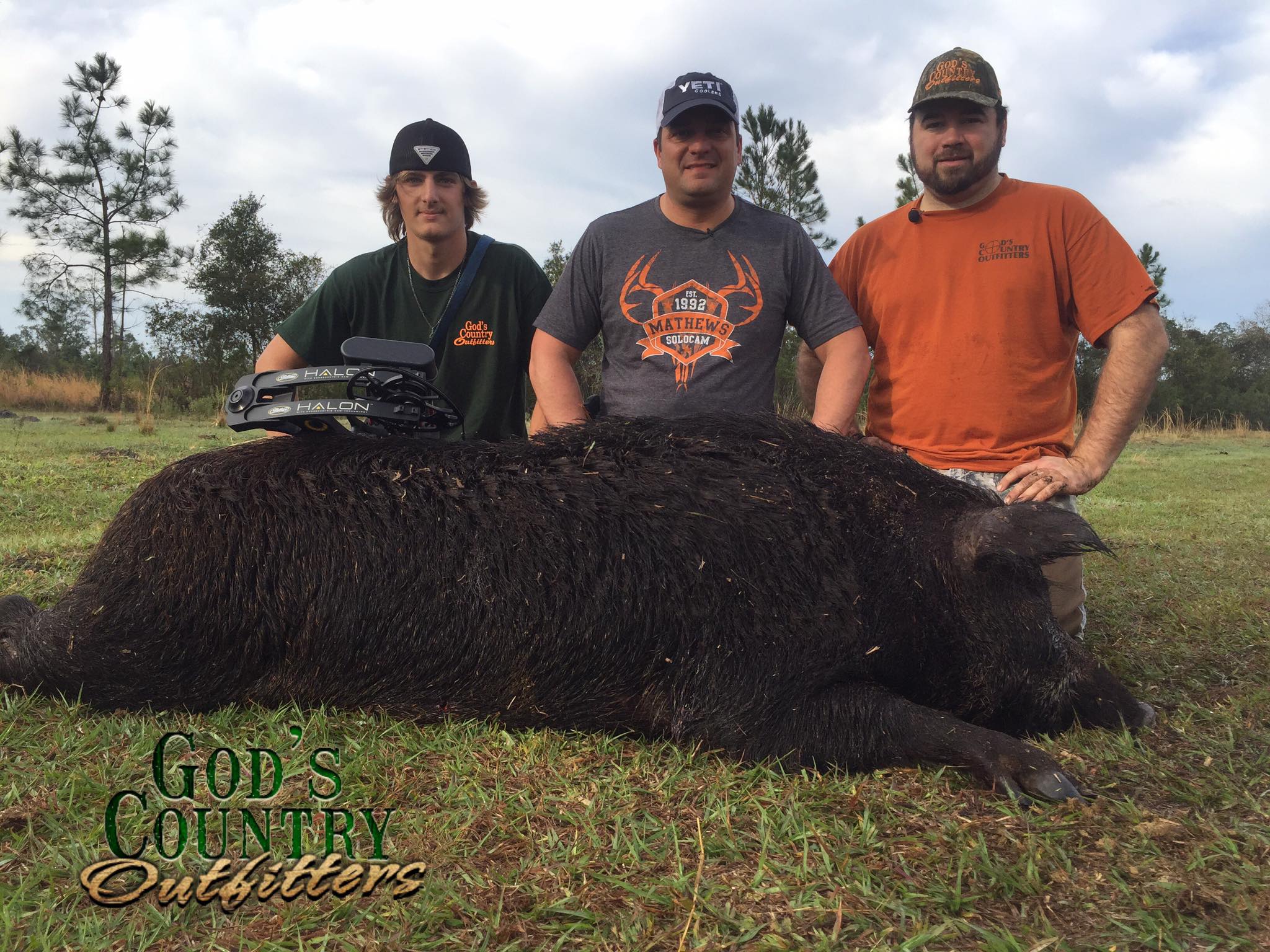 Gators get most of the attention but wild hog is one of the most exciting hunts a person can experience. Once the dogs have a huge wild boar bayed up you have to go in, catch the hog, and dispatch it. Hunters will chose a gun, knife, or even a spear as the weapon of choice. Florida hogs have a reputation for being the largest around. The only thing better than a Florida hog hunting trip is booking the popular gator / hog combo trip!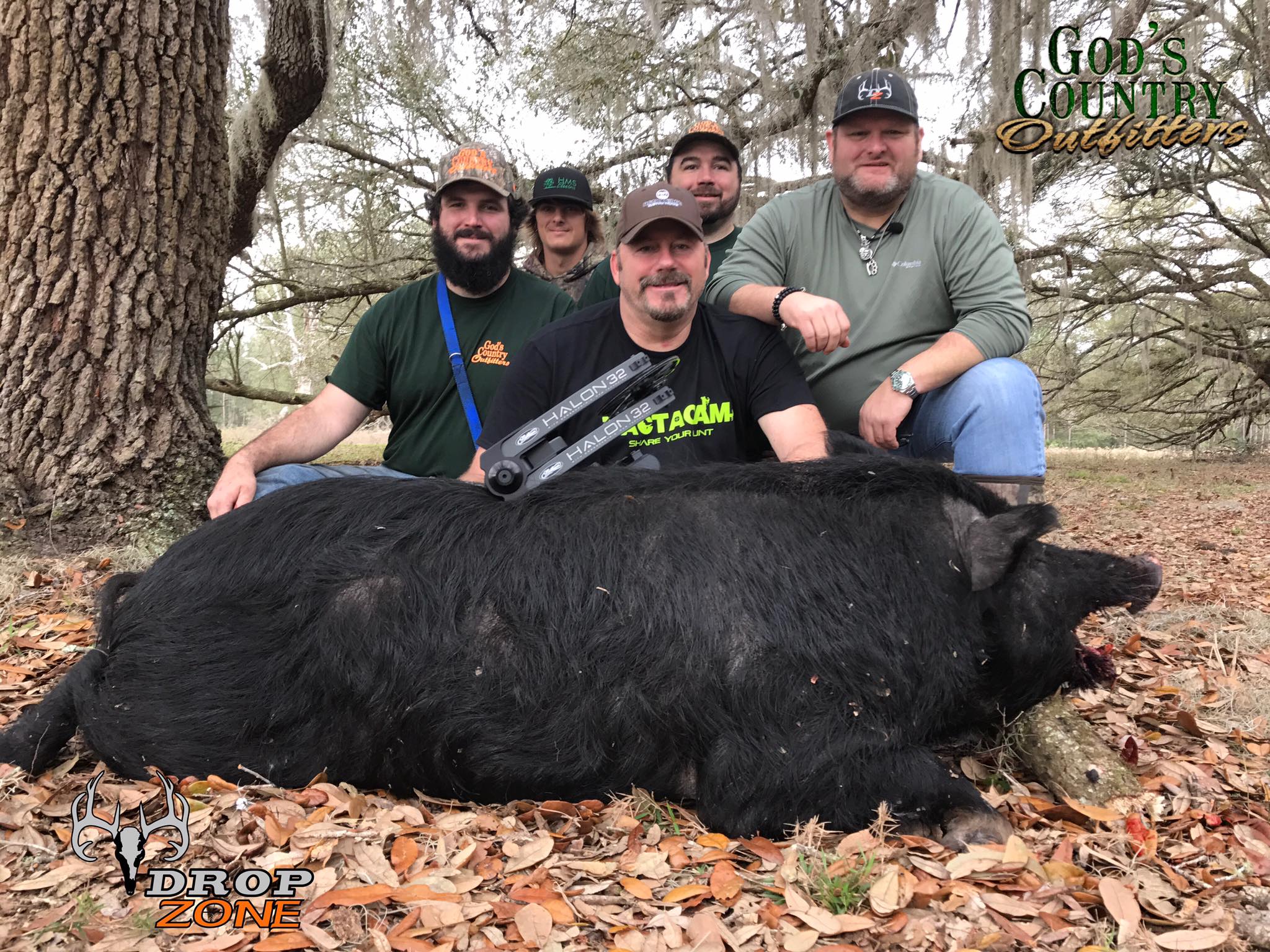 Whether you're hunting for a trophy gator, wild boar, or the prestigious osceola turkey, your hunt will be the adventure of a lifetime. While enjoying such epic adventures you need an amazing home base. The God's Country Outfitters lodge is the perfect home base. The lodge has an open floor plan and a roomy feel. As you enter the main lodge you have a large living room area to your right and kitchen to the left. There is plenty of room for you and your group to relax after an exciting day of hunting. Between the 2 bunk rooms and the private room the lodge sleeps up to 14 guests. Surrounded by an array of classic mounts, you'll fall asleep dreaming of the trophies you came to add to your collection!
After the hunt God's Country Outfitters will provide field dressing and transportation of your harvest back to the lodge or to the vendor of your choice. They have trusted vendors that handle taxidermy for the osceola turkey, hogs, and gators. They can also recommend a tanner for the gator hide and craftsmen to make you a purses, wallet, handbag, belt, jacket, vest, boots, and just about anything else you can dream of!

---
About Fin & Field
Fin & Field is changing the way sportsmen find, compare, book and share their fishing and hunting adventures. We've consolidated the hunting and fishing industry into a powerful marketplace that connects sportsmen and operators (charter boats, fishing guides, hunting guides, lodges, marinas, outfitters, outdoor brands, and more). We're using technology to drive more meaningful, fun, and efficient communication that's making it easier for sportsmen to get the information they need to do what they love.
Book your next adventure at www.finandfield.com.