People ask us all the time: "how do I grow my business, can Fin & Field really help"? The fact is, one of our main goals at Fin & Field is to help hunting and fishing businesses grow. Our team has experience successfully growing our own businesses and helping others grow theirs. Along the way we have seen some of what works and what doesn't. While there is no one-size-fits-all approach, there are some common themes that everyone should understand. We are kicking off a multi part series on the "Marketing Hourglass". It is important to know how to acquire and retain customers and how Fin & Field can help.
---
What is the Marketing Hourglass?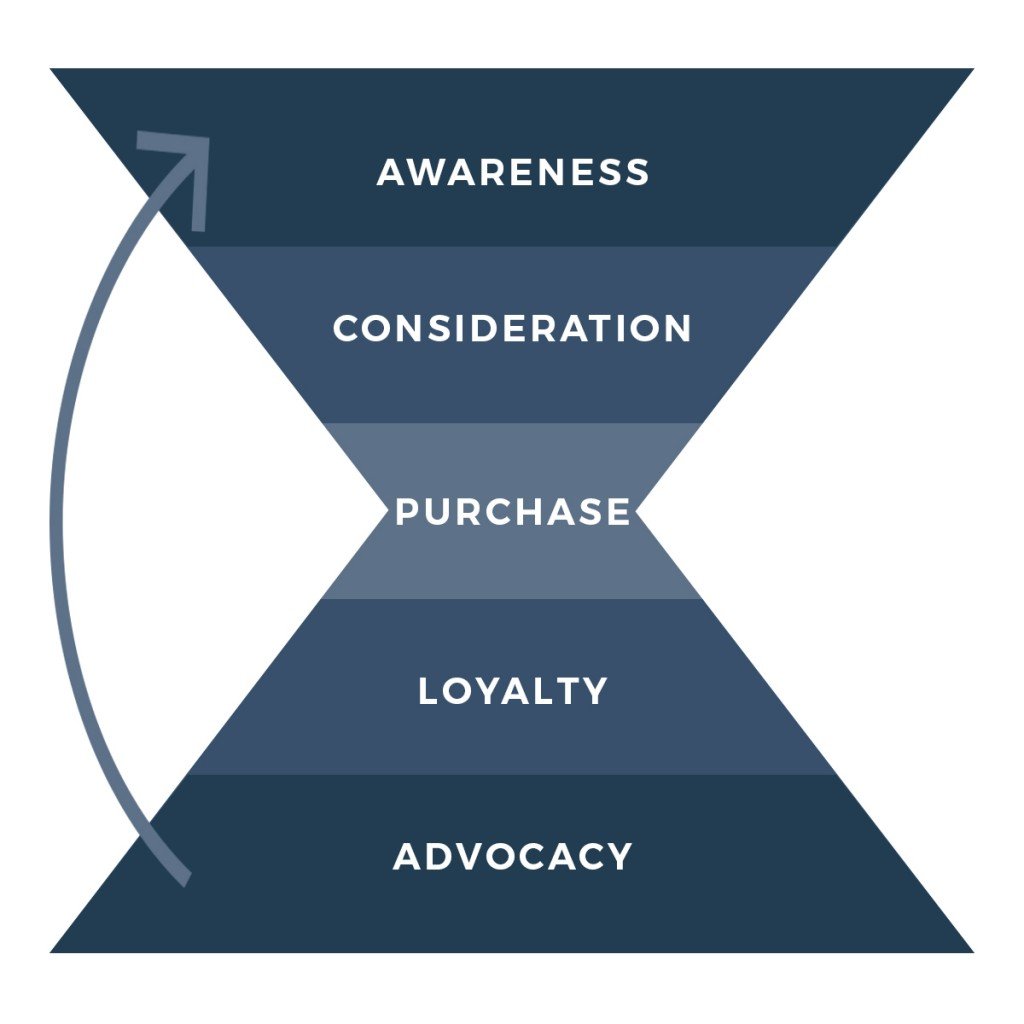 Awareness – People realize they have a need (Ex. to go fishing or hunting) and become aware that your company may help.
Consideration – During this phase of the buying process you want your brand to be top-of-mind as the buyer begins to actively evaluate their options.
Purchase – The age old tradition of closing the deal.
Loyalty – As the saying goes "it is much cheeper to keep a customer than to create a new one."
Advocacy – A loyal customer has an unmatched influence on a potential customer, so turn your loyal customers into advocates and grow your business in the most efficient way possible.
---
Each month will will delve deeper into the marketing process, this month our focus is on the first step, driving awareness. It may be one of the most technical and least understood steps in the process. Awareness, also known as branding, is the #1 job of a small or new business. Check out our recent article on Building your Brand. Pepsi, Apple, Patagonia, and other household brands have already succeeded at building awareness. Small businesses and new companies must constantly fight the "awareness" battle.
Where is the awareness battle waged? Frankly, in this day and age, it has largely moved online because that is where consumers are spending their time. Internet marketing is great because small businesses have easy access and it is cheep compared to print, radio, and TV. The challenge with the internet is that it is crowded and you need to find a way to stand out from all the noise. We broke down "awareness marketing" into 6 categories based on our experience of what works.
1. Build an Organic Audience
Use your own personal voice to build an audience online. By far the easiest way to do that is with social media. Facebook, Twitter and Instagram are all trafficked by hunters and fishermen looking to get their outdoor fix while stuck behind a screen. You can publish season forecasts, trip reports, how-to's and idle musings. Post anything that gets your knowledge, personality, and brand out there. Social media provides you access to a large group of people who will like and share your content and your brand awareness will grow organically the more you post. Fin & Field has built very large audiences on Facebook, Twitter, and Instagram and uses those channels to drive traffic to our search pages. As a growth hack, operators who sign up for a package get specific mentions on our social media channels and can tap into our audience.
---
2. Run Contests
Contests are a great way to accelerate the growth of your audience. Giveaways and contests have a very high level of engagement online, and it makes perfect sense. Everyone wants something for free. Except if you are savvy, you wont be giving anything away for free. Through your social media, blog, newsletter etc… you can promote a contest where, in order to be eligible for entry, sportsmen must share or repost your content. You are trading a trip or product etc… for advertising. You will gain brand visibility into the social networks of your current audience. At Fin & Field we run a lot of contests and they have been very successful in growing our audience. We have also been able to gain exposure for operators like 5 Star and Buzz On who each got over 300,000 views in our recent giveaway. Sign up for a package and ask us about participating in a giveaway or contest.
---
3. Partner With Other Brands
You can use giveaways and contests to leverage the audience of your followers, but other brands can also have huge and relevant audiences. Find brands in your space that are not competitive, and discuss ways that you can do some partner marketing. Simple trades are common, allowing each other to cross post content. But sometimes you can create a partnership with a larger brand, it is all about finding the right brand and the right incentive. Fin & Field recently  partnered with Bonnier, the publisher of Field & Stream, Outdoor Life, Saltwater Sportsman, and Sportfishing Magazine. The partnership allows us to get our brand, content, and operators in front of millions of new sportsmen.
---
4. Advertising
Organic audience growth will only get you so far. The flip side of the online-marketing coin is paid advertising. Paid advertising comes in many flavors. You have paid search, display advertising, and revenue-shares.
-Paid search is usually on a cost-per-click (CPC) basis with google or another search engine. You agree to pay $x for each click your ad receives. You would essentially "bid" on relevant search terms in order to rank higher on the corresponding search results page. Paid search can be costly, time consuming, and difficult to measure.
-Display advertising is a text or graphic ad that appears on a (hopefully relevant) website. Both CPC and CPM (CPM = cost per 1000 views) are common pricing models. Display advertising is a high volume low percentage game favoring large budgets.
-Revenue shares are most commonly used on lead-generation websites. In exchange for a lead on a potential customer, a referring partner would get an agreed upon share of the resulting revenue. The revenue share model is great because you can delegate some lead generation to a 3rd party and not have any runaway costs (your return-on-investment (ROI) is positive and fixed).
---
5. Influencer Marketing
Influencer marketing can take place online or offline. Influencers are people who have the ear of the consumers you are targeting. Each operator will have a different list of influencers depending on their target market. Partnering with an influencer is mostly relationship building. Get to know your influencers, find out how you can help them out, and they will return the favor. Consider why brands like Simms and Orvis have pro-staff programs, guides have the ear of their consumers, you are their influencers. This is the part of marketing that relies most heavily on your people skills.
---
6. Local Presence
Last, but not least, is local marketing. Local marketing can take place online or offline as well, and will be more important if you operate out of a tourist destination. Either way it will be helpful to have good relationships with tackle shops, gun and hunting stores, marinas, land owners, etc… Create signs, banners, and brochures with your business name, logo, and contact info that you can place in key locations (bonus points if those locations get photographed often, like marinas). Think outside the box with your local marketing.
---
In business there is no rule book, these tips are meant as a starting point but we have no doubt that some of you are coming up with your own great ideas. If you have any great examples of how you have marketed your business, please share them with us. We are also excited to discuss marketing strategy with you and help with putting your ideas into action, whether that is with Fin & Field or not. You can reach us at:

---
About Fin & Field
#FinandField #FYNA #DreamBig2016
Fin & Field is all about finding your next adventure. We're working hard to provide the most comprehensive listing of services, reviews, and far reaching community available to help you take the guesswork out of planning your next adventure.
We believe in the ethical pursuit of hunting and fishing adventures and support taking from the land only what you can use and leaving it in better shape than you found it.
Tight Lines & Happy Hunting!
Visit us at www.finandfield.com