Women account for one of the fastest growing segments of the outdoors industry. So it should come as no surprise that this year, for the first time in its 44 year history, the White Marlin Open in Ocean City, MD had an all-female team compete. The Women's Offshore Alliance sent a team of anglers out to try for a piece of the $4.9M in prize money.
To be clear, women competing in top fishing tournaments isn't new. There have been plenty of all-women teams competing in tournaments and there are even a few women's only tournaments that have sprung up over the years. You can also check out Sport Fishing magazine's list of the 50 Greatest Women's World-Record catches as certified by the International Game Fish Association. Some of these records date all the way back to 1954! (Mrs. Hughes' 1,525 lb black marlin and Mrs. Marron's 772 lb swordfish) But the White Marlin Open bills itself as the "World's Largest & Richest Billfish Tournament" and this year they awarded $1.6 million dollars to the biggest white marlin brought to the scales. All-female teams have now competed at every level and that will just continue to encourage more women to take up the sport of fishing.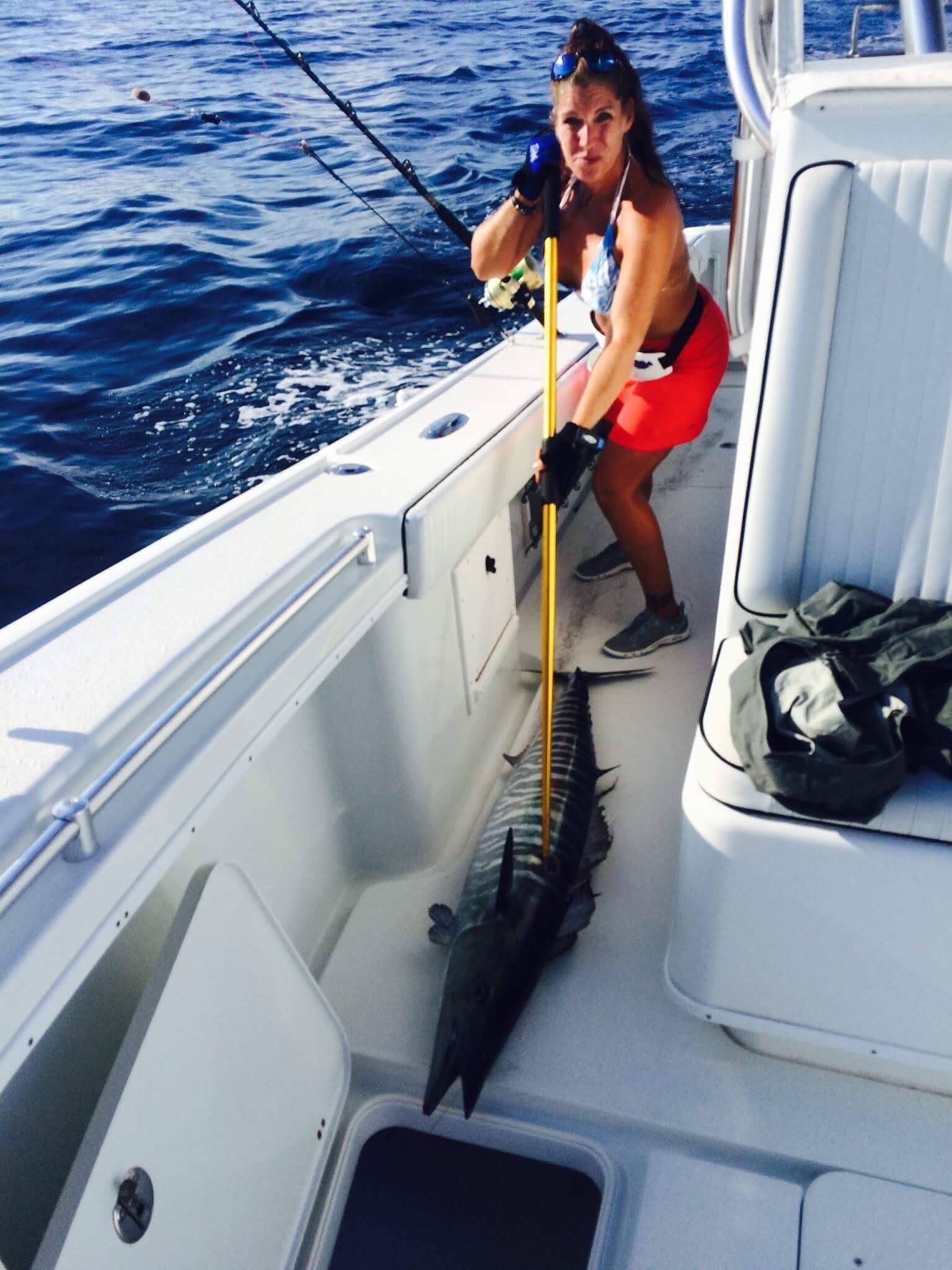 The Women's Offshore Alliance (W.O.A) was founded by four lady anglers; Nikki George, Jaime Buffington, Shannon Ehinger and Lisa Foxwell. All four anglers come from different fishing backgrounds. Shannon works on a commercial fishing vessel while Jaime has been fishing recreationally in the Chesapeake Bay since she was a child. Both Nikki and Lisa came to fishing a little later in life. Despite their different fishing experiences the four of them work well as a team and complement each other's skillsets. They all learn from one another and make each other stronger, which is one of the purposes for the team from the start; to promote and grow the presence of women in the sport of fishing and boating.
When questioned about why they wanted to be part of the Women's Offshore Alliance they each responded with similar replies centered around their mission to promote and grow women in the angling and boating communities. Nikki acknowledged that "being part of a women's fishing team brings on a different dynamic and I am excited to be part of an organization that will encourage more women to get out there and fish!" Jaime added that "it's also my passion to engage other women who may be interested in the sport but do not have the opportunity to try or are intimidated by it. Fishing is often thought of as a man's sport, I feel it's important to show other ladies that they can enjoy fishing and being on the water as well." Shannon loves nothing more than "seeing someone dig deep and catch their bucket list fish" while Lisa hopes to "encourage other women to step outside their comfort zone and get off the docks and get on the boats and start wetting some lines!"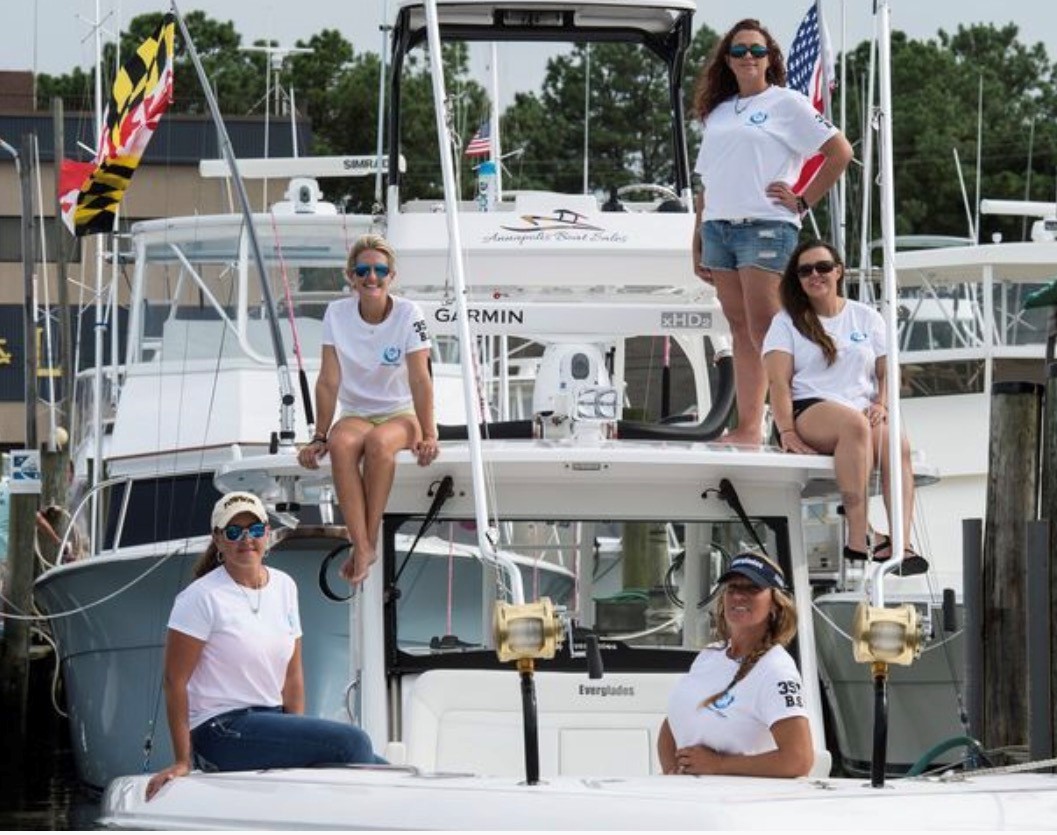 They are doing a great job at promoting and growing their team in a short amount of time. They recently added two more lady anglers, Heather Strickland and Chris Tina Olivieri-Dupuis, to bringing the total team roster to six. Increasing the number of women competing for their team falls in line with their mission while also helping ensure that they can continue to compete in even more high level tournaments; the more women who are part of W.O.A. the more they will be able to fill in for each other when a teammate is not available. These ladies are not just awesome anglers, they are also mothers, wives, nurses, and business women. With each new member the work-life-play balance becomes just a little easier.
The weather conditions made the fishing tough this year at the WMO and despite not boating any qualifying fish during the five day tournament, the ladies of W.O.A. are determined to continue competing in regional tournaments to hone their skills as they prepare to take their team on the national stage. The team is currently competing in the 24th Annual Poor Girls Open, a ladies-only billfish tournament which benefits breast cancer research. Hopefully the Women's Offshore Alliance will continue to grow in size and skill as they fish more tournaments in the coming year. Next year the ladies of the Alliance will be coming back to the WMO as a more seasoned crew and looking to take home the top honors.
Guest Blogger Shawn McCardell

---
About Fin & Field
Fin & Field is changing the way sportsmen find, compare, book and share their fishing and hunting adventures. We've consolidated the hunting and fishing industry into a powerful marketplace that connects sportsmen and operators (charter boats, fishing guides, hunting guides, lodges, marinas, outfitters, outdoor brands, and more). We're using technology to drive more meaningful, fun, and efficient communication that's making it easier for sportsmen to get the information they need to do what they love.
Book your next adventure at www.finandfield.com.