Lake Ontario and the Salmon River are famous for producing trophy trout and salmon. You can learn more about the region from our article on the Salmon River Lighthouse and Marina. Since 1976, Strike Zone Charters has been the choice for thousands of anglers who are looking for the best in Lake Ontario Captains and Salmon River guides.

To book with Strike Zone Charters click or call Robin at 855-972-2524
Robin Sheltra has been a full time Guide and charter Captain for more than 30 years, his experience includes chartering on Lake Ontario and guiding on the Salmon River, Oswego River, Niagara River, and Oak Orchard Creek. Fishing Lake Ontario, and it's rivers, is what Robin and his team do best. You can trust them, and Strike Zone Charters to create outdoor memories you will never forget.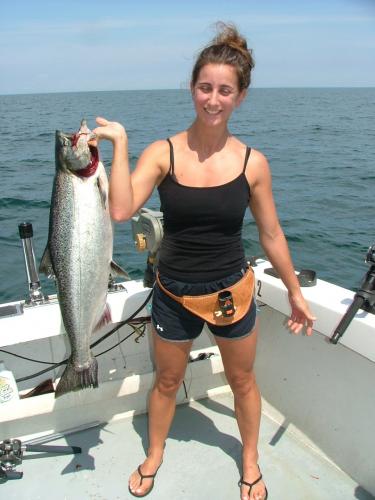 You will be well taken care of by the Robin and his team but also enjoy Lake Ontario and the Salmon River from the comfort of the Strike Zone fleet. Their charter boats are well maintained and equipped with all the necessary electronics, downriggers, temperature probes, and tackle. Similarly, their drift boats are purpose built for anglers who want to fish the beautiful Salmon River.
The brown trout is Lake Ontario's most abundant trophy. Large numbers of browns averaging 5 lbs. or more are common from late April through mid August. If big browns is all you want, July and August fishing is done further from shore with tackle that is a little bit larger because the fish are bigger.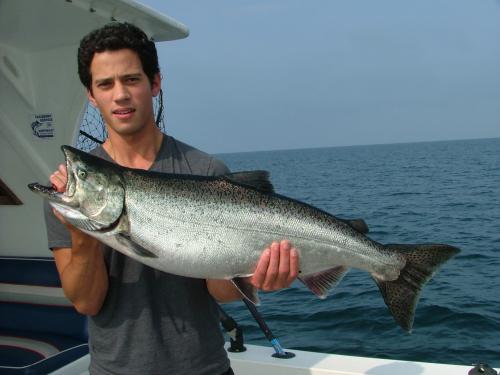 Salmon season on Lake Ontario is in full swing during July, August and September. Fight with a couple of these powerful fish and you will see why Lake Ontario is so famous. Chinook salmon (kings) average 15 – 25 lbs. with some fish being in the mid 30's or more. Lake Ontario also has a large number of coho salmon (silvers) available. They average 5 – 15 lbs. and are caught sporadically all summer long.
In the middle of October, the fall steelhead begin their annual migration into the streams. Action for these huge rainbows is excellent from October through December and again from March through early May. Mid-winter steelhead fishing can be good but it is greatly dependent on fishable weather conditions. Spin-fishing, fly fishing, and back-trolling from a driftboat all work well to catch these trophy fish. However, weather and water levels dictate which techniques will be most productive on a given day.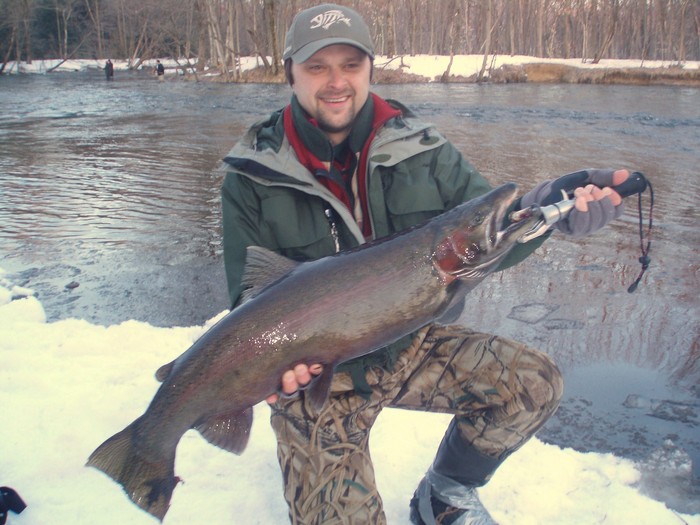 Strike Zone Charters has been the premier charter and guide service on the Eastern end of Lake Ontario since 1976. If you want to spend the day catching trophy salmon, brown trout, lake trout, steelhead, small and largemouth bass, and Walleye, Strike Zone Fishing has you covered!

Editorial Contributor – Lewie Aldridge
---
About Fin & Field
#FinandField #FYNA #DreamBig2016
Fin & Field is all about finding your next adventure. We're working hard to provide the most comprehensive listing of services, reviews, and far reaching community available to help you take the guesswork out of planning your next adventure.
We believe in the ethical pursuit of hunting and fishing adventures and support taking from the land only what you can use and leaving it in better shape than you found it.
Tight Lines & Happy Hunting!
Visit us at www.finandfield.com