Every day, I have the privilege of working with the United States veterans who experience Outward Bound. Through our ongoing program, we sponsor returning service members and veterans for intense wilderness courses that draw on the healing benefit of teamwork and the challenges of the natural world. I know how deep their dedication is to our country, and how hard it is for them to readjust to civilian life when they return from a war zone. I also know that when they finish an expedition with Outward Bound, they are forever changed.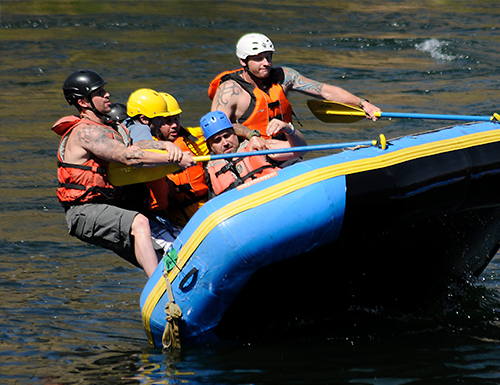 Now, for the first time, there is academic research that documents the efficacy and transformational, healing powers of Outward Bound Veterans, which I have witnessed firsthand over the past nine years.
Studying Veterans' Needs
A scientific study in the most recent edition of Psychology of Men & Masculinity demonstrates the positive psychosocial effects of programs, like Outward Bound for Veterans. The study sampled 242 male U.S. military veterans who enrolled in Outward Bound for Veterans (OB4V) courses from 2012 to 2014. Of the final participants, 91% "were deployed to Iraq or Afghanistan and 69% experienced combat (i.e. directly engaged with the enemy or received enemy fire). Forty-one percent of the sample self-reported having a mental health diagnosis, with the majority of diagnoses being PTSD (28%) and depression (22%)." The demographics for study participants mirror the national average of returning veterans.
A Growing Issue
"Findings from this exploratory study suggest that OB4V is a promising therapeutic approach that improves mental health symptoms and supports the needs and preferences of male veterans. The alignment between the OB4V treatment model and male veterans' preferences likely helped promote therapeutic value and positive psychosocial outcomes for veterans in the present study. OB4V is an innovative approach that begins to address what many refer to as a growing public health issue (Seal, 2011: Tanielian & Jaycox, 2008), characterized by increasing mental health issues and inadequate therapeutic programming to meet veterans' unique needs." (The Impact of Outward Bound Programming on Psychosocial Functioning for Male Military Veterans, Scheinfeld, Rochlen & Russell, Psychology of Men & Masculinity, August 2016)
While the Outward Bound Veterans program serves both women and men, this research focused specifically on male service members….